Hi everyone!  I haven't posted in this forum for a long time.  
I just wanted to give everyone a heads up that I found two dumped Pekins at Lake Murray today.  I caught them and took them home, but the lady who rescues ducks in my area can't take them.  So, I am either going to see if a feed store can take them or I am going to take them to the county animal shelter.  So, if anyone wants to adopt them, they can find them there as I can't keep them in my apartment.
Here is a photo of the two.  It was pouring rain when I found them and the heron was eyeing them.  It is unknown if there were any more ducklings dropped off.  If there were, the heron probably ate them.
Good news, I have an update!  See below the photo.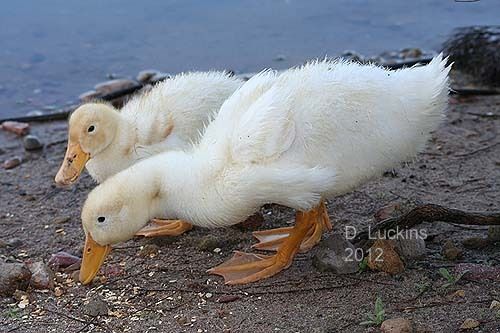 Update!  I just called a place called "Bird Crazy" in Clairemont and they said they can take them!  So, if you want Bird Crazy's number, PM me and I will give it to you.
Edited by desertdarlene - 4/26/12 at 11:43am