Quote:
Originally Posted by
Tartannik

Hi everyone, I hatched this chick last year (I ordered 6 Orpington eggs but only one hatched!)
He is rather large and very friendly.
So, my questions are
1. Are Orpington Roo's notorious for being friendly?  I ask because i have just to get rid of my Marans roo as he kept attacking me and I was worried for my kids.
2.  Does he look like an ok Orp roo?  I know it isn't the best picture but he was such a 'scraggly' wee thing at the beginning I wondered if he was going to be any good to breed from?
3.
Someone told me you don't get pure black Orp pullets only the boys are black, is this true
?
Thank you in anticipation!
Nik
Sorry but I can't get my pictures to show up on here, i pasted the link from photo (img code) but it doesn't seem to be working, any ideas?
Shall try this one instead!
http://img.photobucket.com/albums/v356/tartannik/jeffrey.jpg
Not true. If breeding blacks, all are black. If breeding blues, blacks and splashes together, a black is a black and both sexes can come out black.
PS - I've found it easiest not to use the IMG link tool when using off-site pics. Just paste the URL and type [img]before the link and[/img] after it. Like this:
http://img.photobucket.com/albums/v356/tartannik/jeffrey.jpg
Here is the link, now I'm going to type [img]before it and[/img] after: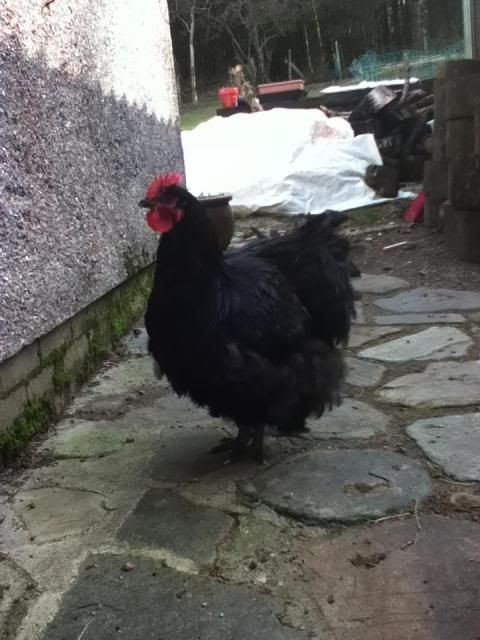 Edited by galanie - 3/7/12 at 6:46am