Because Bren and Deb debuted the American Paint silkie at the Shawnee, OK show, we decided to go ahead and put up an official thread for discussion. 

For the past 15 years, Sigrid Van Dort (Netherlands) has been working on European paint silkies.  There are actually many European breeders with them and I have included a few links that may interest you.   

The story of how the American paints were started is below.  Judy Lee, from Tennessee is the breeder and these are her words: 


"Here is the story of how the American Paints started. I have been a back yard Silkie owner (not breeder, not necessarily an enthusiast) just a person who enjoys the fuzzy little beasts. Never went to a show, or knew anyone else that had any. Never had an incubator, just whatever hatched was welcomed. I had two black hens, but never could find a black rooster, so after a while, I allowed my white rooster to breed the black hens so they wouldn't be completed wasted. One of the chicks was a grayish bluish splash color I still have him.  One winter it was SO cold I decided to put everyone together and heat one big room for them, a total of about 10 chickens.  I thought that I would separate them in spring when they started laying again. I was a little late on one hen, and she was already sitting on a clutch so I just left her alone and let her hatch them.  I went out and checked under the white hen that had been bred to that bluish little rooster and along with the other mish mash of babies was a white chick with distinct black spots. I picked it up and said to myself "hmmmm".  I had never had one like THAT before.   So I continued allowing those two to breed, but never got any more.   Then when that one spotted chick grew to be a hen, I allowed the same grayish rooster to breed her, and still years went by with my hopes always to get another few spotted Silkies. Then after 4 years, all of a sudden in one clutch there were 4 out of 11 all beautifully spotted babies.  I didn't know if this was common but I knew that I liked them and wondered if there were more out in silkie land somewhere. I ended up talking to Deb Steinberg, and told her what I had and wondered if there were more. I was curious about whether silkie breeders would accept them if I was able to make a bunch of them.   She told me that projects like this had been tried many times, and the truth is that usually, the project fails because of lack of continuing on for various reasons.   But she said if you REALLY get this going, let us know.  She said there were birds similar to this in the Netherlands developed by a geneticist, and they were called paint silkies. I was encouraged to some degree so I thought I would give it a shot.   Now I had one grown bird and 4 chicks. When they all grew up, I wound up with two roosters and two hens and the original spotted hen. I bred those together and then had fourteen. When I had fourteen spotted birdsabout a year later I tried to contact Deb again, but my computer had died and took her contact information with it. I searched around and found a past ASBC official and decided to ask them about it. This person told me that I had no idea what I was doing (and they were right)... that there was no such thing as a "Paint Silkie", and I made the whole thing up. They were very discouraging. They told me what it takes to get a color recognized and what a daunting task it is.  So I let my enthusiasm die some, but kept breeding my birds, and then one day came across Debs info again and decided to call her, as she had seemed much more interested. I told her I now had fourteen spotted birds and sent pictures. SHE WAS SO EXCITED!!! Deb and Bren came out here to see my little program, talked chickens and took pictures of every feather, of eyeballs, pink toes, etc. They mailed pictures to Sigi the geneticist in The Netherlands.  I never new there was so much to know about a chicken. When they left, I was overwhelmed, but so excited that this could be something really big. She told me my birds would be known as American Paint Silkies.   Deb and Bren took home a few grown birds, mostly solid colored with the Paint gene, and a bunch of chicks, all with Paint genes. I was grateful for the information, grateful for the enthusiasm and for them taking their time to make such a big trip. I have been educating myself since then so I can do justice to this wonderful thing that started all by accident." 

What most of us agree on is that these birds are dominant white (I/I homozygous and I/i+ heterozygous) are responsible for the development of these birds.  What is the paint gene?  No one knows at this time, but we will be working toward finding out.

Below is a photo of the grayish, bluish, splash male that was the sire of the first paint chick.  He is now about 8 or 9 years old.  Ill post a pic of the hen as soon as I can find it.  Below the pic of Adam are the links for European paint sites. 

Let the questions begin!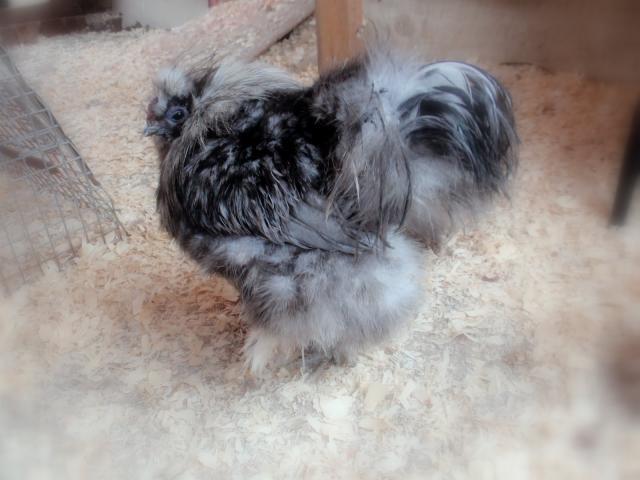 http://sites.google.com/site/zijdehoenders/asa-newsletter-3-platenbont-1

http://sites.google.com/site/zijdehoenders/t%26dcreating/basics-about-chicken-color-genetics-heritage/moroseta-exspecialities

http://www.scribd.com/doc/22315978/platenbont