Quote:
Originally Posted by
BarnGoddess01

Hey guys!!! I'm baacccckkk. Have you missed me???  
Just hatched out 11 Silkies which brings me up to 12 Silkies now. SURELY one of those will be female and be a future broody for me. Anyway, that's not why I'm here. Question for the broody experts. I have a coming on 4 year old Barred Rock hen that hasn't laid an egg in over a year that appears to have gone broody. She just savagely stole 3 eggs from one of my Ameraucanas. This girl brooded for me her first year (and not very well!) but then suffered (and survived) a hawk attack. She is now quite over-weight because of her life of leisure and quite arthritic, I believe, from her troubles with the hawk. I'm sort of thinking I'm going to HAVE to let her sit on some eggs because if I don't, she's going to keep harrassing my layers. Peg still runs things in the coop .... Am I nuts???? (Fertile eggs are in abundance around here so I certainly don't have to worry about the eggs.)
This is Peg her first time brooding  with her one and only chick ....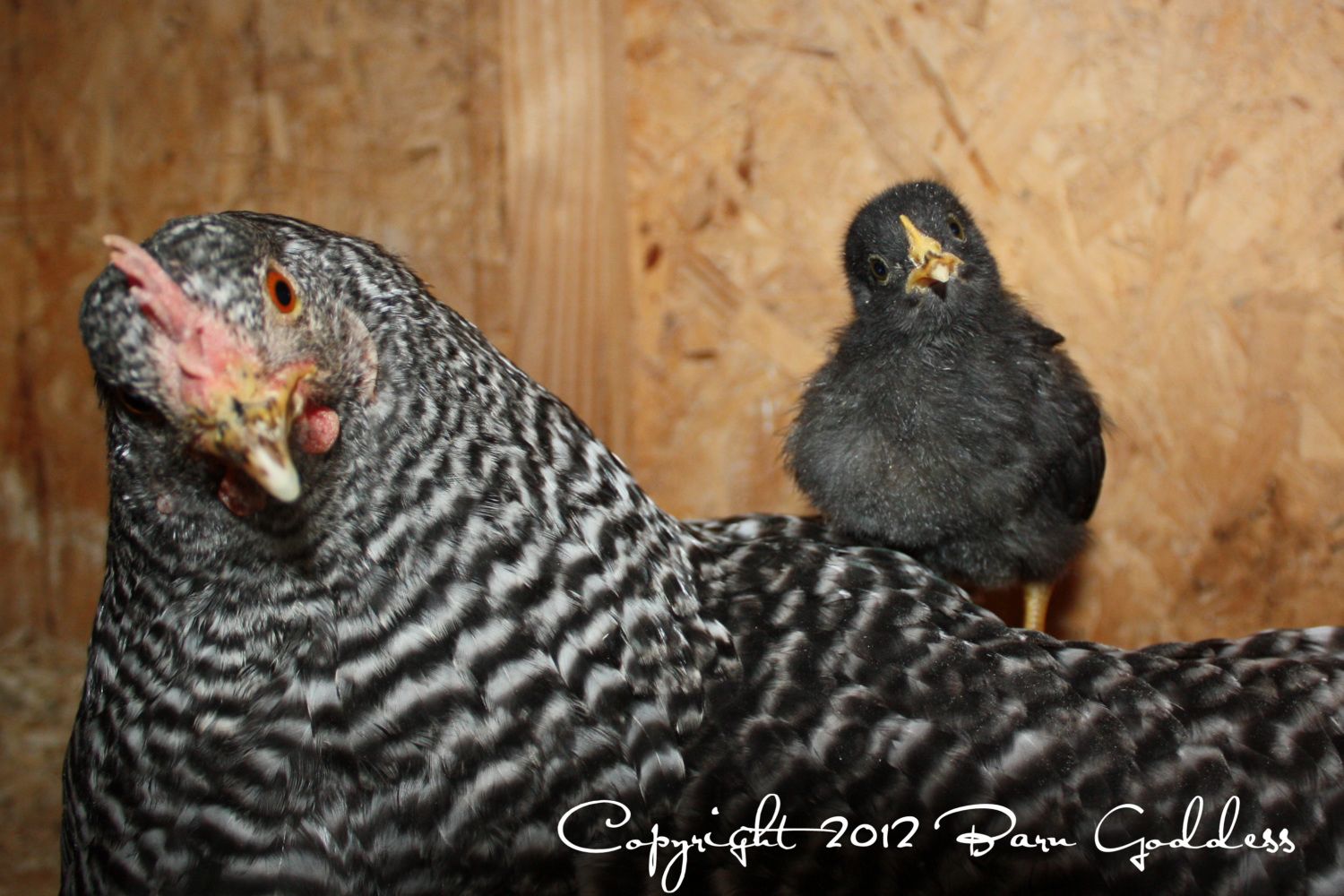 Hi BG so glad to see you back and congrats on the new silkies.. as far as letting your BR brood, why not it will probably be the best medicine she could have, I have a little barred cochin bantam that just hatched out 2 lil bantams. Last year she only had 1 chick. since you have so many fertile eggs go for it. But you have to promise you won't stay away so long this time and be sure to post pics.  What colors are your silkies? 
forgot to mention how precious that pic is!  
Living in the Beautiful Mountains of Western N.C.. with 16 chickens= EE's, Game, Cochin bantams,Light Brahma,  13Muscovy ducks, 1Embden Gander,1 Toulouse goose, 3 mini Dachshunds, 1 mixed breed, pond goldfish,  and a wonderful Husband who makes it all possible..♥

 
Living in the Beautiful Mountains of Western N.C.. with 16 chickens= EE's, Game, Cochin bantams,Light Brahma,  13Muscovy ducks, 1Embden Gander,1 Toulouse goose, 3 mini Dachshunds, 1 mixed breed, pond goldfish,  and a wonderful Husband who makes it all possible..♥