Quote:
Originally Posted by
Stormy Autumn
The yellow and black duckling is the magpie. Is Chip the little guy that everyone decided was an ancona? To be honest, I don't really know how to tell the difference between a magpie and an ancona. If they have a solid black back, does that automatically make them a magpie?

Magpies are supposed to have specific color markings.  They are actually supposed to be mostly white with a black (or blue) "cap" on their heads and black (or blue) on the top of the back and tail.  Magpies can come in chocolate or silver as well but black and blue are the most common colors.  Here is a picture from Holderread's waterfowl site.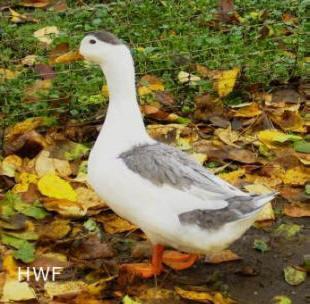 The Ancona ducks come in a variety of colors - black/white, blue/white, chocolate/white, silver/white, tricolored, and lavender/white.  Their markings are more random and no two Anconas have the same pattern.

Both breeds are very closely related and are believed to have originated from the same stock but Anconas are heavier than Magpies.