Hey Gang - it's my turn to be impatient!!!

We're really hoping not to have to many males as we love all our chicks and would like to keep them but don't want any more than 1 Boy!!! I have a feeling we have a few boys though!

  We got our chicks from a local guy who breeds all kinds of birds... Originally we wanted standard sized birds as we want eggs for personal use, but once my kids saw the size of a flock of barred rocks they decided they wanted to go with Bantams for the most part! haha Besides their eggs weren't all that small. Anyways, my daughter named them all after the Chimpmunks and Chipette's but I don't know which is which so we'll go with numbers for now!  Please correct me on the breeds if you think we have it wrong and if you have an opinion on gender that'd be great as well!

Cheers,
Ryan & Family

Chick #1 Supposed to be a Bantam Partridge Rock but Colors changed drastically when he got bigger (we think he's a boy) - was the most shy bird of the bunch at first but has turned out to be one of the friendliest. Approx 5 weeks old, give or take.



Chick #2 - Golden Phoenix This one likes to fly! Very friendly though!




Bird 1 and 2 - together in their brooder




Chick #3

This is our little one - by far the smallest and friendliest of the bunch! My kids love it! Golden Phoenix




Chick #4 This is a Standard Barred Rock - our only standard bird was supposed to be for eggs... I have a feeling she might be a he?




Chick #5 - The first of 2 Bantam Buff Rocks




Chick #6 - Second Bantam Buff Rock




And last but not least Chick #7 - Bantam Partridge Rock - Very pretty bird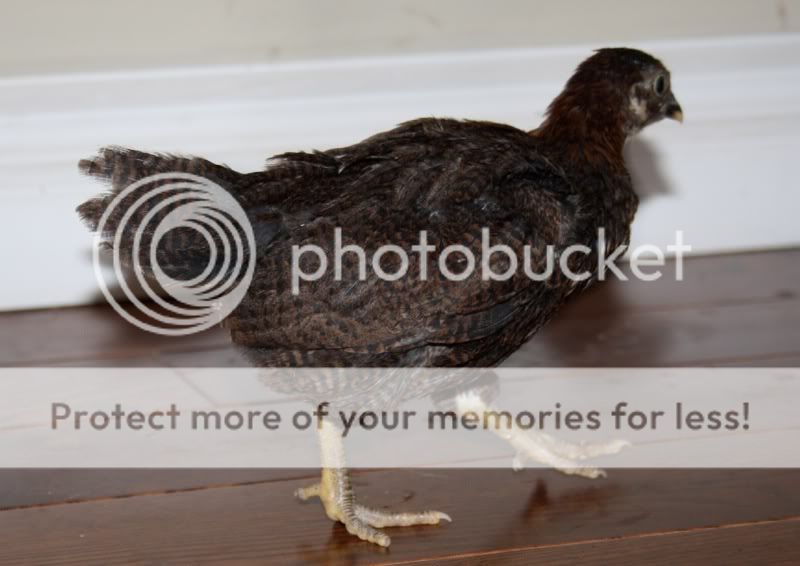 Edited by ryanbonin - 4/13/11 at 8:02am