Hello Everyone!.. I have been a reader of BYC for quite some time, and have learned much.  Our new addition has me now joining and asking for advice.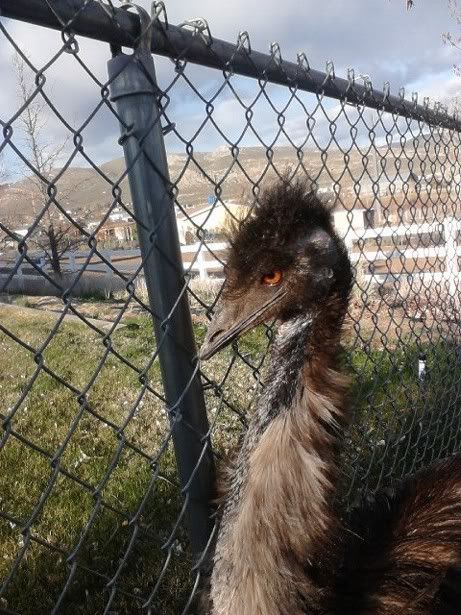 I have never owned an Emu.  We were contacted to take a female who was part of a foreclosure.  The mom couldn't take Emily with her, and gave her to the people we contacted us.  In the move from mom to theses people, Emily was injured by a "cowboy" who thought he needed to jump on her.  She now has a limp.  She is very friendly, seems to love kids, and the move to our Ranch was made with great care.  She has settled in, is eating, drinking, and does her drumming sound when she sees me.  I believe who ever mom was, had much love for this girl.

My Questions:

Is there a way to tell how old she is?

What should I worm her with as I highly doubt the people we got her from did this.

What should I be feeding her?  I have read much about this, but had a hard time finding what kind of feed would be okay for her.  I have not changed food, the people were feeding her a Purina chicken feed.. blue bag.. will have to go out and check the name. 

Should she be alone?..  Should I get another?..  If she has always been alone, then would I be correct in thinking that she is okay?..

Any info would be great!..  I would love to meet other EMU lovers..

  all the pics and videos on here are amazing!!

Kindest Regards..   PS.. I can upload pictures and video if that will help in telling her age?..
Edited by birdygirl123 - 4/19/11 at 9:47pm