Quote:
Originally Posted by
EweSheep

Linda, what color will the house be? I love the color of the front door! And the hitching post! I really need one for our chicken run!
Wondered what John has to say about all of us nodding our heads in approval? I am sure he is very glad to keep busy!
Okay, what did you buy from the nursery? Anything good? Plenty of potted plants would be good!
The house will stay the same soft green color as in the pictures (but be repainted eventually).  We are going to repaint the front side of the house now because so much of it is under the porch roof; that way fully one fourth of the house will already be painted before the rest of the house.  As John said, "This way you won't have to take down all the stuff on the walls a second time after we screen the porch."  John had two gallons color-matched to a bit of trim and "registered" it with Home Depot so we can get it again when I get around to having the rest of the house exterior painted.
He USED to be surprised when I told him "My BYC [Internet] friends said....." but now he asks what I have told y'all. 
  He had been kinda freaked about photos but I told him "most" of the time I post candid pictures of him working and not anything full face.  Like many folks, he believes he looks dorky in photographs. 
He teases me that I am his "best customer with free range chickens."   Mrs. Retiree next door made a comment - to our district Board of Supervisor member - about John "working practically full time" at my place, in the meeting in his private office on the 22nd.  It was during the part of the discussion when they were saying what a good neighbor I am and how much I've improved the property value "except for the roosters."  I think it's interesting she had a comment to voice about the amount of time ANYbody spends at my house.  John noticed too, and said in the parking lot, "Wait until I sun-bathe naked on your deck." 
(He was trying to make me laugh - he had entered the Supervisor's office after stopping to talk with him in the hallway, a few minutes after we got started "negotiating" per the Supervisor's instructions.  I'd already had some silent eyeball leakage by that time, making it obvious I was NOT a happy Linda.)
Back to fun stuff.  Lessee, at the nursery on this most recent trip I bought 2 "rock rose" shrubs, 4 "bi-color" something or others (I took a blossom on a stem from the plantings around HQ when I picked up my retired ID card),  2 evergreen Mountain Pepper shrubs, 1 more of another shrub, and 3 slightly different shrubs in gallon buckets.  I wanted hardy, fast growing, low maintenance shrubs to put around the propane tank and in a couple of spots to reduce erosion.  The Latin names are on the buckets, but not the common names, sorry.  I just read the care and growth requirements of those I liked.  On my previous visit I bought a Mortgage Lifter (heritage) tomato plant, a Sweet 100 cherry tomato plant, a lemon cucumber plant, a six-pack of Albion strawberries, a Japanese wisteria, a raspberry vine, a Snowdrift clematis and a golden honeysuckle.  The visit prior to those, I bought a five gallon October Glory red maple and a blue Rose of Sharon (hardy hibiscus).  
The darned nursery is one of the best in the Sacramento area and I pass it whenever I go "down the hill."  Last year I bought a five gallon purple Crape Myrtle tree and thought it had died in its bucket during the winter, but it has miraculously come to life and absolutely NEEDS to be planted.  VERY soon.
The "dead" table grape vines I bought (live) last year also came back to life, so those need to get into the ground by the posts of the pergola. 
I've mentioned before that most of my pets name themselves.  Today, three of my pullets let me know theirs:  the BR is Belinda, the SLW is Olivia, and my new house chicken is Pippa.  She's the White Crested Black Polish pullet who has needed to be sequestered twice when I found her limp in the yard.  I brought her inside to perhaps die peacefully, but each time she has recovered after two days of being provided her own food and water.  Still, she isn't very active and seemed to be quite happy in the big brooder bin.  Last night she hopped to the rim of the bin, then investigated stuff stacked <*ahem*> around two of its sides.  She's very docile.  This afternoon, I picked her up to clean the poo stuck to her tail feathers and she wanted to stay on my arm.  So we went into the living room to watch some TV with Lizbeth, Dooley and Zorro all gathered on the sofa.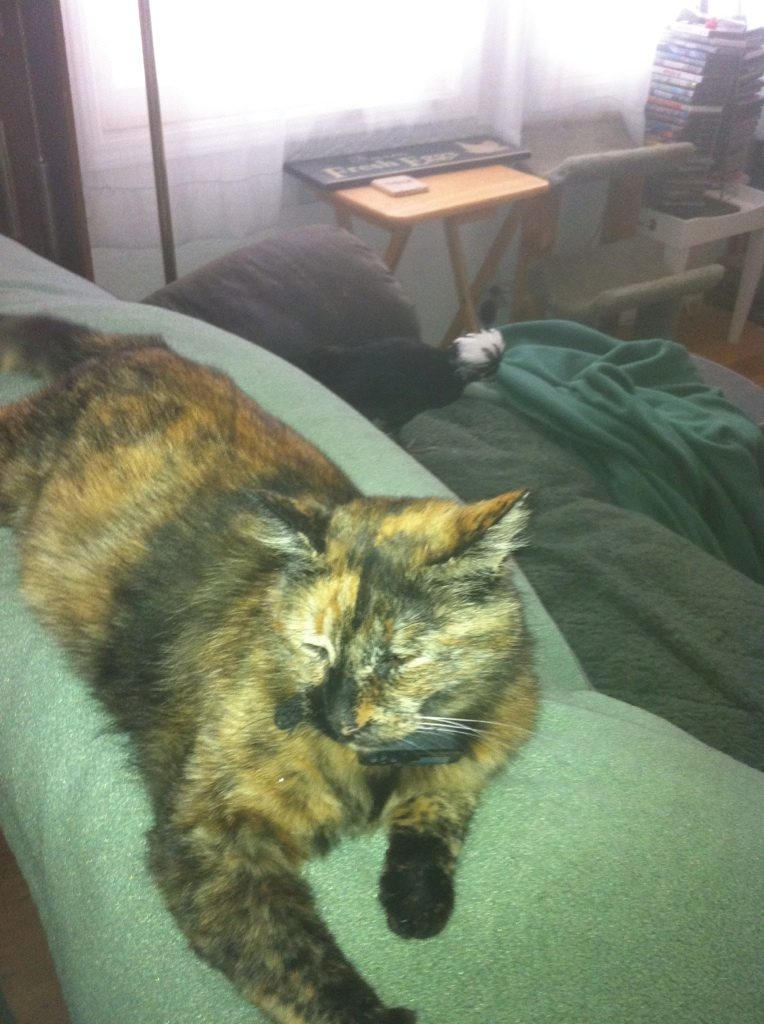 She's back in her bin now.  But I may have to go look for a diaper for her.....
Edited by gryeyes - 5/30/12 at 5:58pm
-- Linda (AKA: gryeyes)
I refuse to fight a battle of wits with an unarmed person.

Buncha Outdoor PET chickens, ducks, two Toulouse ganders, and four turkeys. Plus 2 wiener dogs, some bunnies and a rescue cat which owns me. Oh. And a house silkie....
-- Linda (AKA: gryeyes)
I refuse to fight a battle of wits with an unarmed person.

Buncha Outdoor PET chickens, ducks, two Toulouse ganders, and four turkeys. Plus 2 wiener dogs, some bunnies and a rescue cat which owns me. Oh. And a house silkie....