So I posted yesterday about my rooster crowing non stop. Well thankfully he stopped. But when we went out today to finish his coop I had to actually pick him up to move him. I'm not usually that close to him and when I was I noticed that his comb is turning black. So, google has lead me to believe it's Avian Pox or heart disease causing poor circulation. Is it? What do I immediately need to do for him, and to prevent my other 18 from getting it, if this is something to worry about?



1) What type of bird , age and weight. Mutt Rooster. 15 months. No clue
2) What is the behavior, exactly. Nothing unusual today. Lots of crowing yesterday.
3) How long has the bird been exhibiting symptoms? the blackness? -1 day
4) Are other birds exhibiting the same symptoms? No, he is alone
5) Is there any bleeding, injury, broken bones or other sign of trauma. No
6) What happened, if anything that you know of, that may have caused the situation. Nothing. No unusual changes in housing, no new birds,etc
7) What has the bird been eating and drinking, if at all. Water, feed, grass, household fruit scraps (all approved)
8) How does the poop look? Normal? Bloody? Runny? etc. Normal. Large lump, turns white.
9) What has been the treatment you have administered so far? Observation
10 ) What is your intent as far as treatment? For example, do you want to treat completely yourself, or do you need help in stabilizing the bird til you can get to a vet? Treat him myself.
11) If you have a picture of the wound or condition, please post it. It may help. Posted
12) Describe the housing/bedding in use Straw, inside of his wood (pine) coop



Anyone know? This is literally within the last 24-36hrs, because I did have to pick him up Tuesday night and I did not see it at all.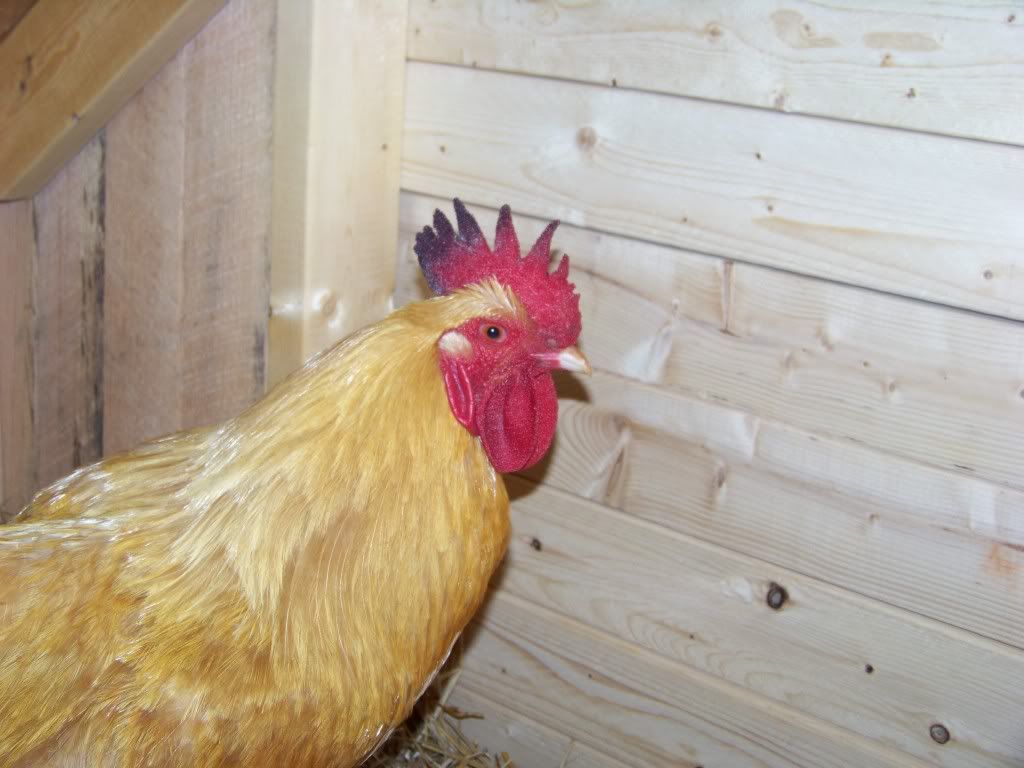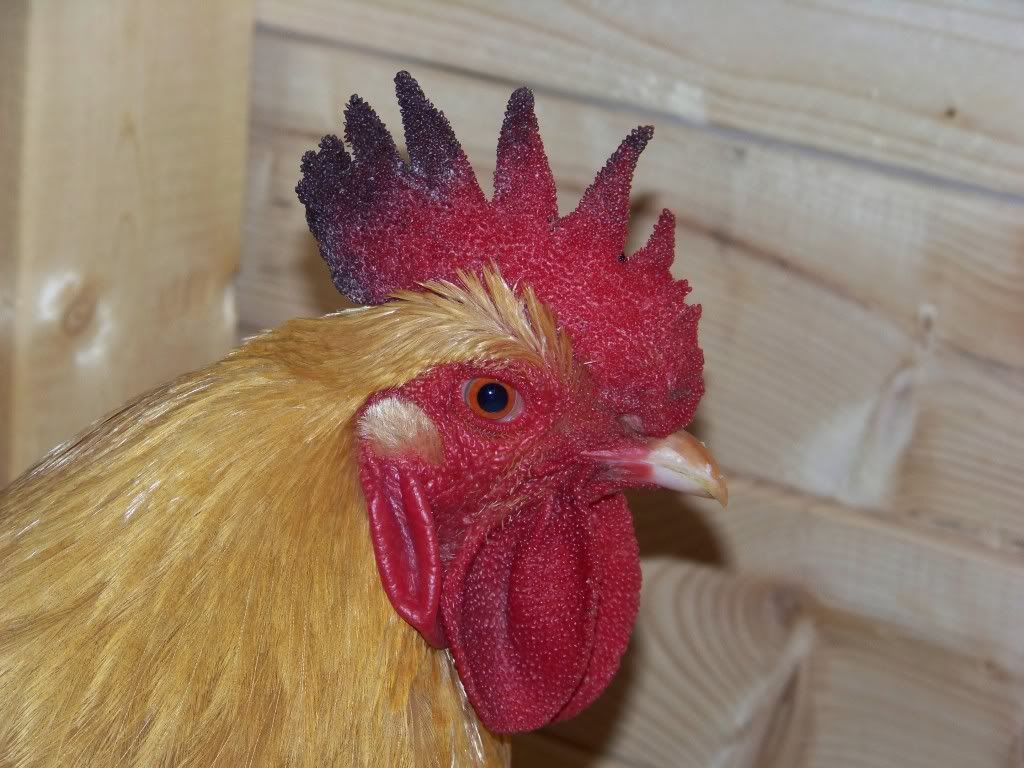 Wattle looks ok to me




SO bad!!!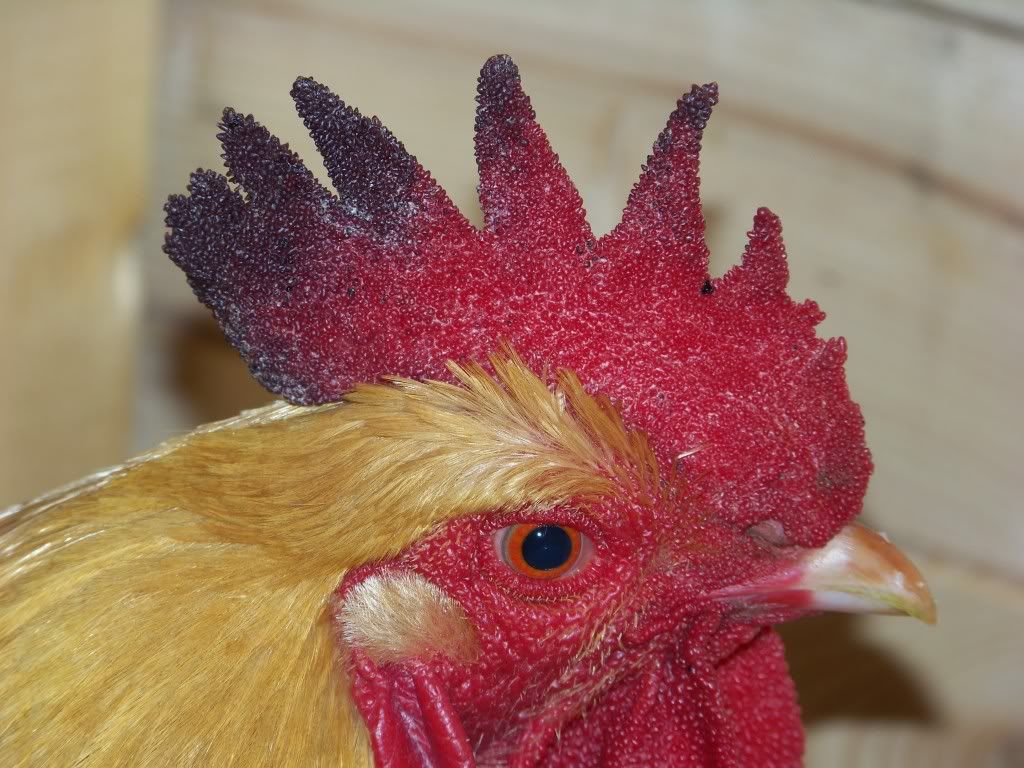 Edited by CowgirlPenny - 4/29/11 at 11:04pm
4 human kids + 1 dog, 2 cats, 1 Australorp, 1 Barred Plymouth Rocks, 3 Black sex links, 2 Production Red's, 4 Ameracuanas, 2 Buff Orpington
2013 chicks: 1 Welsummer male, 1 Buff Brahma, 1 Light Brahma, 1 Russian Orloff, 2 Salmon Faverolle, 1 Barred Rock
2013 ducklings: 1 male Pekin, 2 female black east Indie ducks
4 human kids + 1 dog, 2 cats, 1 Australorp, 1 Barred Plymouth Rocks, 3 Black sex links, 2 Production Red's, 4 Ameracuanas, 2 Buff Orpington
2013 chicks: 1 Welsummer male, 1 Buff Brahma, 1 Light Brahma, 1 Russian Orloff, 2 Salmon Faverolle, 1 Barred Rock
2013 ducklings: 1 male Pekin, 2 female black east Indie ducks