Hi,  After building our new coop with external nest boxes I decided I wanted to keep drafts down from any cracks and crevices in the coop. When I built the boxes I made sure I left a 3/4" lip around the nest box opening for the door to close against, knowing that in time as we approached colder weather I would want to weather seal them. So, I applied an adhesived backed foam weather stripping around each door opening for the plywood door to seal against. Can't see light thru, so feel no air will leak through either. Pretty simple, cheap and easy to do. Erik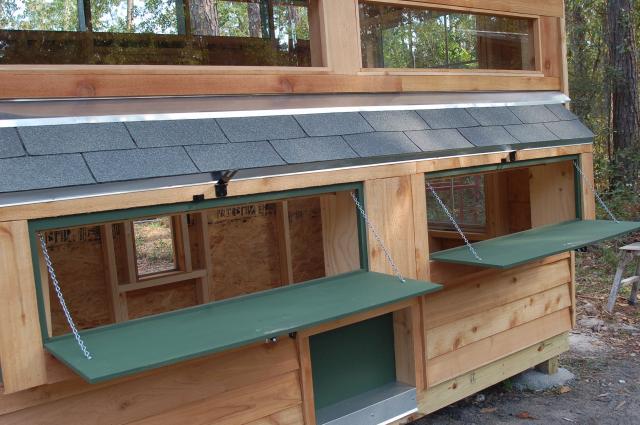 Here is phot showing doors open and the lip(green) around the door opening.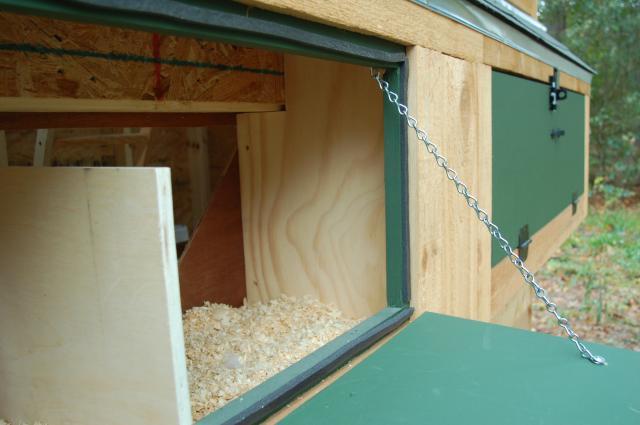 Here is closeup of foam gasket material in place. Doors close very tightly against the gasket. Don't think I'll have any air leakage or even blowing rain for that matter.
God, Country, Family, Honor.......  Dad to RIR, NHR, White Silkie, Wellsummers, Barred Rocks, , Golden Campines, Red Star, Dominique, Americana, Auracunas, Black Austrolorps, Blue Andalusians, Wyandottes, Old English, Orp and others
God, Country, Family, Honor.......  Dad to RIR, NHR, White Silkie, Wellsummers, Barred Rocks, , Golden Campines, Red Star, Dominique, Americana, Auracunas, Black Austrolorps, Blue Andalusians, Wyandottes, Old English, Orp and others