New chicks are hatching out right now!  Looks like a BUNCH of them in there.  Probably about a dozen?  I have eight more eggs going into the hatcher on Friday.  I'll get pix of the newborns soon.

These would be the first chicks of this season, EXCEPT one of my hens snuck off while I was out of town for a week, and started sitting on some eggs.  The petsitter didn't collect eggs, and I didn't have the heart to destroy them, so I let her hatch them out.  At the time, my giant roo, "Cheeto" should have been the only rooster old enough to breed.  He was the only one I ever saw mounting any of the hens when the hen started sitting on these eggs - we're talking about two months ago at this point, since the chicks are a month old now.  But, I can't gurantee these are his chicks, because technically there are other younger, smaller roos in the pen.  Anyway, I couldn't wait to see if they got color, and so far, ALL of them have white flecks:




If these are actually Cheeto's babies, they will be HUGE!  Check him out, I hope they're his.  I wonder??  It should be really obvious if these are his babies when they get bigger, because of his body type and size.  I'm guessing his kids will be a whole lot bigger than a regular Aloha!




Anyway, the newest baby chicks hatching now, some eggs were from another seperate breeding pen with a HUGE pure Speckled Sussex roo in there.  Several chicks look very Sussex.  Others are bright gold.  That looks very promising, I mean, if I'm looking for signs that Cheeto is the father.   I'm going to band the legs and see how they develop.  Right now, these should be all (or mostly all) the babies from the Sussex roo pen and from Cheeto's pen.  Cheeto is dominant in the main pen.  He's in there with about a dozen hens and several other younger roos.  Three of the other roos are still goofy teens and whenever they get near a hen, she pecks them and they run away in terror.  LOL.

However, I did see this gorgeous boy, "Flame" sneak off and cover one hen.  He's bigger and the next oldest, and "second in command" in Cheeto's breeder pen.  I don't think I'll be too upset about those "contaminated" genes, because wow is he gorgeous.  I saw him hop on one of my favorite hens, a really big half-Aloha so the chicks should turn out great.  I really need more breeding pens! "Flame" is really cool!  But I would like to have a way to gurantee that the chicks are only by one boy or another.  Not enough pens, arrrgh.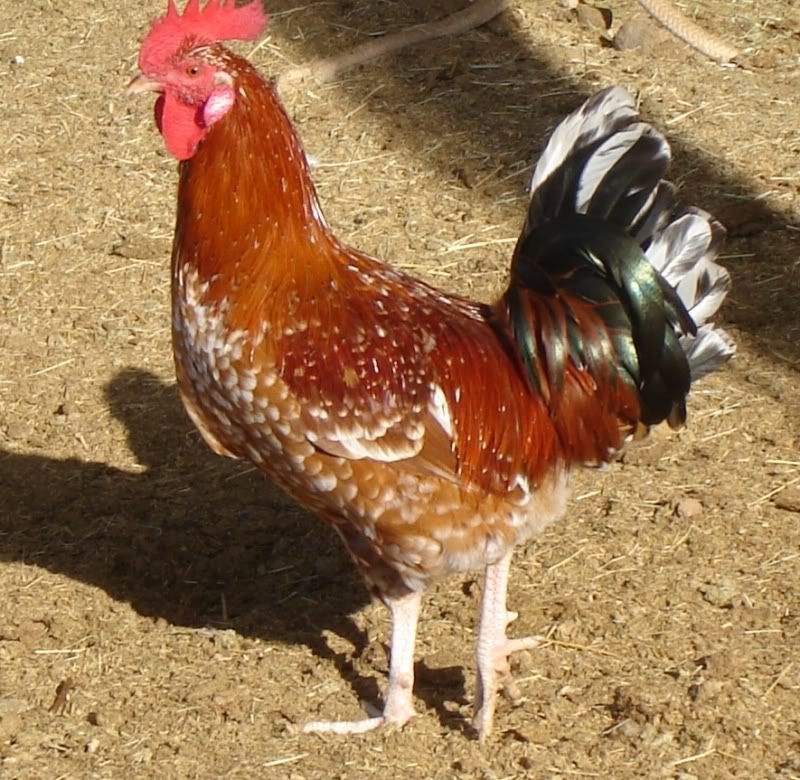 Going to cross him with some pure Buff Orp hens, if an Aloha partner out here can get a breeding pen set up.  He's working on it!  I can't wait.  He is going to try and set up several breeder pens we can use in the program.  If he can set up the pens, I'll give him the chickens to fill them up with, and we'll share the chicks hatched out.