The Thanksgiving hatch chicks are growing and looking great!  Of the 22 hatched, I culled three to the neighbor (too much white) but I peeked in on their coop, and they are still doing fine over there.  I lost two, the group piled up one night and two on the bottom were smooshed.  Which was weird, I haven't had that ever happen before, or since.  I moved bowls into the corners of the grow out pen, though, to hopefully prevent that in the future.  (Crosses fingers.)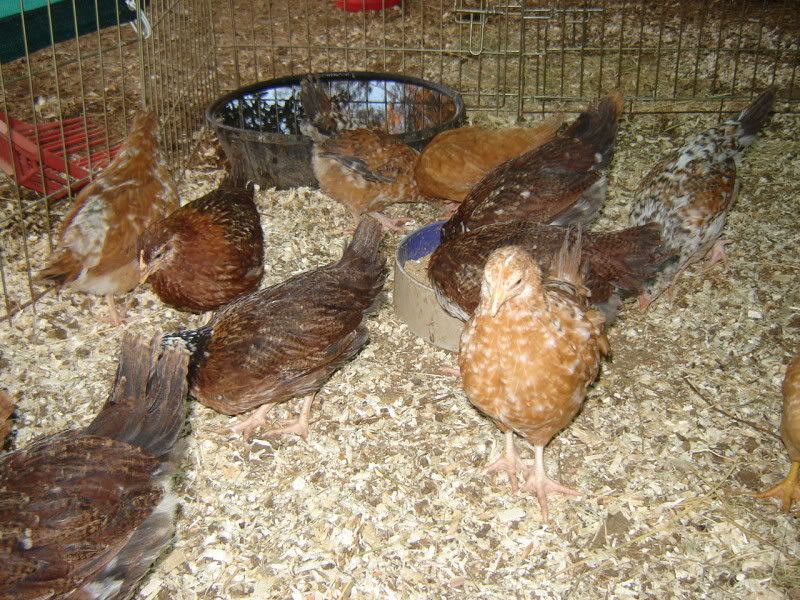 Three of the chicks have been of special interest to me.  Lots of orange and white.  One, the only orange mottled with yellow legs, was lost in the pile-up.  (Of course.)  The other two have pink Sussex-colored legs.  One may have barring, but the other looks fine.  This is the one that I'm not sure will be barred?




One hen (I think it's a hen?) that I've named "Pepper" may be too barred?  I'm not sure if she will work in the program or not.  All I do know, is she is HUGE in body.  So cute and fat!




Also have buff mottled?  Which is a brand new Aloha color over here!  Won't it be fun to see how those look when grown?




Mostly, these look like purebred Sussex chicks.  I'm hoping they look a bit more "different" when grown.  One big baby rooster is very friendly, he perches on my shoulder sometimes.  Actually, all of these chicks are extremely friendly, unlike the usual more flighty pure Alohas.  The influx of Sussex and Buff Rock is starting to show not just in bigger birds, but in more domesticated temperament.




One Sussex-ish chick is showing a lot more reddish brown than a regular Sussex.   However, very little white?  Will have to wait and see.

Verdict is still out on who will be helpful and who will be culled, will have to grow them all out a bit longer.  HMMM.  Will be interesting! 

More chicks to be hatched out soon . . . .