Available now is a 5 1/2mth old, non-bearded, white silkie pullet.  She is the offspring of Paint x Paint breeding.  Some Paint breeders have bred these solid color offspring and produced Paint chicks.  Does she carry a Paint gene?  I can't say for sure because I'm still in the first generation.  She still has some filling out to do but has a nice start with a full cushion and crest.  She is not yet laying.  She does have a double nail on the 5th toe of both of her feet.
Shipping is $60 and includes a new Horizon box.  I line the bottom of the box with rubber shelf liner so that the bird may maintain it's footing.  Watermelon is added to maintain hydration.  She will be shipped on Monday, November 28th, weather permitting.

Payment is by PayPal only (unless prior arrangements have been made) and due within 24hrs of auctions end.  Prior to shipment, she will be bathed and free of parasites; nails and beak trimmed as needed.

Bat Cave Silkies is a NPIP participant and AI certified.  All chicks receive the Mareks vaccine at hatch.

Please PM me with any questions you may have.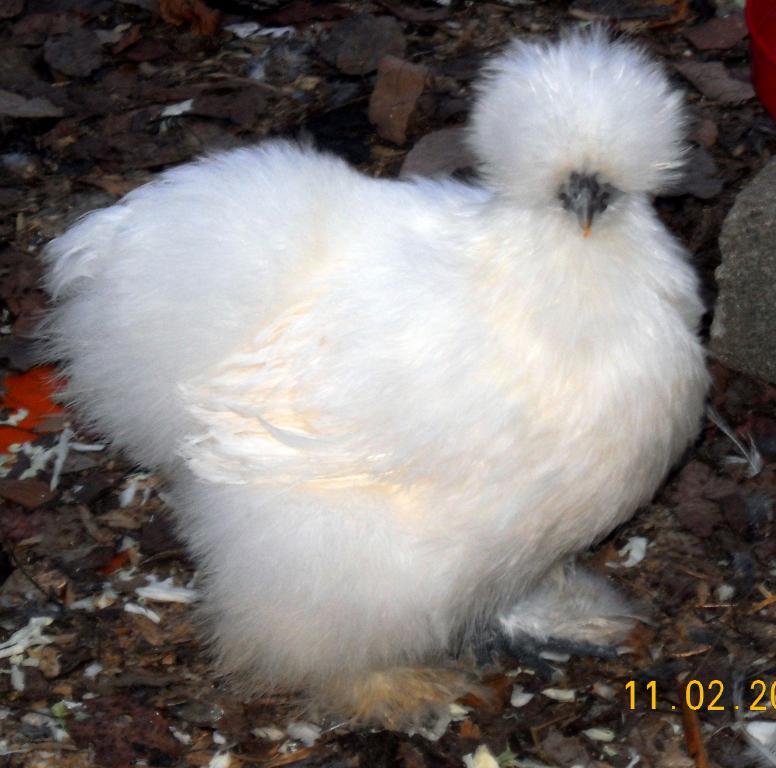 Edited by Bat Cave Silkies - 11/22/11 at 5:55am
Passionate about my husband, my chickens, and my flower gardens (in that order).  Mom to quality, bearded Partridge, Blue, Splash, Porcelain, Black & Paint Silkies.  NPIP & AI cert. Memeber ASBC, APA, & ABA
Passionate about my husband, my chickens, and my flower gardens (in that order).  Mom to quality, bearded Partridge, Blue, Splash, Porcelain, Black & Paint Silkies.  NPIP & AI cert. Memeber ASBC, APA, & ABA