Congratulations MamaNini!  You won!  Look for a pm from me in your inbox!
Give us your best BackYard Chicken Related advice and have a chance to win a coop from Handcrafted Coops!
Please read all directions before entering!
Everybody wants their chickens to have the best home possible.  If you want to raise a small number of chickens, and especially if you plan to be raising them in a small space, it can be challenging to figure out the best plan for your chickens.  That's why we all come to Backyard Chickens – to share advice, ask questions, and spread the happiness that comes with raising chickens.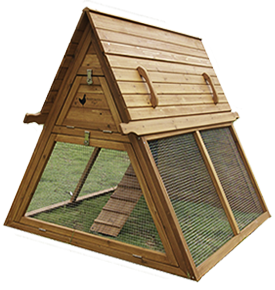 We want to encourage all of our members, old and new, to contribute helpful comments and advice to the community.  Even if you're brand new to raising chickens – or if you're looking into getting chickens for the first time! – you can enter with any insight you've had into the whole process of choosing to raise or raising chickens.
Some possible topics: 
- How do I find out if it is legal to raise backyard chickens in my city?
- How do I choose a breed of chicken to raise?
- Should I order chicks or hatch myself?
- Will my chickens get along with other animals?
- How can I ensure the best quality eggs?
- And many more!
One of our longtime sponsors, Drew from Handcrafted Coops, is providing a beautiful coop for the winner of our contest. 
To Enter:
1)      Post your advice as a reply to this thread.  Must be between 50-250 words.
2)      Go to http://handcraftedcoops.com/contest and fill out your information there.  
3)      Get excited to read all of the great advice and find out who won!
Please read the Terms and Conditions before entering!

Don't forget to go to the Handcrafted Coops Facebook Page and click "Like"!
All entries MUST be submitted by Feb 29!  We'll PM the winners a few days later and announce the results here!