Long portable runs. Why I needed one.
When I was a young boy, we raised meat chickens. Of course, one of my jobs was to clean the coops. When I was a young boy, I hated chickens. When I was a young man, I swore I'd never clean a chicken coop again in my lifetime. After I was married I didn't have chickens and I didn't think about them at all. A few years back my wife wanted to have chickens to help work up our garden. We have a very large garden with about 15 growing beds that are 4'x50' and she wanted to have the chickens scratch and tear up idle beds. I knew from having been around chickens in my youth that they would be excellent at reducing a bed of vegetation to dirt. However, trying to figure out how to create a 50' living quarters that was moveable was a challenge. I was already using 6"x6" concrete reinforcing mesh formed into hoops that I use as free standing movable fencing. I use these to keep deer, dogs, raccoons, and people from walking onto the beds. Just from observation I knew that an arch protects three sides with one rectangular piece of material. So I started thinking about how I could use this same technique I was using for fencing to create a coop and run that I could move, make it the length I wanted, and keep the chickens in and the local wildlife out. A 5' wide run would be the perfect size to sit over a 4' bed. I spent one whole year making models out of 1/2" hardware cloth. Figuring out how to make the runs turned out to be simple enough, but making the coop was another matter.
A run unit is made out of one 7'x5' and two 5'x2' pieces of 60"x150' 12.5 ga. galvanized fencing.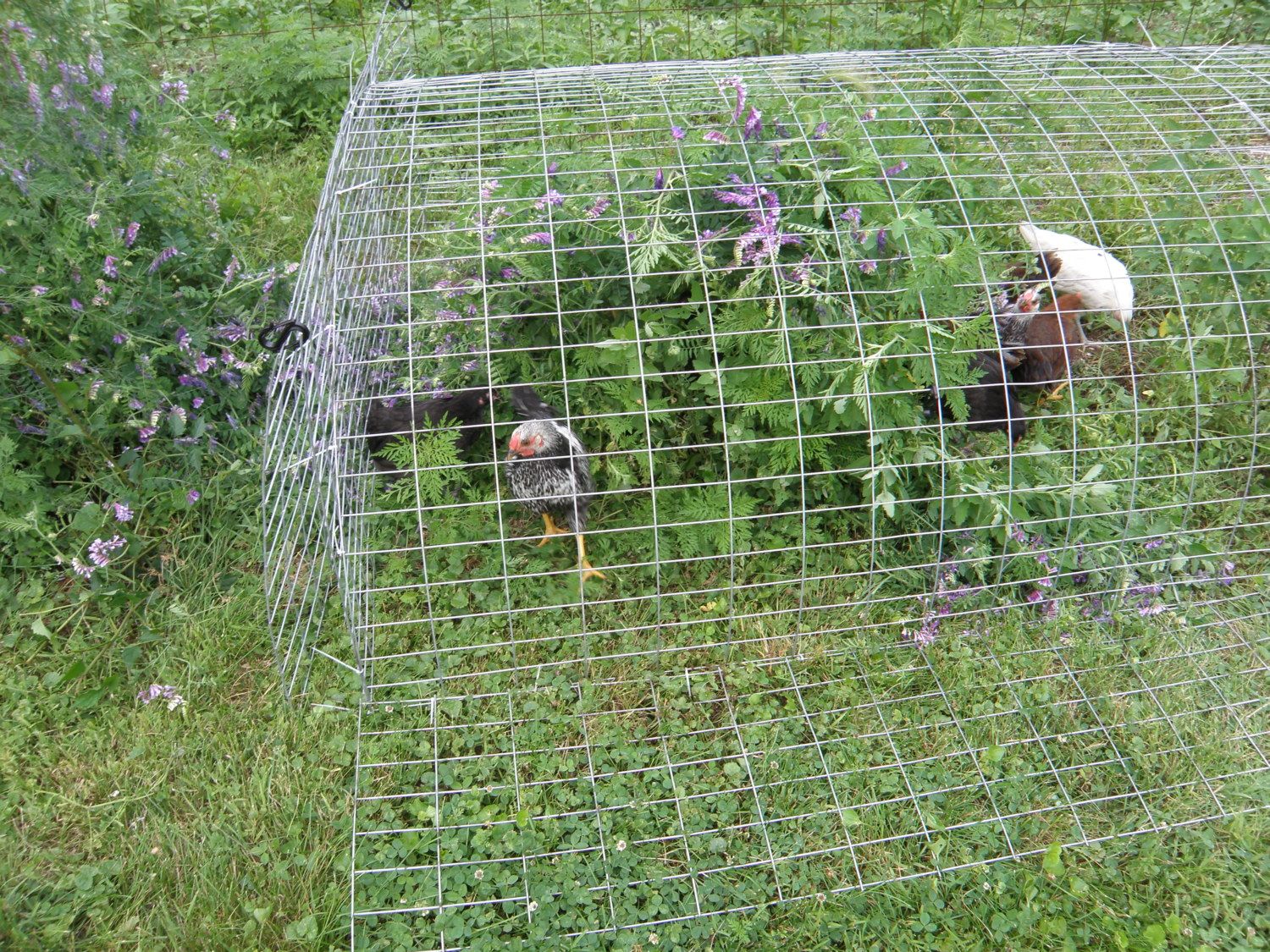 I couldn't build the coop like the runs because the ends stick out past the arch. For the coop I wanted to be able to cover it over the edges of the arch for a little tighter fit for winter. So what I came up with is an end that is made of PEX (pvc tubing that comes on a roll) with the fencing ending where it crosses the PEX and is bent to be pushed into the the PEX tubing. The coop is made from a 5'x11' piece of fencing and the ends start as two 5'x4.5' pieces.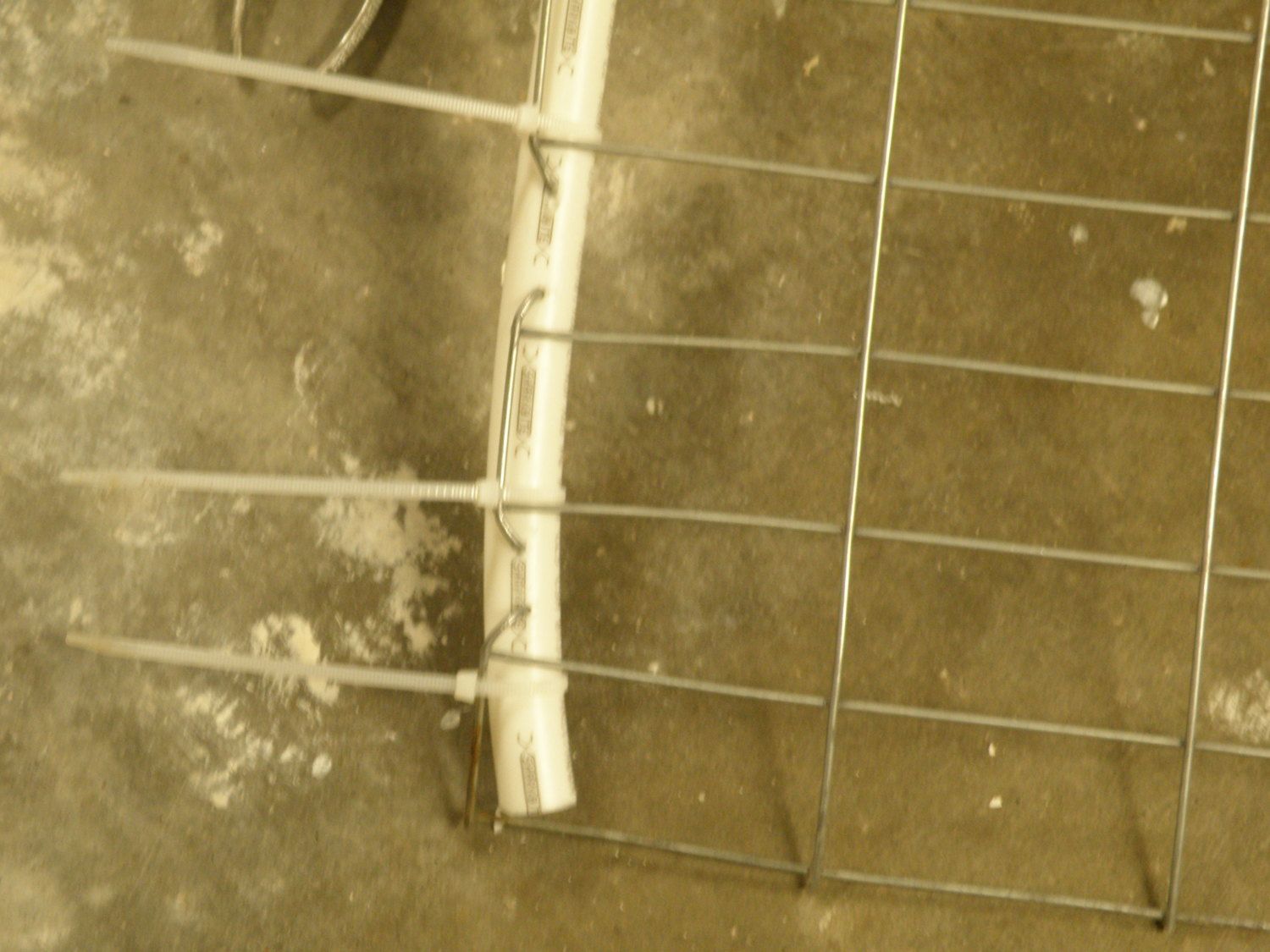 After the wire was all inserted into the tubing I drilled a hole perpendicular to the each wire in the tubing. I bent each wire over so that it would not be able to back out of the hole it had been inserted into. I then filled the tubing with expandable foam to add strength to the tubing and keep little critters from finding a home inside the tubing.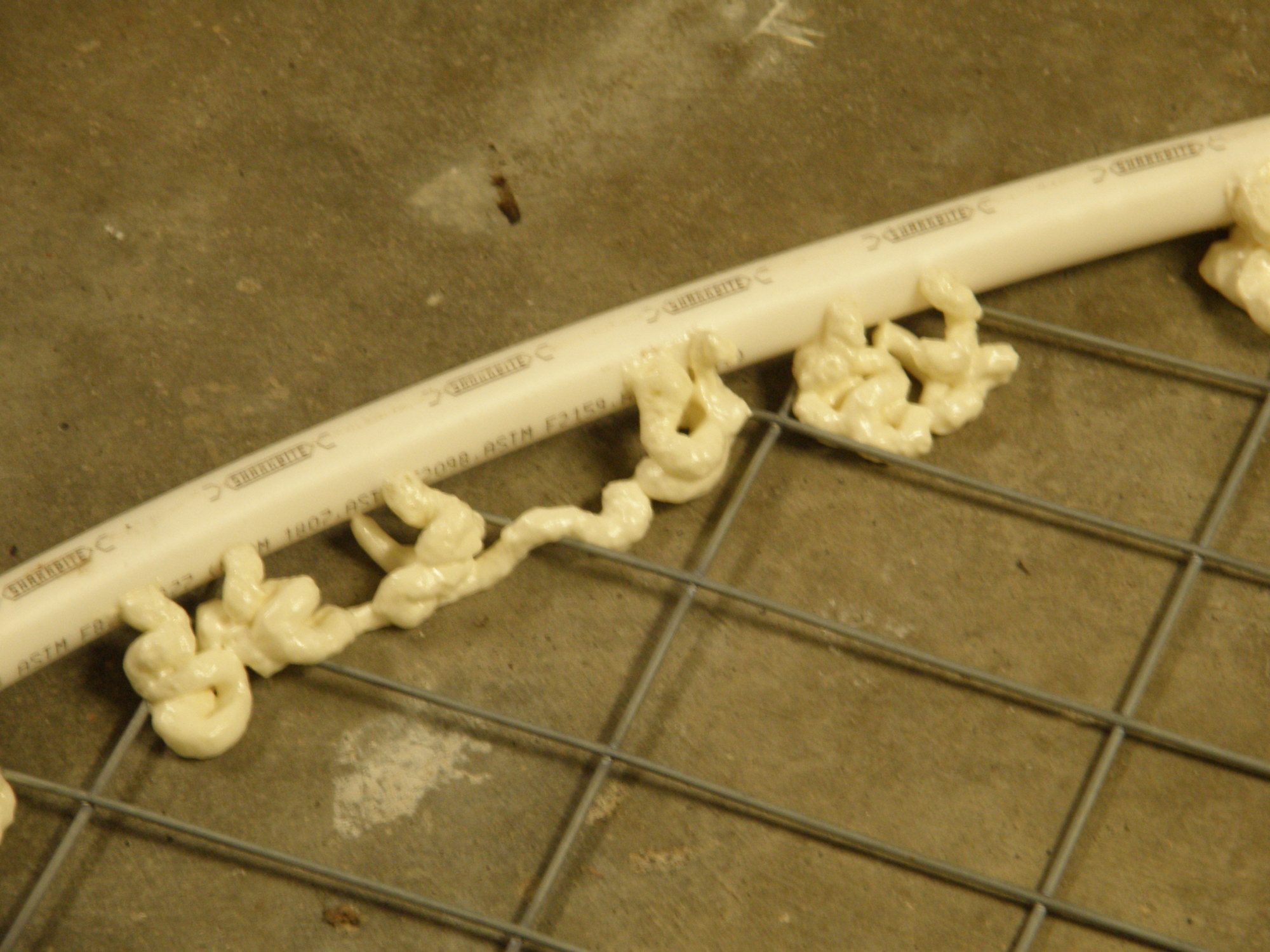 I cover this end with row covers (a fabric for covering vegetable crops), using aluminum fabric pipe clips to hold it to the arch and ended with a coop that looks like this: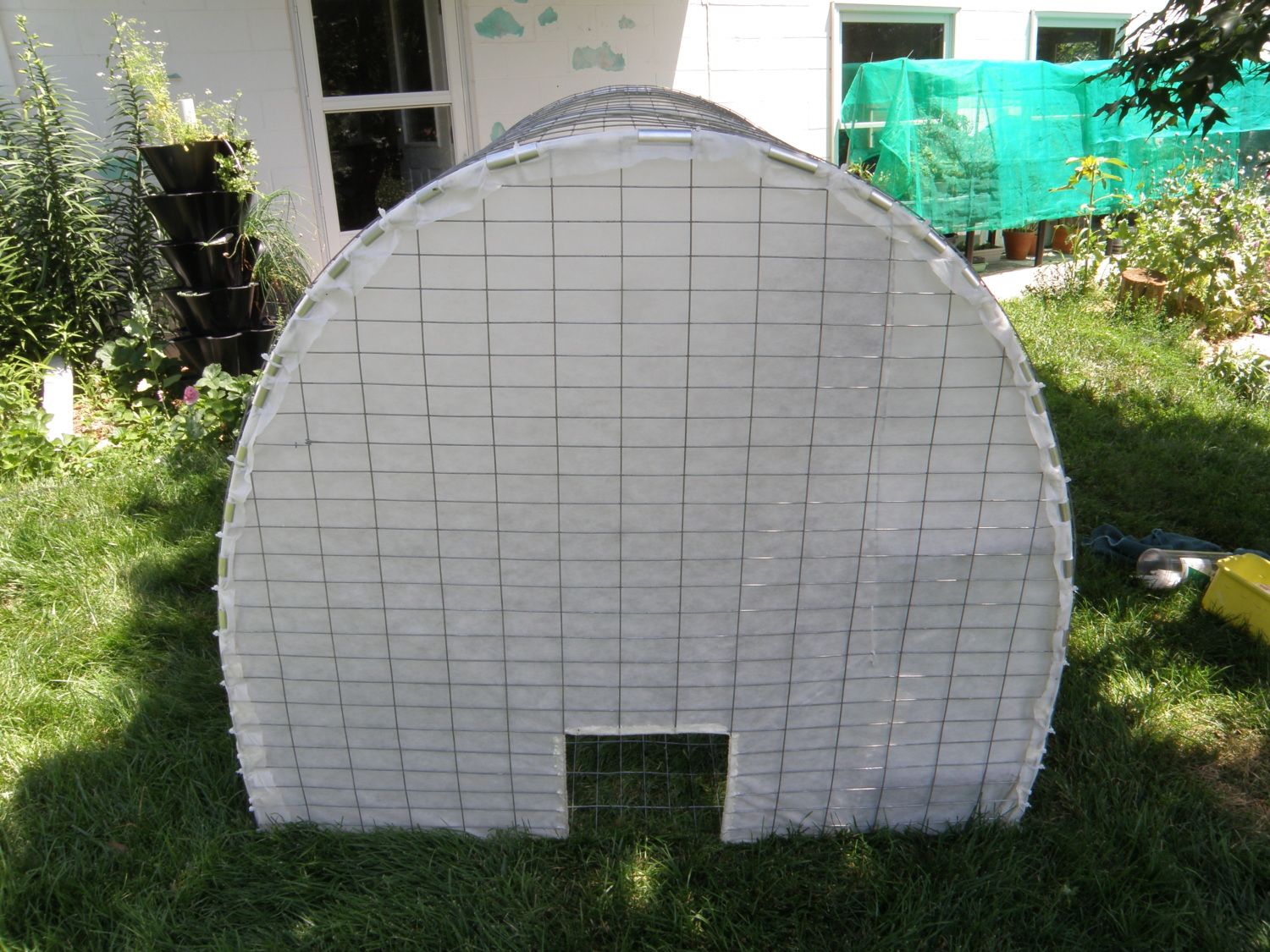 For the perches I bent aluminum sheeting for hanger that fall over the wires in the 2"x4" openings and under the 2x4 studs.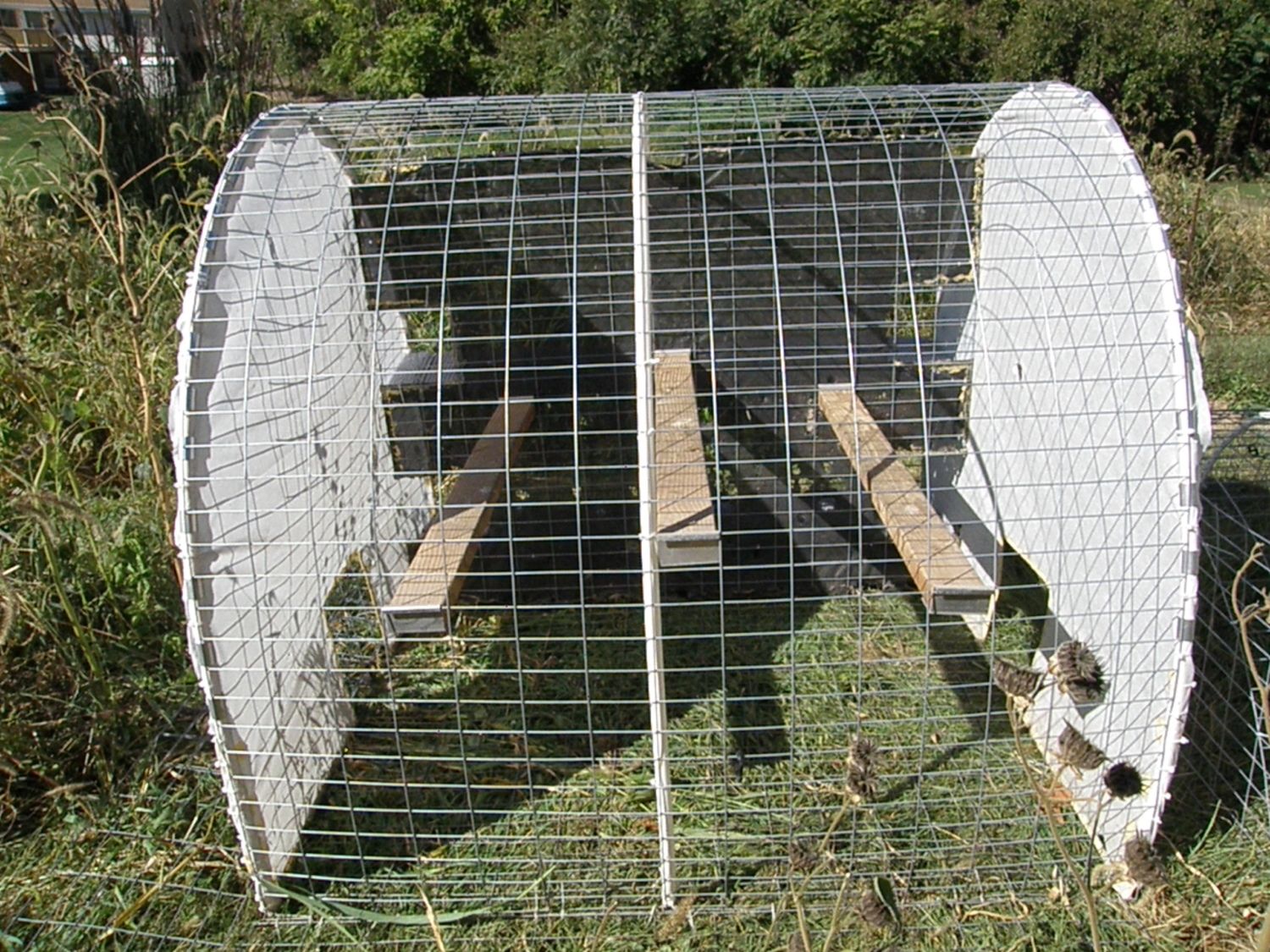 For nest boxes I used what materials I had, which was fencing. I covered this with a dark material and carpeted the nest area with nest box pads.
Then I covered the coop with a tarp like this: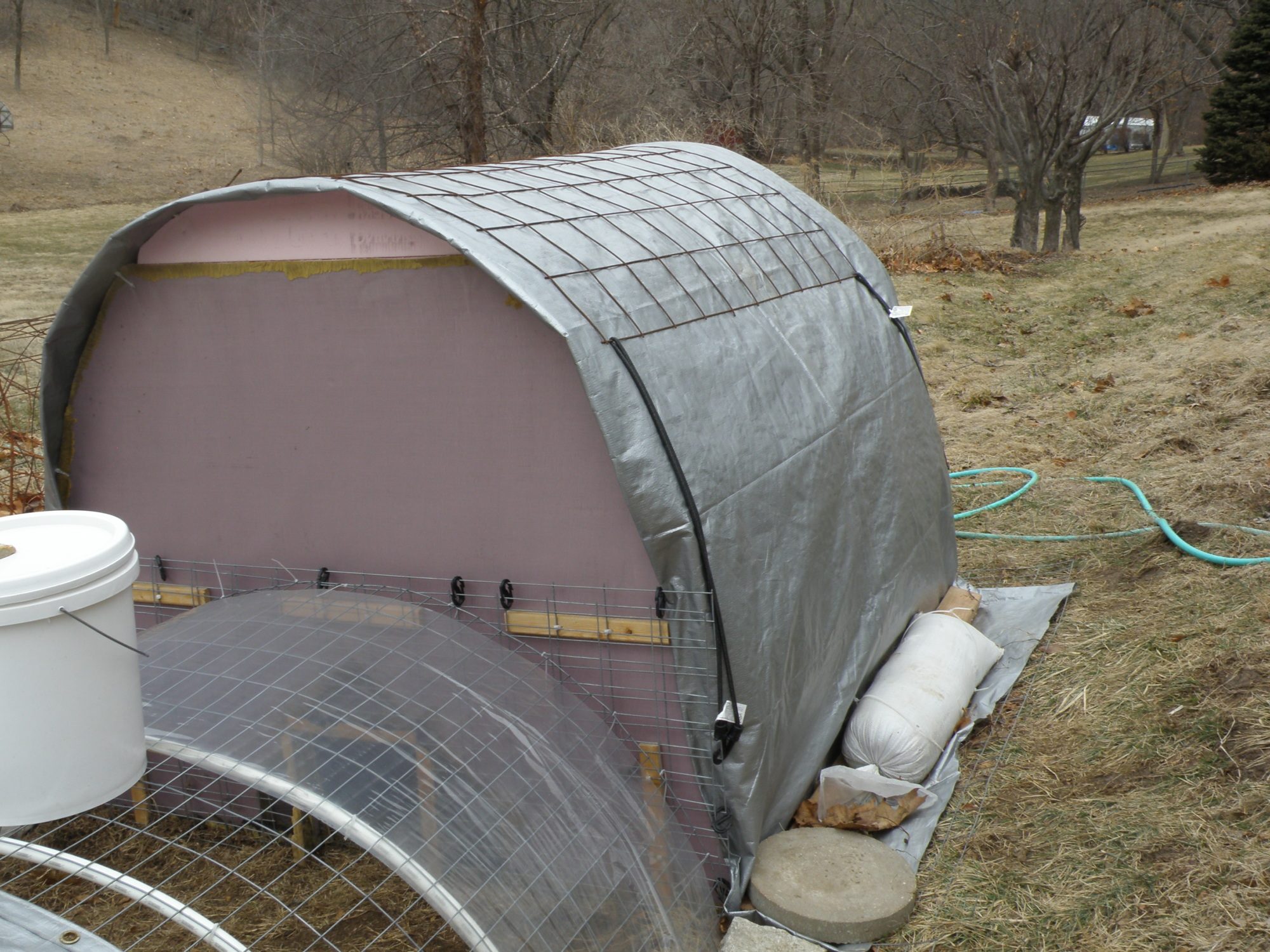 I know from earlier times that chickens don't work as much if there is snow on the ground. But, if you live in a windy place, covering the arch with anything won't work because the wind will blow it off. If you attach anything to the arch it will eventually get picked up by the wind and expose the chickens. My solution was to put a hoop over a hoop sandwiching the material I wanted to use in between. That way if it did blow off only the outer wire and the covering would come off. The run would remain were it was. So for a covered run in the winter I use something like this.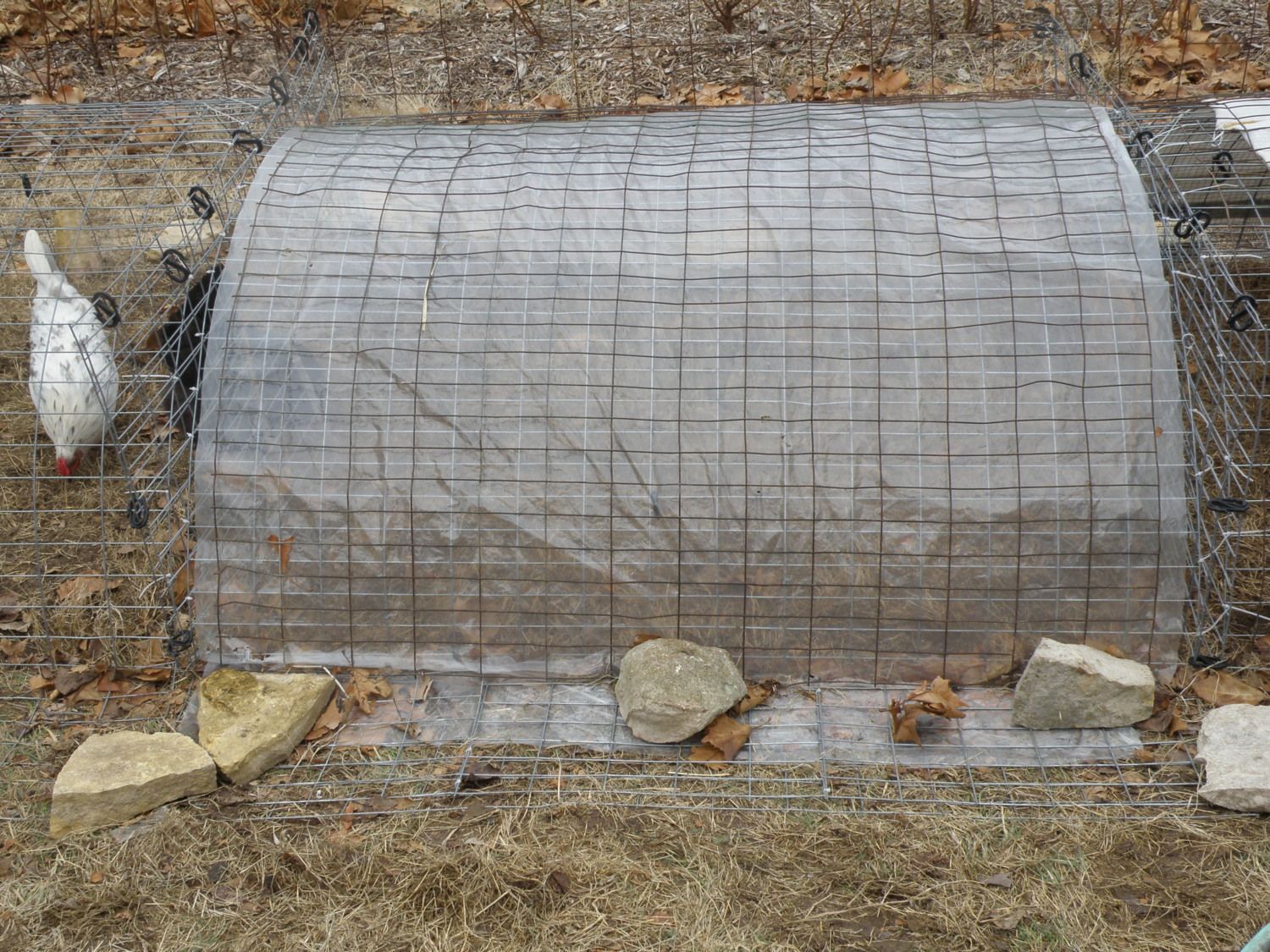 For the summer I used shade cloth and corrugated fiberglass (not pictured) that are sized so a space near the ground remains open for good ventilation.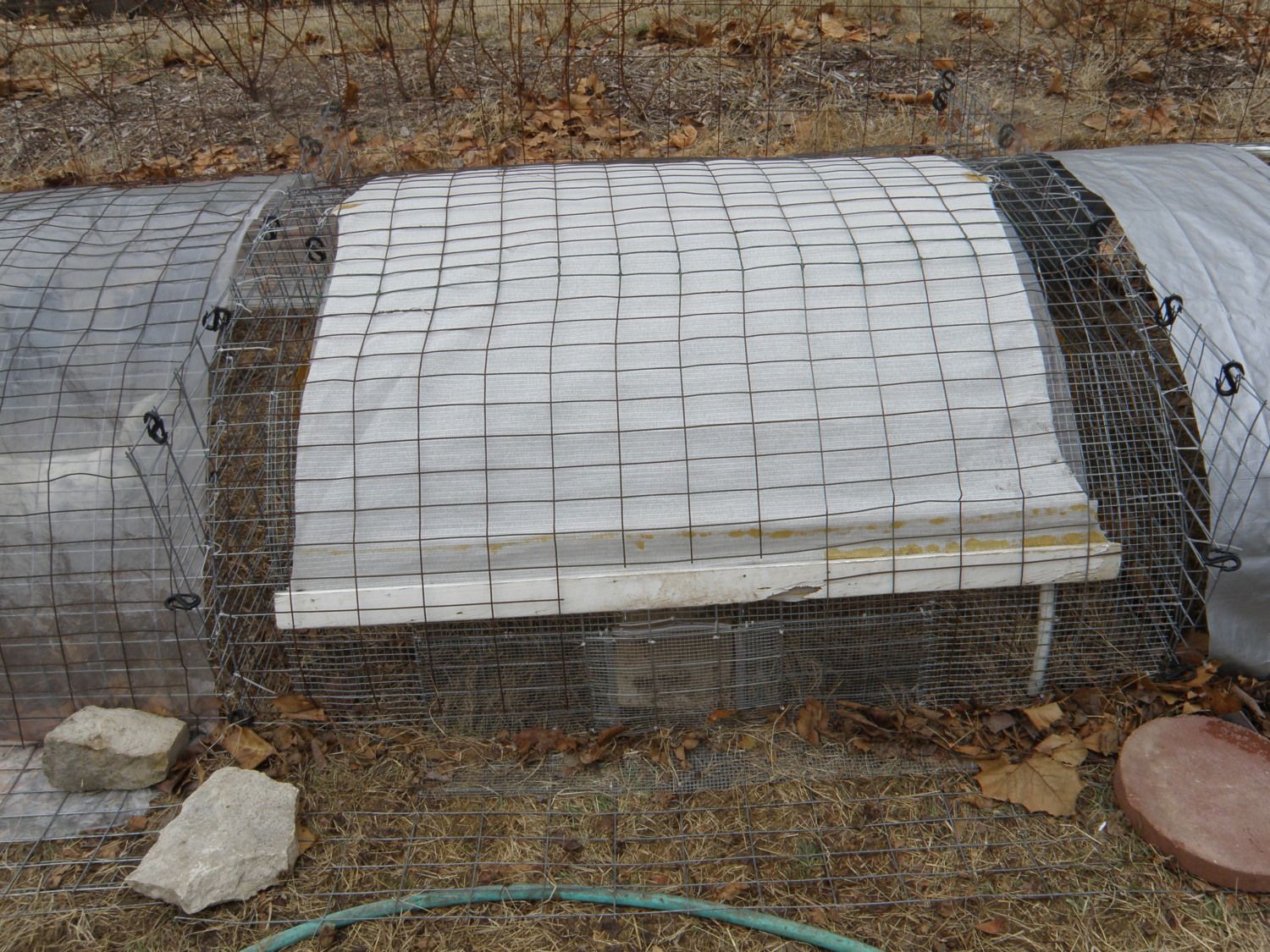 So in the end, my wife got to have chickens working in the garden and I still don't have to clean out a coop. Here's a picture from this winter showing the chickens working to cleaning off a rock patio that had been over grown with grass. They did a splendid job of removing the grass right down to the rocks. This makes clean up of the rock patio so much easier.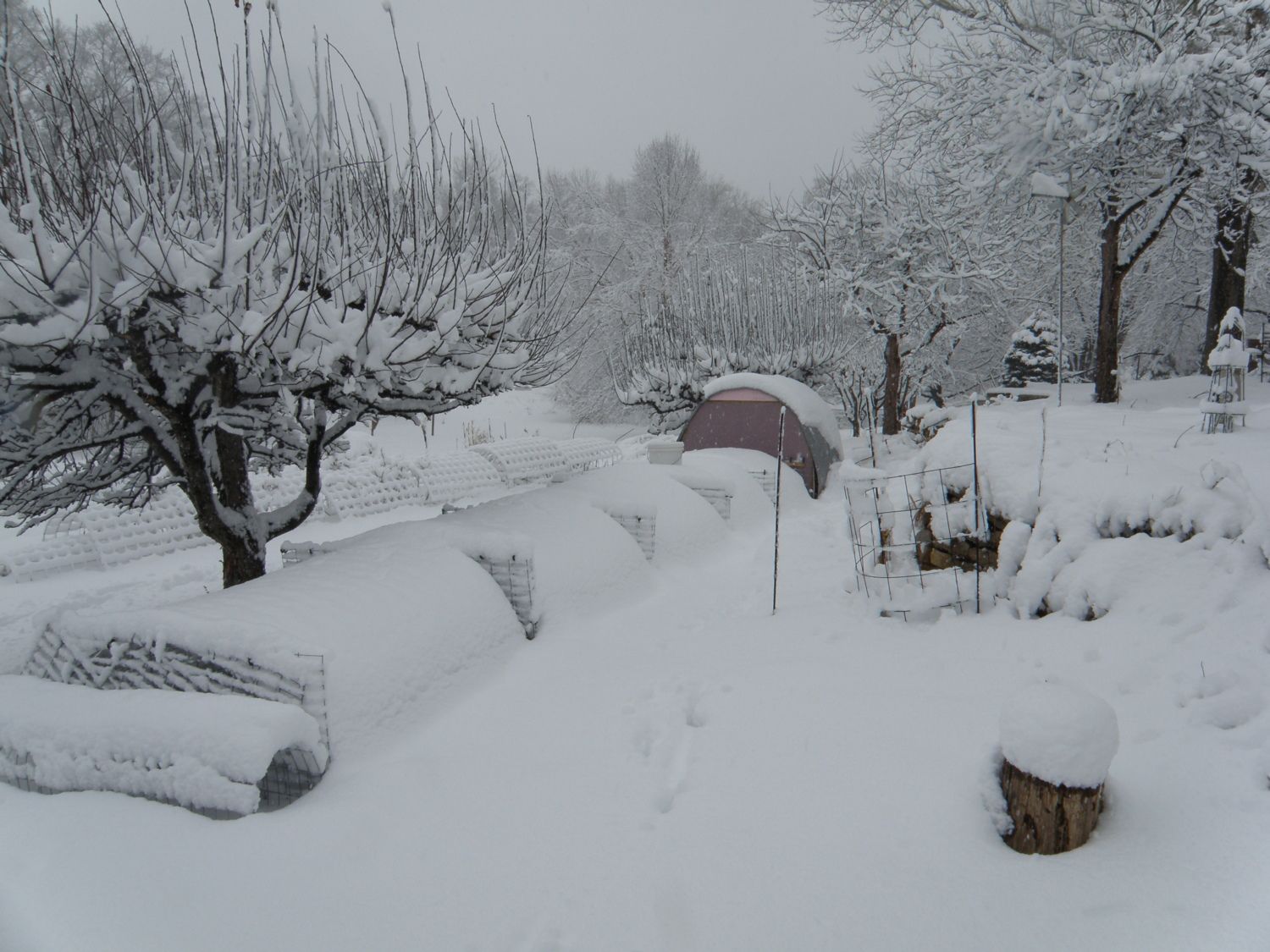 This system is easy to move. A person can do it by themselves. For the most part this system can be built with just a wire cutter and zip ties. And best of all, when you move the coop there's nothing to cleaned up. Thus was born the Jaxon System.
But the real story isn't about ending up with a workable system. The real story is that I have come to love my chickens, not as much as my wife—although she thinks I love them more....