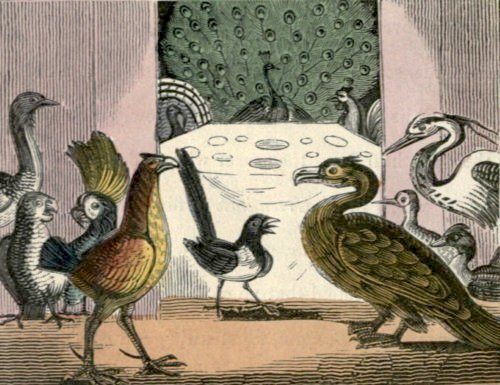 PEAFOWL NUTRITION
This thread is dedicated to the actual dietary requirements of wild peafowl as it relates to captive peafowl and those domestic races of peafowl including their colour mutations.
This is not a polemic against anything but rather a rediscovery of some useful information for peafowl hobbyists.
Please visit these few links and read through them carefully. Some of the material is intentionally redundant.
We're obliged to set aside yield and productivity (as defined in agriculture) to redefine the aviculture of peafowl.
Raising wild animals in captivity has until fairly recently been its own discipline referred to as zooculture.
Bird husbandry within this discipline has been referred to as aviculture.
Today, more and more captive wildlife is artificially selected to create domestic races-the white tiger is a compelling if tragic case in point. Think of all the cage birds  known only as mutations. Pure Indian Peafowl, Red Junglefowl, Golden and True Pheasants teeter on the brink of captive extinction via domestication. These species were once so common in captivity they weren't considered to be worth much, at least not in a pristine state. Mutations were worth more. Today pure specimens are not kept in sufficient numbers, indeed very few could really define what a pristine stock should even look like these days. Sadly, most genuine aviculturists have died out. Large scale hobby breeders that collect up stock,  wheel and deal and commercially produce these species exactly like poultry are what remains. This generation of breeders know how produce and they know how sell. They also know how to dump stock that isn't going to sell at auctions and swap meets, and that is very good news for the new hobbyists as they can afford to get into the action. This is not aviculture. It's agriculture. There is exactly nothing wrong with agriculture. It's unfortunate that we are losing these species but facts are just that. Domestic strains of peafowl,  pheasants and so on are probably all that's going to be left in a few decades if tings continue the way they are today. We should probably manage it better even if it isn't the rarest most precious stock in the world. There's no reason why captive birds of any species or lineage shouldn't be afforded first rate husbandry.
Some times it can be a real challenge to open our minds to what may not be obviously intuitive, especially when it comes to sound nutrition as a primary goal of long-term management. We've already become so complacent with the production first; long term health second mindset at least half the people reading this will roll their eyes and sputter. No one wants to be told that what works for them is wrong.
Orange flavored koolaid is not on par with real orange juice. Orange juice concentrate is not of the same nutritional quality as fresh squeezed orange juice. Some people are willing to give their kids orange flavored koolaid for breakfast. Other folks think they can't afford fresh squeezed orange juice so they spend their money on concentrate. A fresh orange is nearly as inexpensive as koolaid and has all the nutrients needed in one perfect package. Send the kids to school with an orange and encourage them to drink plenty of water. Stating the obvious will piss some people right off. I had a housekeeper from the inner city once. She fed her daughter koolaid in a baby bottle and it about drove me out of my mind. If I gave her extra money to buy real orange juice she'd spend it on something other than orange juice. She'd say she gave her baby a vitamin and that she herself was raised on orange flavored koolaid. Today I wonder if the baby has developed the same diabetes as her mother and grandmother. I also wonder if she's giving her own children orange koolaid. Regardless, I will never again tell, instruct, or plead with any mother about their child's health unless they specifically ask for my advice. As you'll just end up ticking people off when all they hear is shame. I can do apathy. It's really none of my business anyway. But when it comes to birds, where hundreds of people, actually thousands of people write me every few months for advice, I'll not be so indifferent. You're going to hear my opinions and I'll back them up.
That said, taking care of peafowl is obviously not that complicated. People have been doing if for many thousands of years. Though let's be perfectly candid. Commercial  peacock farming has only been around for a few decades. Before then, the vast majority of peafowl were free-ranging birds on ranches, farms, estates and zoological parks.
Starting in the 1980's a small handful of poultry farmers took on small-scale commercial breeding of peafowl and each decade has seen a few more additions to the "peacock industry" as it's been coined.
For some good reference material on animal nutrition please click on the following hyperlinks:
and
and
and
BROWNIE POINT (generalised cheat sheet for avian nutrition)
As we all know full well, there is nothing resembling an authoritative review of peafowl nutrition in literature. Consequently, these links have very little to do with peafowl per se. What we are reading together is something about the manner in which animal nutritionists determine just what captive zoo animals are eating and what data gleaned in these settings means for ethical animal managers. When you read materials you're unfamiliar with and you have even a tiny bit of intellectual curiosity, you gain a whole bunch of fun knowledge you never had before- and it didn't cost you a thing.
With cyber space so readily at our finger prints, willful ignorance has never been so painfully out of style. I'm willfully ignorant about things like fashion, small talk and the etiquette of making the deal. I also don't like people telling me how to fence my hoof stock or shoe my horses. I also believe in corporal punishment as a child raising technique so I'm not off the hook by any stretch of the imagination. -Also a piss poor writer...
Anyway, visit the links if for no other reason than to explore and tack some new vernacular to your home made paper bag book covers. Or, go to the trouble of bookmarking the page or even printing the information that interests you for future reading.
This is meant to be a fun, interactive thread where we can learn about the facts that matter as opposed to over-generalizations you can readily digest elsewhere.
I find fighting fish and peonies and iris and stone fruit things I just can't learn enough about. The history of their respective cultivations is a fascinating stroll through history. Likewise,
Modern peafowl husbandry is the beginning of a chapter that has no set course but it's exciting to know there is no predetermined ending. You are the captains of your own destiny. Build the right ship and you'll contribute something lasting -something treasured far into the future.
Edited by Resolution - 3/5/12 at 2:03pm