The egg on the left? It's shaped similar to a Guinea egg, but it's considerably bigger than most of the double yolker Guinea eggs I've collected from my flocks in the past.
The egg in the middle is an average sized Guinea egg, the egg on the right it a possible double yolker Guinea egg...
This is my first year with Peafowl, and I've never seen a Peafowl egg before (except for some pics of them). Seems the shapes, colors and speckles vary. I have a 6+ yr old IB Peahen that could have laid this egg... my other 2 IB Peahens are still babies, only 10 months old. There's a 2 1/2 yr old IB Peacock in with them (and a buncha Guineas that are laying). Do IBs lay eggs this color, or do they lay the speckled eggs?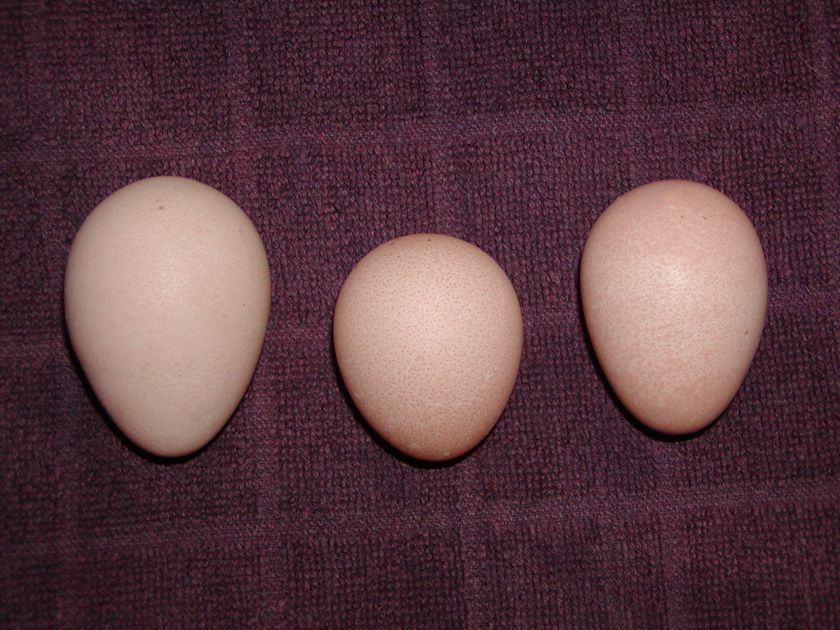 ~150+Guineas/6Flocks(18 Different Colors, plus assorted Pieds),3IB Peahens,1IB Peacock(HONK!),
51Turkeys(2WildX,2Mottled BlackX,2NarriX&45Poults),24Coturnix&1Button Quail,
16Silkies(POOFBALLS!),5 1/2Horses(The 1/2's a Mini),1BLM Burro(Livestock Guardian),9MuttGoats(Brushers),
2Rotts,3Red Heelers(On Guard),7Lazy Cats(Worthless),4FishTanks~
~150+Guineas/6Flocks(18 Different Colors, plus assorted Pieds),3IB Peahens,1IB Peacock(HONK!),
51Turkeys(2WildX,2Mottled BlackX,2NarriX&45Poults),24Coturnix&1Button Quail,
16Silkies(POOFBALLS!),5 1/2Horses(The 1/2's a Mini),1BLM Burro(Livestock Guardian),9MuttGoats(Brushers),
2Rotts,3Red Heelers(On Guard),7Lazy Cats(Worthless),4FishTanks~