This is for a dear buddy of mine on Facebook, Matt Koloski. Matt, here ya go buddy. When I get done writing this I'll put up some tunes for you also. God Bless Son !!!
Mis en place
1lb box small elbow macaroni
2 stalks celery, finely minced
1/2 green bell pepper minced
3 carrots grated and then minced
3-4 scallions, minced
salt, pepper and paprika
1 cup mayo (preferably fresh made)
1 cup greek yoghurt
3/4 cup buttermilk
2 Tbls cider vinegar (the brown stuff)
salt, pepper, cayenne, and paprika to taste
2 Tbls pickle relish
Preparation:
Bring 3 qts generously salted water to boil. Add 1 lb small elbow macaroni to the rapidly boiling water. Cook about 7 minutes until macaroni is just el dente, drain into a strainer.
While macaroni is cooking prepare vegetables and combine in a very large mixing bowl, season with salt, pepper and paprika. Once macaroni is well drained rinse ONCE with cool water briefly to stop cooking. Add cooled macaroni to mixing bowl, season macaroni with salt & pepper. Add pickle relish. NOW add dressing and combine well. Taste, re-season with salt, pepper and paprika to your taste. If a little dry add a splash of mayo and buttermilk to the whole thing and combine. Rest in fridge for at least 4 hours prior to serving. Like old spaghetti it just gets better as time passes.
brisket sandwich with mac salad and ginger ale with assorted citrus fruits.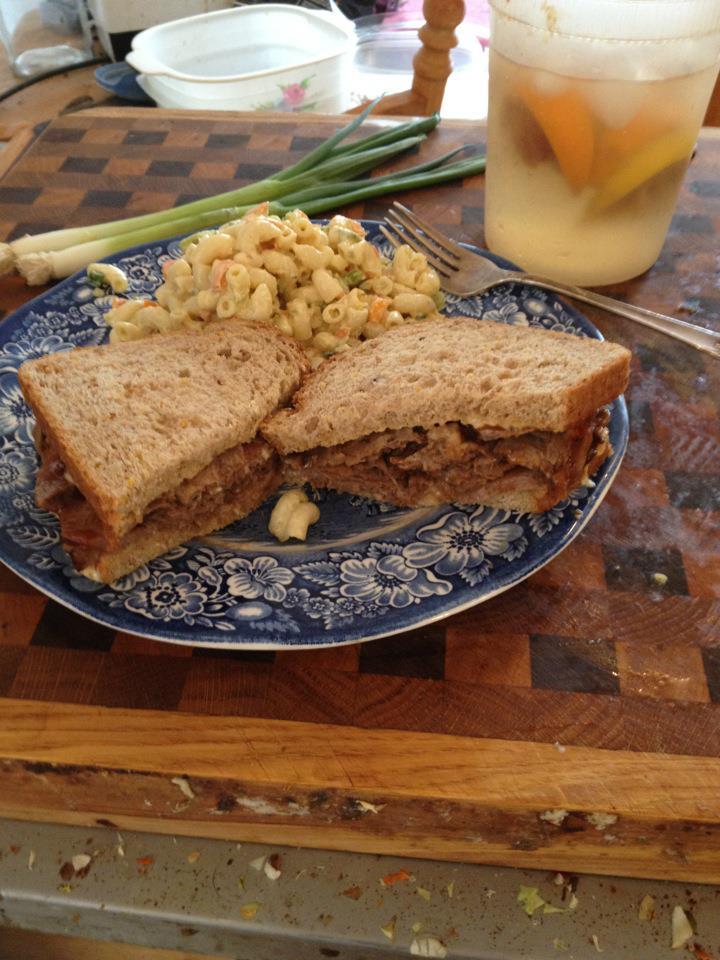 Edited by bigmike&nan - 3/15/12 at 10:15am
Do not be afraid nor dismayed because of this great multitude,
for the battle is not yours, but Gods. 2 Chronicles 20:15
Do not be afraid nor dismayed because of this great multitude,
for the battle is not yours, but Gods. 2 Chronicles 20:15