Going to pick up 3 chicks today, dont know nothing about raising them, have no food except the one day supply that the lady is going to give me with them. pulled some items outa my barn to get started that i think i need.
items
1 plastic tote. (for cage)
1 light fixture (for heat)
1 heating pad (for heat dont know what one i will use light or pad)
some wire chicken wire and some 1/4 square wire. (thinking to put over newspaper so they dont destroy it under their feet, and some for the top of the crate to set the light fixture on for a heat lamp.
Gonna go down to the mill and feed store tomarrow when they are open and get some chick feed of some sort, unless you guys have a better suggestion.
will be keep them in my basement tell they can handle the outside, and i get the coop built.
dont know anything about what types these are was told, "Barn yard mixes (barred rock, aracauna or copper maran mix) hatched last Friday."
dont know sexes.
looking for advice, and help.
wanting some chickens to eat, and hopfully lay eggs, and give my 3 year old and infant daughter some fun for us.
Skip in Alaska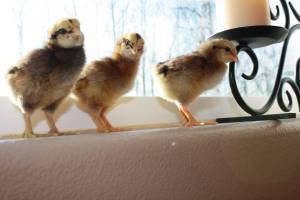 Edited by chestypuller - 3/18/12 at 2:00pm