The Maryland Poultry Swap and Farmer's Market
will be held on Sat. June 16th from 8-2pm at
Green Hill Farm
5329 Mondell Rd.
Sharpsburg, MD. 21782
RAIN OR SHINE
Our website: http://www.mdpoultryswap.blogspot.com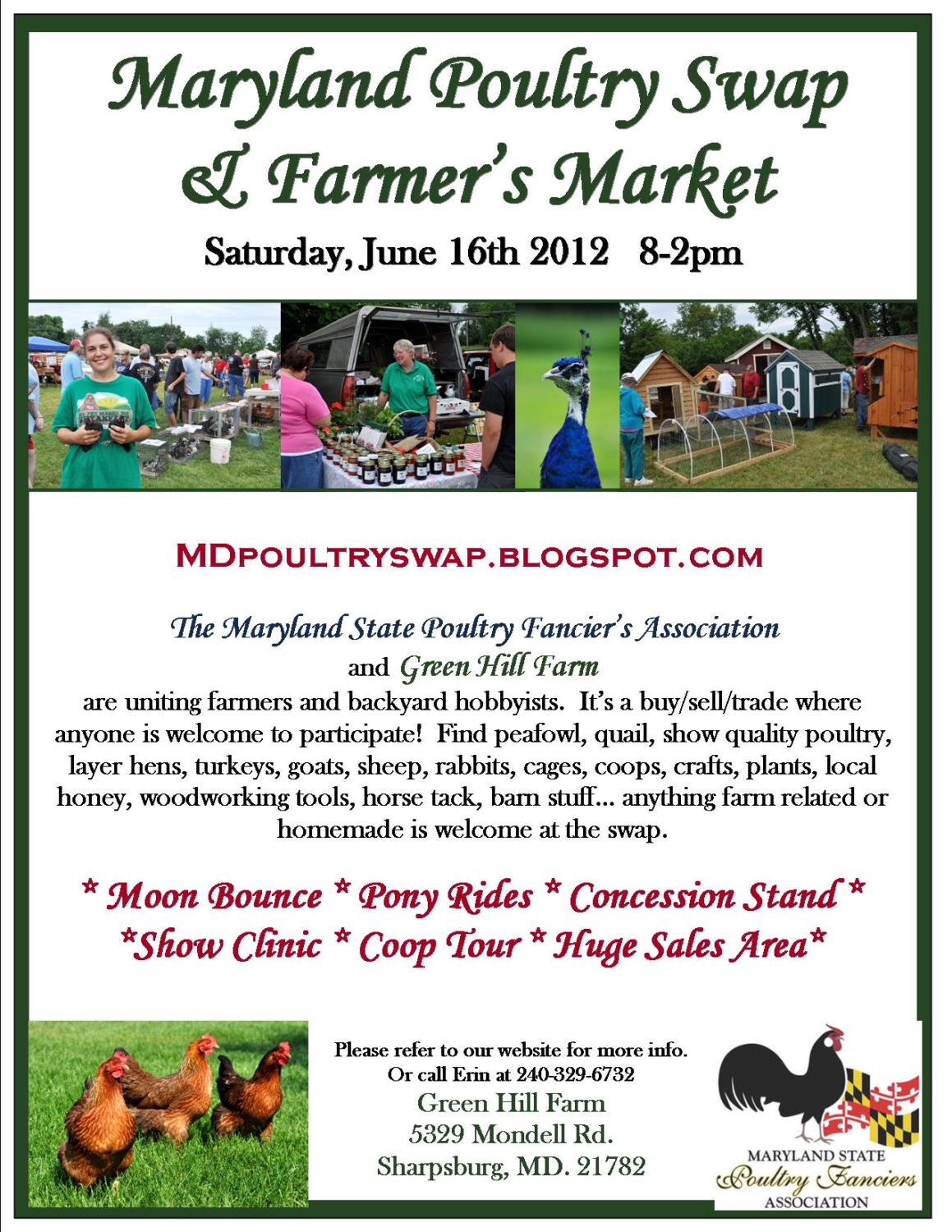 Along with a huge sales area, we'll have a Show Clinic designed to teach newbies the ropes of poultry exhibition in a relaxed atmosphere.  There will also be a Coop Tour featuring poultry housing designed and built by area craftsmen.  Bring the entire family.  The volunteer fire dept. will be here running the concession stand.  All proceeds go to support the Sharpsburg Heritage Festival in September.  There will be pony rides and a moon bounce for the kiddies and plenty to see and do.  Camping is free.  Come the day before to avoid that big drive early in the morning.  
THE LIST -an ongoing compilation of stuff we got 
laying boxes
jams/jellies
horse tack
barnwood birdhouses and flower boxes
bantam cochins
white homing pigeons 
olive eggers 
black rosecombs
nesting boxes
COOPS, COOPS and MORE COOPS (large and small)
woodworking crafts like tool boxes, vintage look cupboards, and end tables (beautiful, high quality stuff for reasonable prices) 
bat houses and planters
ladybug houses, butterfly houses, bird houses
silkies
serama
rabbits
rabbit hutches
call ducklings ( chocolate ,buff/khaki mixes and pastel/chocolate mixes.
trio of sq khaki call ducks 1 yr olds 2011 hatches they are laying.
buff brahma quad (1 cockerel and 4 pullets) hatched this spring.
1 white pure am chick 
chicks & started~
SLW
Lav AMs.
BLRW
Blue Jersey Giants(Blue/Black/Splash)
Olive Eggers
Easter Eggers
SQ Black Javas
Auburn Javas
blue laced red wyandotte hens 
brahmas
mixed layers of huge eggs at point of lay
brahmas (lights and darks)
farm fresh eggs
heritage breed turkeys (bourbon reds, royal palms and bronze)
goat soap and lotion
artisan goat cheese from Obergood http://obergood.com/
Wheaten/Blue Wheaten ameraucanas
silkied fainting goats
blue marans
black copper marans
peafowl (yearlings and chicks in lots of fun colors)
black mottled bantam cochins 
exhibition quality buff laced polish
breeder quality tolbunt polish
white crested black polish juveniles
artwork (hand painted signs)
vegetable and flower plants
homemade glycerin soaps
alpine milking goats
call ducks (lots of neat colors like chocolate, buff and fawn)
red and golden pheasants
guineas
splash and blue silkies
blue polish 
white mallards
moscovies
more call ducks in many different colors
game birds - chukar, bob white and ringneck pheasant -A $10 Game bird husbandry permit must be obtained within 48 hours of purchasing these wild typed birds!!
Silver Laced Wyandotte pullets - 12wks. old.
2 - Blue Laced Red Splash pullets.
2 or more Buff Orpington/ Wyandotte chicks - 4 wks. old -- and these babies will lay huge eggs. They don't even fit in a egg carton !
Buff Orpington chicks
beautiful hanging baskets
silver laced brahmas
buff laced brahmas  -both very rare
birchen moderns
sebastopol goslings
sumatra - exhibition quality lines
baked sale
jams and jellies
fresh herbs
rhode island red bantams
trio of partridge rock bantams
two pair of blue cochin bantams
trio of japanese bantams
old english game bantams
silver pencil rock bantams
trio of LF blue cornish
LF rhode island red
buff orpingtons
silver laced wyandottes
black australorps
black and red sexlinks
1 BQ/SQ partridge silkie pair... November 2011 hatch
Partridge and Blue Partridge silkie youngsters 
2 BQ Black rosecomb pairs (have been in the breeding pens so they aren't in condition)
1 BQ Blue silkie cockerel
A quad of largefowl buff orpingtons (2 Hens, 1 cock, 1 pullet/hen hens have amzing show records such as 2010 Jr Best in Show at Frederick, MD/ also many Jr Class Champion titles)... Trio is 2 years old and pullet is 2011 hatch
Largefowl Silver laced wyndotte hen and white leghorn hen... 2 years old and still lay
2 Largefowl Blue Cochin Youngsters (one pullet and one cockerel)
3 Largefowl Black Cochin Youngsters (one pullet and two cockerels)
2 Largefowl cubalaya cockerels (black breasted red and a blue red)
5+ Largefowl Barred Rock Cockerels
licensed massage therapist will be setting up... farmer's need relaxation too!!
holland lops, mini rex, n. dwarf, new zealand, jersey wooly, lion head, 
along with rabbit cages, hutches, play yards brooders,
veggie and flower plants 
homemade cookies, baked bread and fresh garden veggies
silkies and americanas
leghorns
white rocks and mix breeeds
 3 Lav Orp pullets (10 months old)
 - 1 black Mottled bantam Cochin rooster
- 1 calico bantam Cochin rooster
- 1 chocolate bantam Orp cockerel (4 months old) - I may bring 2, but not sure yet.
- 1 pair of blue LF Cochins 
barred rocks, easter eggers,  blue laced wyandottes 
silver laced wyandottes, white rocks, lavender d'uccles
lady amhurst pheasants, peafowl
LOTS of bourbon red turkey poults
seramas, blue swedish ducks 
dominiques
Show Quality pairs/trios/flocks for the Silent Auction (all proceeds benefit the MSPFA)
Blue Jersey Giants (splash roo over black hens)
chocolate and pastel x chocolate call ducklings
BBQ chicken and other goodies - thanks to the Sharpsburg Vol. Fire Dept. and friends
**if you see the same item twice, that's because multiple vendors are bringing the same thing**
Vendors:  Show/Fair rules apply.  Please refer to the website for more information on rules and regs regarding the sale of live animals.  There will be a testing clinic at GHF the weekend before which is free to Maryland residents.  Vendors will be charged a $10 fee to setup.  This fee helps to go toward advertising/porto potties/childrens activities and other expenses.
Here's the link to our flyer.   http://i1023.photobucket.com/albums/af356/msbear33/mpswap2012.jpg
Give us a hand by posting it in your local feed store.  It looks fantastic on photo paper but can still be printed as a "fast draft" to conserve ink.
Edited by Msbear - 6/11/12 at 8:20am