After nearly a year of planning, preparing, and thinking it over, brought home my first mixed flock batch of baby chicks today!  
I'm starting with one australorp, one barred rock, one easter egger, and a buff orpington, all purchased from Bourn Feed in Columbia, MO, who source their chicks from Cackle Hatchery in Lebanon, MO.  I haven't named them yet -- I figure it'll take a couple of days for me to really get a sense of their personalities -- but they're lovely.   
Here are some photos, with obvious apologies for the tiny cell phone shots.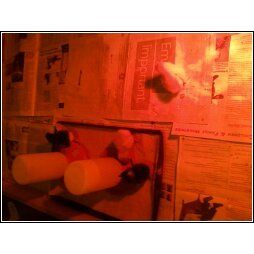 Here's a slightly sideways shot of everyone exploring the brooder.  The brooder is a 3'x5' box with 2' tall sides covered in hardware cloth and poultry wire.  It's got an open bottom and a 3x5 lid covered in poultry wire that I'm not yet using because I need the lamp to be closer for the first couple of weeks.  The floor is covered with a blue tarp, topped with brown paper bags as a base, with easy-to-remove newspaper that I can replace every day or two.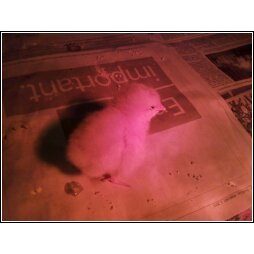 My buff orp, doing the "I'm drowsy and going to kind of drift off" thing.  I was not prepared for how adorable she is when she forgets to sit down before she falls asleep.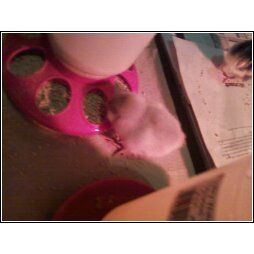 My EE, who's kind of buff and gray (Cackle sells them as ameracaunas), rocking out at the feeder.  I think (but wouldn't swear) that that's my barred rock creeping up on her.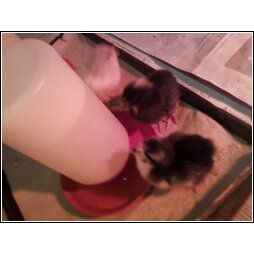 My EE, my australorp, and my barred rock, enjoying a water cooler moment.  I've already started them on water with just a little bit of cider vinegar in it.
But yeah!  Chickens!  In my garage!  It's a good thing I've got coop plans ready...
Current flock: one Australorp, one EE, one Barred Rock, and one Buff Orpington, all hatched at Cackle on March 19, 2012.   
-
"So learn more and more in order to teach wise, long-lasting values.  Work more and more to leave the world things of great beauty.  And love, love, love people around you for the light of Love heals everything." - Francois Bourillon
Current flock: one Australorp, one EE, one Barred Rock, and one Buff Orpington, all hatched at Cackle on March 19, 2012.   
-
"So learn more and more in order to teach wise, long-lasting values.  Work more and more to leave the world things of great beauty.  And love, love, love people around you for the light of Love heals everything." - Francois Bourillon