Dilly, one of our Pekin ducks is broody. We don't have a drake, so no fertile eggs. She becomes extremely upset with us when we take the eggs away from her and seems so sad. Rather than hanging with the other ducks, she'll sit off in the corner by herself.
So we decided to let her keep two eggs and then got two mallard eggs from a friend that had a chance of being fertile. She's been sitting on all of these for about 10 days. We candled the mallard eggs and they do not appear to be fertile. All four of our ducks continue to lay and Dilly rolls all the eggs into her nest. Every day we pull out all but the four eggs we've marked fort her..
Even if there was a fertile egg, I'm not sure that she sticks to her nest enough. Sometimes she's off the nest for an hour at a time, other times she's off for the afternoon. A part-time broody duck?
I'm not inclined to force the broodiness out of her as some suggest by putting her in a cage. So my questions...
Left to her own devices, will she get bored and give up being broody at some point if her eggs don't hatch (she's just 8 months old herself and has never hatched an egg before - so does she really know why she's sitting on those eggs?).
If we were able to get some fertile eggs, is she sitting on the nest enough to make it worth while? Should I throw a couple of chicken eggs in there?
My husband suggested getting her a couple of ducklings, but I'm doubtful about her willingness to care for ducklings that appear out of the blue! I just want happy ducks!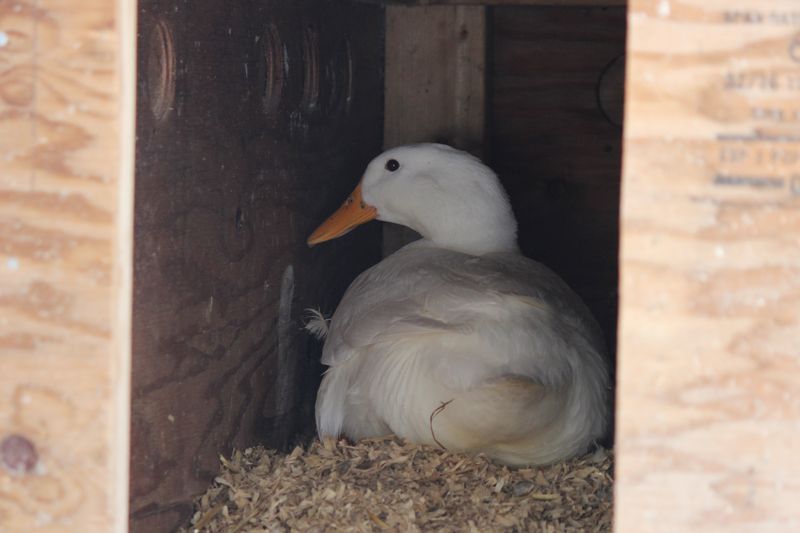 Downeast Thunder Farm - Our Little Patch of Woods in Downeast Maine. Home to a variety of critters including 1 dog, 2 cats, 5 buff orpingtons, 7 barred rocks, 2 buff/rock mix, 5 bantam ameraucanas, and six ducks. The turkeys and Freedom Rangers and now in freezer camp. The Egg Count
Downeast Thunder Farm - Our Little Patch of Woods in Downeast Maine. Home to a variety of critters including 1 dog, 2 cats, 5 buff orpingtons, 7 barred rocks, 2 buff/rock mix, 5 bantam ameraucanas, and six ducks. The turkeys and Freedom Rangers and now in freezer camp. The Egg Count