As you may know we have very frequent updates to the site (about every two weeks).  Most of the time these updates include stuff on the backend of the site (bug fixes, improvements in performance, moderator functions, etc.), but once in a while we see some changes that members will notice.
We just did an update that included the following:
Show Subscribed State
This is a pretty straight-forward change to show whether or not you are subscribed to something. For example, previously, if you went to a thread you were already subscribed to, we didn't show any indication of that. With this change, you will get an immediate visual indicator after subscribing to a piece of content, and when you come back to it, we'll show the same indicator.
Once you are subscribed, you can click the link to change the subscription frequency, or unsubscribe (previously, you had to go to the Edit Subscriptions page to unsubscribe).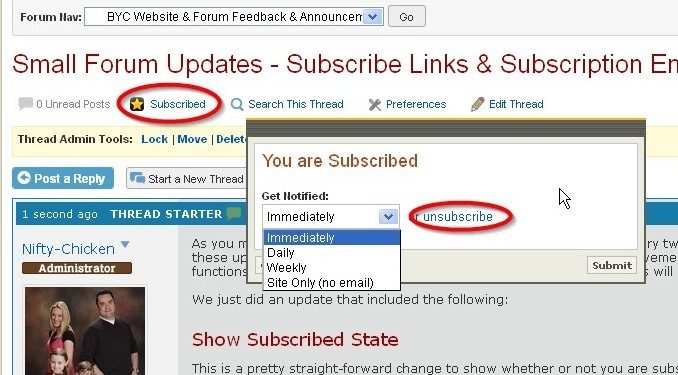 New Immediate Notification Emails
We'll be making improvements to our email notifications over the next few months. First up are our immediate notification emails. We've made a few improvements that are representative of some of the improvements we'll be making to our other emails:
Quotes look like quotes in the email notification
Clear calls to action for the user to click
Buttons no longer use images, so they look fine if the user is blocking images
General formatting cleanups