So I've been reading a lot about the benefits of raw feeding for a while now.  I first read about it when I started looking at what we were feeding our dogs about a year ago, but we were living in Atlanta and eventually decided to switch Dan and Jackie (10 year old Corgi mix and 5 year old Border Collie mix, both spayed and neutered) from Beneful (
) to Blue Buffalo Wilderness and a little while later we switched the cats (overweight 8 year old male and 9 year old female, also both fixed) to Blue.  When we moved here (4 hours south of Atlanta) we switched them to Taste Of The Wild (which is available at TSC, which we are at often for chicken feed), but the cats hated it so we switched them to Diamond brand, which has no corn, wheat or soy and switched the dogs to 4Health a little later because TOTW was expensive and we got Homer, a 5 (almost 6) month old Great Pyrenees.
Well, the other day I went to a dog show with a friend and there were booths set up there for BARF, which made me consider it more.  After much research, we ended up at the local butcher shop (they raise their own cows to butcher and everything else is local.  Not going into specifics, I myself will not eat and avoid buying anything that a factory farmed animal died for).  We asked if they ever had any extra trimmings and the lady said that, yes, they had three boxes full of beef and pork trimmings in the back.  We asked if they might sell them because we were considering feeding our dogs only raw meat, and she said she'd give them to us!  Free meat!  We took one of the boxes, which was huge but ended up having about 10 pounds of usable meat (the rest was fat).  She said that she could give us a couple boxes and that we can come on Mondays, so we've pretty much got a regular source of beef and pork bits!  There was even a huge chunk of 3 ribs in the box that are going to make excellent raw meaty bones.  We have a separate meat freezer but it's mostly full right now so we can't really stock up.
We also know lots of people who hunt and process their own deer (my mother's boyfriend being one of them) and just throw the organs out into the woods, have a fish pond in our backyard, and know a pig farmer who we have gotten pigs from in the past.  We actually have about 10 pounds of trimmings from a pig we got a few weeks ago that we were saving to dehydrate for training treats or something, but it looks like that's gonna be used
  We also caught three fish (a small bass and three white perch) from our pond and plan to give them those at the end of the week.
Okay, here come the actual questions and stuff.
I know there are many opinions about vegetables but after reading a lot of information about the pros and cons I decided that we will add veggies.  Absolutely no grain, though, of course.  We blended up collard greens, carrots, and a couple strawberries in the food processor and divided up little baggies of meat with some of that and put them in the fridge for the first five or so days.  Jackie is Border Collie-sized, but has a weird metabolism and has done good eating less kibble than Dan, who is a little under 30 pounds.  She was eating 1 cup a day while he was eating 2 because when she was eating 2 she actually got a bit pudgy
  Because they are not especially active, I decided to give Dan and Jackie each about 2% of Dan's weight (last time he was weighed he was 28 pounds.  Dan is older but not overweight like some older dogs and is mostly muscle), which is about 1/2 pound, and Homer will be getting a pound since he was eating 3 cups of food a day before which isn't quite twice as much Dan, though I expect that will end up doubling since Pyrs are so awesome and huge.  So I divided up the meat into 1/2 pound and 1 pound baggies (probably not all exact, but about that) not including the veggies.
Tonight they got their first raw meal, which was the meat and a spoonful of veggies, a spoonful of yogurt, and an egg.  Does this sound about right?  They absolutely loved it, although Dan was a bit confused at first.  Jackie and Homer both gobble their food, which I know is not good, especially with large dogs like Homer being prone to bloat, but having to stop and chew the meat and bones really slowed them down.  Dan tends to eat very slowly, but once he figured out it was food he seemed to want to eat it and didn't pick at it like he does kibble (he actually will take mouthfuls of kibble and eat them in other parts of the house).
Dan and Jackie are used to eating twice a day so we will probably give them a little bit (maybe 1/4 cup) of kibble or maybe an egg in the morning for the next few days til they get used to it, then feed them only in the evening.  Homer will eat twice a day.  Does that sound like a good idea?  If this works out for the dogs, we may also switch the cats.
I would really like to know what people who have experience with raw feeding think about this plan.
Here are some photos of their first raw meal: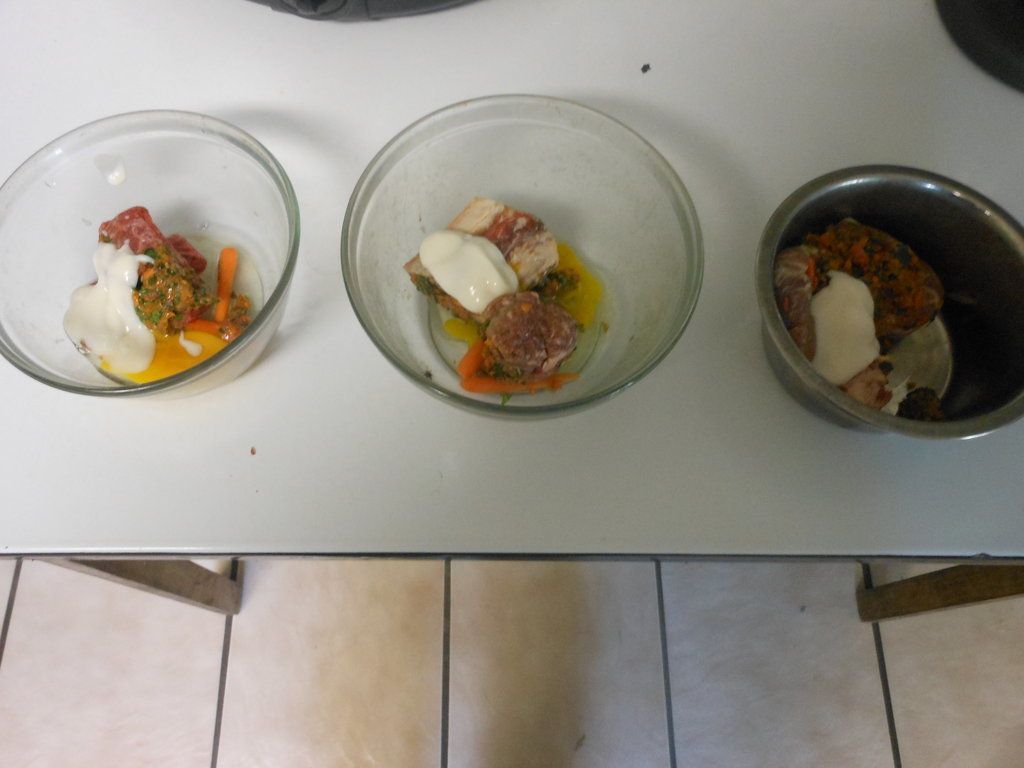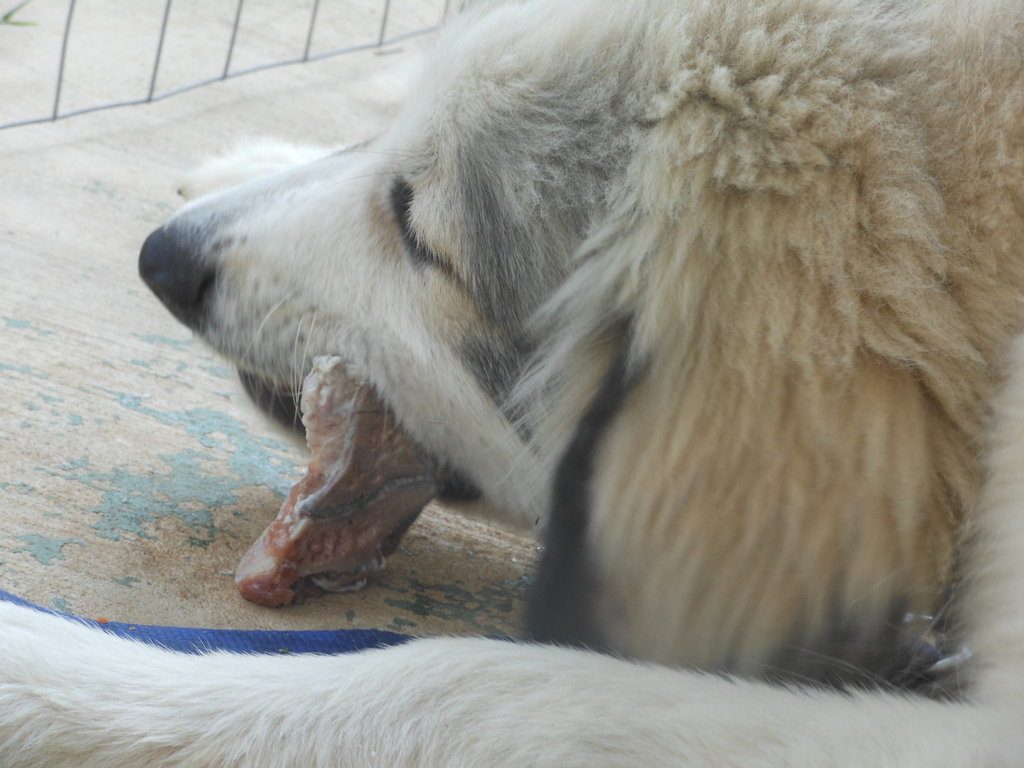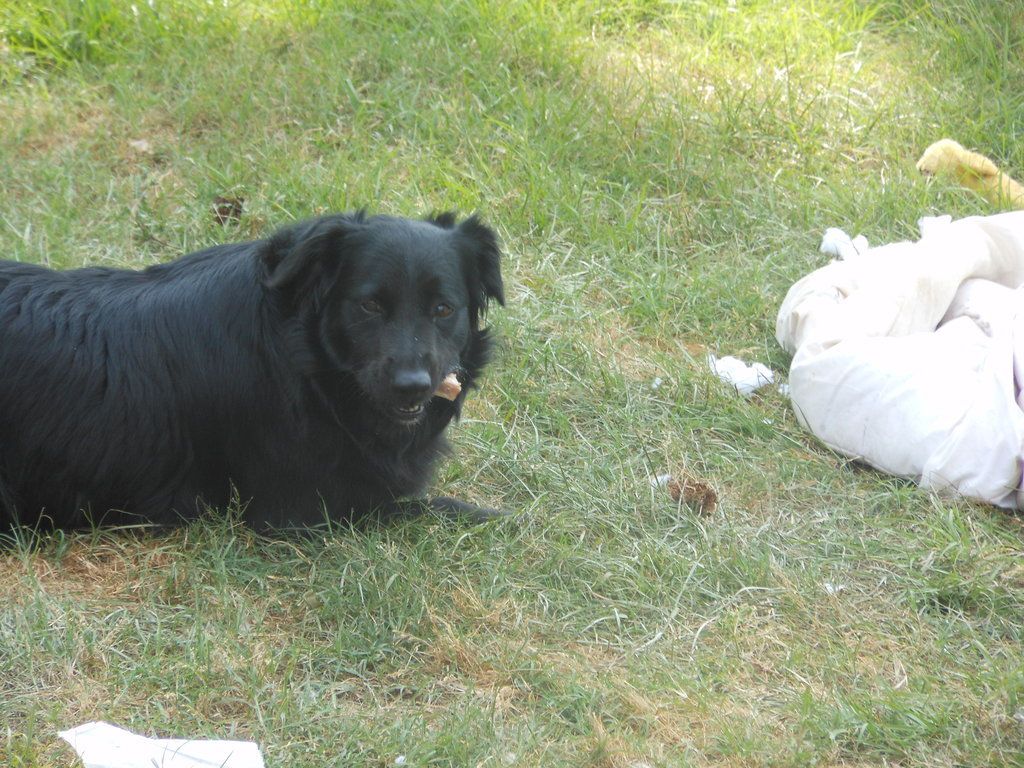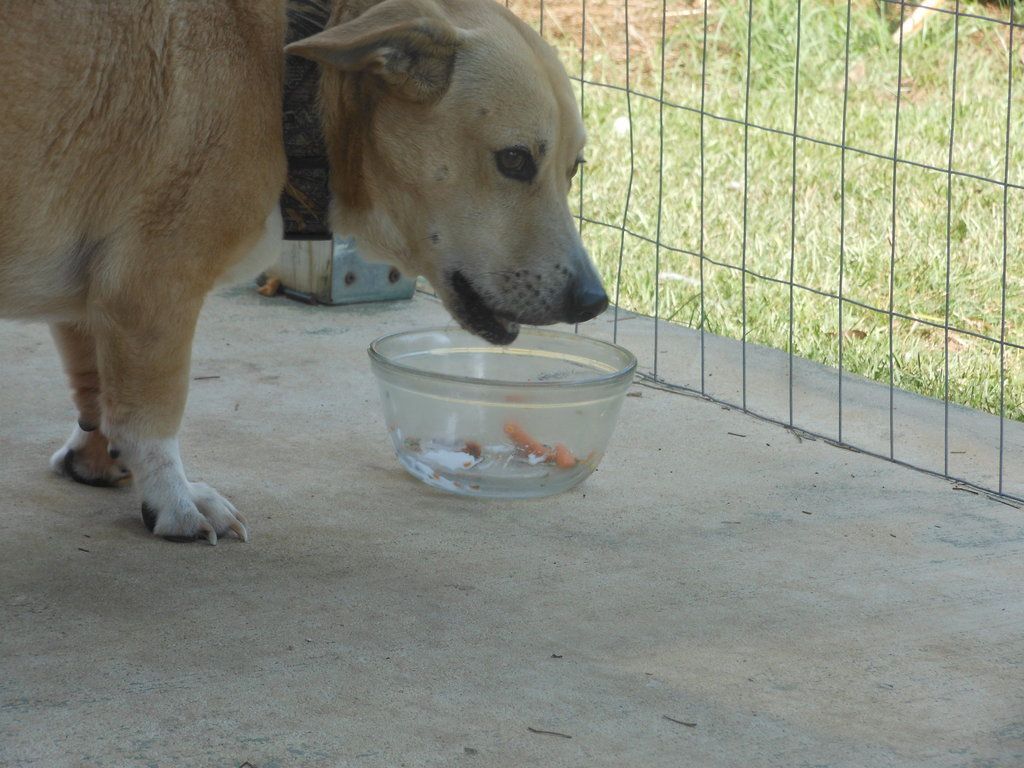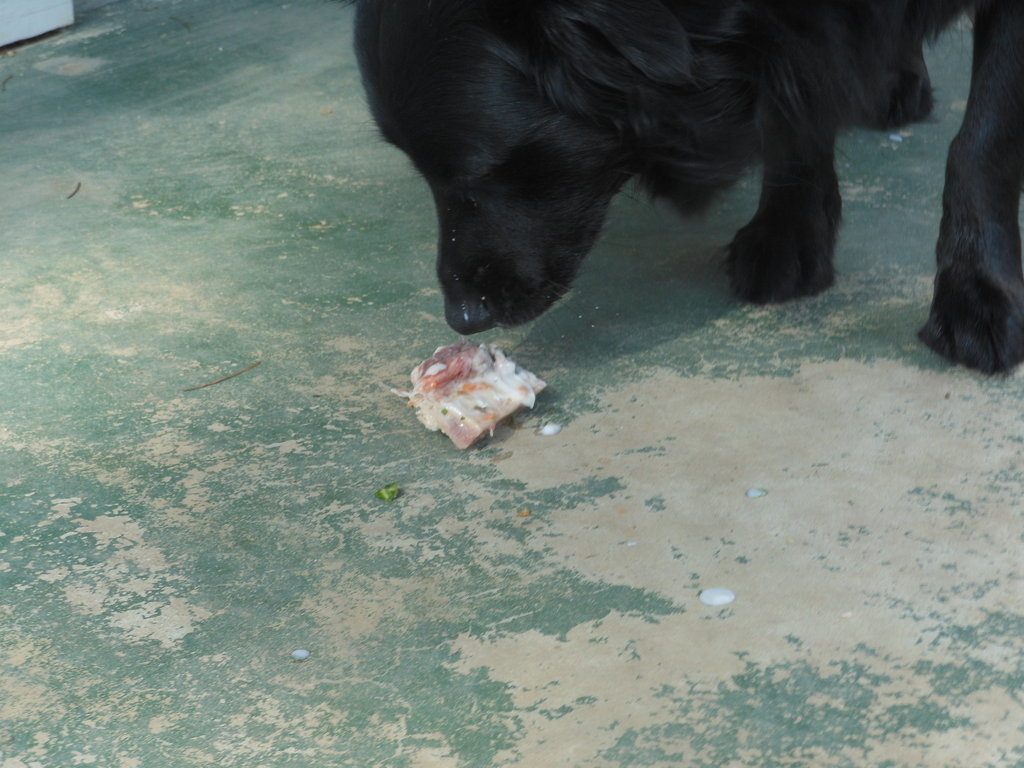 Also, Dan has some sort of flea allergy and often gets a hot spot above his tail, his belly gets itchy, etc.  Do you think that their new diet will help with this?  I saw this and was also wondering if maybe this will help?  Our vet gave us medicated shampoo which we bathe him with often and it seems to help some, but he still gets itchy.
Edited by Fleabuskitty - 4/17/12 at 8:40am