Quote:
Originally Posted by
Farmin Momma

Not only am I excited for tomarrow, but I finaly got another broody hen!!!!!! Came home from dinner and my lil Black Australorp (sp?) Ebony was laying in a nest box on three eggs, one real and two fake. Took the real one, thinking about giving her some turkey eggs. Or going to pick up some Black Copper Maran eggs, I really want some of those I love the dark color of their eggs.
 Well I will not be sleepng for the nest few nights. Good luck to everyone on their hatches these next few days.
Ooooh, I want turkeys!  lol  And Black Cooper Marans!  I bought 2 chicks this spring, and they both died.  
  Cocci.  Also, my 6 splash Silkie eggs I had shipped and put under a broody were 0 for 6.  So I'm bumming!  My 3 little eggs I have incubating are doing great!  I had never candled before, and didn't realize all the moving around they do!  So cool to watch, I think I candle about every other evening!  lol  So since I'm 2 days behind you guys, I'm feeling very impatient hearing you talk about lockdown, so........dang it!  I just couldn't help myself!  I got 4 new little chicks to tide me over.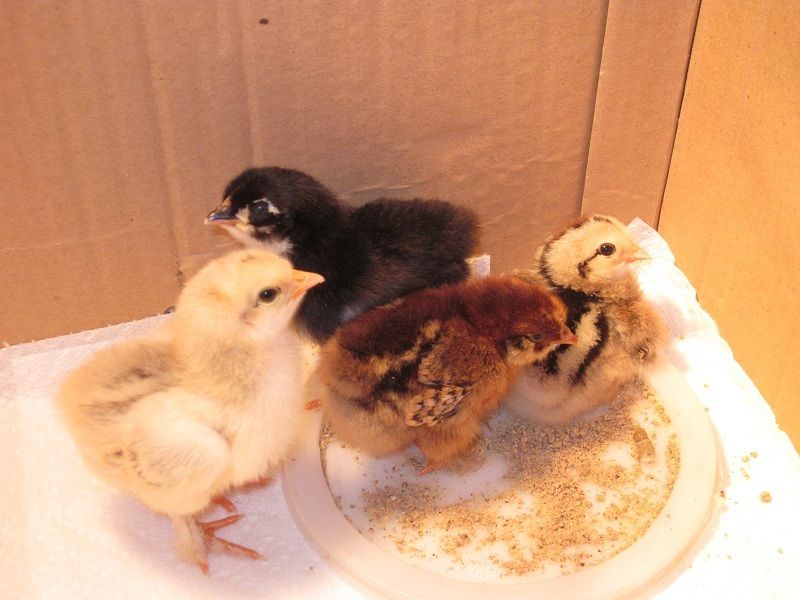 These are actually chicks from my eggs.  I gave my sister 30 eggs to hatch out for her preschool class, and 25 hatched.  I limited myself to 4 of the chicks.  Hubby is thrilled I didn't take all 25!
Good luck over the next few days with the hatching!  I can't wait to see pics!!!  My lockdown is Monday......