First off, Greetings from Tillman's Corner, AL! 
This is my (our) first post.  We are just west of Mobile proper and only a mile or so north of I-10 as the crow flies.  My wife, Beth, &V I have six children with four still at home (Ages 17,12,11 &11.).  The youngest two being fraternal twin boys.  You could say we are into animals in a big way.  Our 'pets' include 2 Great Danes, a Shih Tzu, a Cocker Spaniel, 2 cats, an Yellow-Naped Amazon Parrot, a Ball Python, a Mexican Fire-leg Tarantula, a Kenyan Sand Boa, and an retired horse.  We also own & operate an exotic animal rescue (501(c)(3) tax exempt) called Chaos & Critters. Some 20 to 30 other exotic critters can be found around our home at any given time.  I suppose it isn't difficult to figure out how we got the name!
Beth is a vet tech at one of the local clinics while I am a stay-at-home disabled Veteran, (USN Submarine Service).  As a form of therapy I have taken up gardening.  Raised bed stuff.  My father was a Master Gardener in South Carolina and it seems I picked up a little while building his beds for him.  In the evenings we find ourselves sitting out in the back yard and quietly talking.  Over the last year we have both been guilty of saying how nice it would be to have just a few chickens for the poo & most especially for the eggs.  This weekend we stopped by Tractor Supply for parts and it turned out that they were having "chick days".  After locating my needed part I found that we were now the proud parents of six new baby girls!  I have to admit, they are darlings!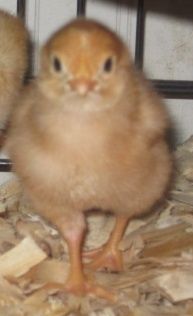 Currently 'the girls' are living in a huge crate meant for a Great Dane and are doing well.  At their current rate of growth though, I believe I have a week before they need something bigger & better.  Considering the relatively small size of our yard, and the cats & dogs, a chicken tractor seems to be the best bet.  I have an annoying habit of over engineering my projects and I don't want to end up with a battleship where a frigate will do.  My current idea is for a triangular cross section with a length of 10 feet and a base width of 8 feet.  The height at the peak would be 5 1/2 feet.  The back 4 feet of length would be enclosed to the ground with the upper half having a hardware cloth floor and 2 or 3 nest boxes.
While we have vast experience with everything from pythons to parrots, neither of us has experience with chickens.  If you guys have any - and I do mean any - helpful pointers, please, send it along!
Thanks!