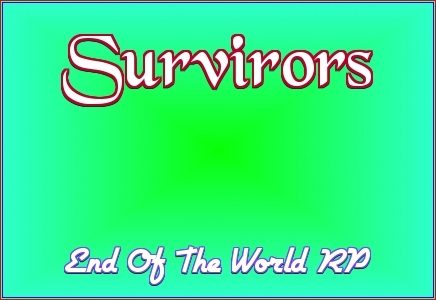 Survivors
The year is 2056.The end of the world is in the heat of its coming. Meteors are crashing, fires blazing, and radiation is streaming. Worst of all, there are poisonous gases, and yes, zombies. There may not be any, but they are still there. Most people, about 90% of Earth's population died, but did not become zombified. About 8% of that made it to Europe, where it still had everything, but the zombies. Now, in the remains of New York, a group of 15 people live together, surviving. They are in close contact with another group of 6, but they can only talk through radio. Do you think you are a survivor? Then join!

The main group, Green Survivors, has 15 people and there are no visitors welcome. They are in New York City, NY. You can have no more than 2 people in the group. The ranks are Leader, who leads the other 14, Deputy, who helps lead, 2 scouts, who talk with other groups on the radio and look ahead for danger, and then the squad, which is 11 people, who use the weapons, tools and find food, shelter, etc.

Then, the secondary group, Orange Survivors is made up of 9 people and is located in Atlanta, GA. You can only have 1 person per member. There is 1 leader, 1 deputy, 2 scouts and there are 5 people in this squad.

Joining Form:


Name- (Your character's name)
Age- (Please only 7- 30)
Gender- (M or F)
Appearance- (Eye color, hair color, skin color, etc)
Weapon- (See below, choose ONE)
Group- (Green or Orange)
Position- (Scout or Squad, or Leader)
Personality- (Are they kind, nice, mean, funny etc)
History- (What happened to family, why he/she is alive, etc.)
Crush/Spouse: (Like, maybe Joe likes Diana, or they are dating, or they are married.)
BYC Username- (Example, 44Wolves, NixNoodleNumbat, etc)



Please remove the (text in parentheses) When filling it out.

Weapons~


Yes, we need weapons. Well, more or less, they are tools.
These items everyone has-
Gas mask, Radiation Detector, Radio, and a pistol w/ unlimited ammo.
Then, choose

ONE

of these:
Sniper Rifle
Machete
Baseball Bat
5-set of knives
Radiation Detector
Med Pac (Unlimited bandages, antiseptic spray and 3 virus pills.)
Bow and Arrow
AK-47

You CANNOT share weapons with other members, but you can trade with them ONCE.
Get it so far? Okay, let's get to the zombies.

Zombies~

The zombies can be taken down with any gunshot or damage to the head. The rest of their body is invincible. If you get close enough to a zombie, it may scratch or bite you. If that happens, you will get the virus. The symptoms are fevers, your bones feel like glass and yes, death. If this virus is not treated, which there are 3 pills in the Med Pac, the victim will die in 1 day. Shortly after death, the virus will reactivate the part of the brain that lets you move, and the victim becomes a zombie. The current zombies are the survivors families and some random other dead people.
Last thing, and it's important. There are COLOR CODES. If you are in the Green Survivors, you must post in

GREEN!


If you are in the Orange Survivors, you must post in

ORANGE!

If you wish to just make a statement, talk in BLACK and in ()'s, {}'s or OOC~ 's
Edited by 44Wolves - 4/29/12 at 5:15pm