So,  THis is what my coop looks like now...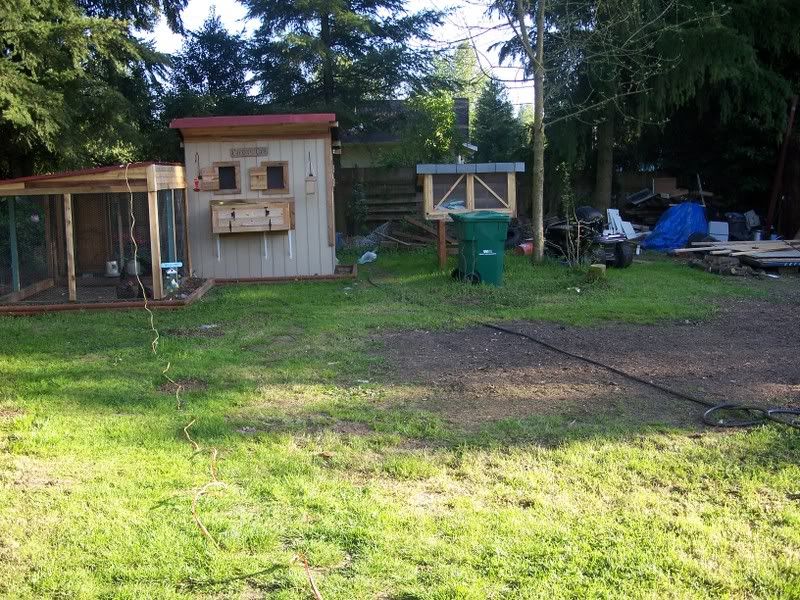 The house is 4 feet by 8 feet and the run is 8 feet by 12 feet.  Currently my 6 week old chicks are in the house, in a 2 by 4 space that is divided by a screen door made out of mesh wire.  There are 8 chicks in there and they are outgrowing their space.  I hear from people that they cant be with the hens until they are eating layers feed or the same size.

My husband thinks they should al just be able to roam together now that they have lived in the coop for 2 weeks. 

I don't feel like setting up the brooder hospital again, we had a horrible ordeal a couple weeks ago with pecking. 

My hubby and I are contemplating closing off a 4 by 8 section of the run to the left side with wire so that the hens cant get to the chicks.  What type of temporary housing should I build to ensure they (chicks) stay warm enough? 

Any thoughts, ideas? We want to keep it inexpensive because it's a temporary thing.. Thanks for any ideas you have!!
2 Silver Lakenvelder, 2 Barred Rocks, 1 Salmon Favorelle, 1 Golden Sex linx, 2 Rhode Island Reds, 2 Buff Orpingtons, 3 Silican Buttercups, 2 Dark Brahmas
2 Silver Lakenvelder, 2 Barred Rocks, 1 Salmon Favorelle, 1 Golden Sex linx, 2 Rhode Island Reds, 2 Buff Orpingtons, 3 Silican Buttercups, 2 Dark Brahmas