Hey guys, hoping you can help me identify what went wrong.  I had some Chinese Blue Breasted eggs shipped (excellent and trusted seller, so I know the problem does not lie with them or their stock for sure!
), 15 in total.  Despite the excellent packaging job, one was definitely cracked, so I didn't have much hope for it.  I did try to seal with candle wax.  It lost weight very rapidly, as did some other eggs, so I am wondering if the mail service did a number on at least a few of these eggs.  I did not want to candle or weigh eggs this time around as I am hatching for pets and as a hobby only, and have heard button eggs sometimes do better if you aren't fiddling with them and letting them lose heat.  So, I went with more of a hands-off approach.  I do kind of wish I did candle before incubating them though as 1.  I'd be able to provide you guys with more information, and 2. I may have been able to see if the eggs that lost weight very rapidly were all cracked from the get go or not.
When the eggs arrived, I let them sit for 24 hours, large end up.  I then placed them in my home-made incubator which runs at 99.5 to 100.2 degrees F.  The incubator is slightly tilted so that the large end is always slightly raised.  I started them at 45% humidity, then raised that to 60-65% humidity for lock down.  I use a small side door I made to reach into the 'bator, and since my arm blocks the hole, I lose virtually no heat or humidity when I open it.  I use a Reptitemp 500R for a thermostat, have two reliable thermometer/hygrometers (one is a caliber III that seems to be dead on to the decimal), and a humidifier hooked up that has different settings.  Temp and humidity seem to stay very, very solid for the most part.  One exception is that I did have a temperature spike during lock down (106 degrees!), but I know for sure what caused it (my dog...she stepped on the thermostat dial which I have now fashioned a snug cover for), but none of the eggs appear to have made it close to that level of development.  I have ventilation holes, but am not clear on how much is not enough. 
Despite not candling, it was pretty clear to me before hatch day even arrived that they didn't seem like they were...alive/developing.  I turned them 3-5 times a day, and they just didn't feel right for developing eggs.  I'm afraid I can't pinpoint it. 
I still have 8 eggs to 'eggtopsy', and will update when I get to those.  As for the seven eggs I opened today, this is what I found:
Egg one:
This was the one I tried to seal with candle wax.  Obviously missed some of the hairline cracks, and this egg lost weight much more rapidly than the others.  The yolk was actually solid with no visible egg white, and most of the shell was empty.  There was no odor.  There was no blood ring, so I assume this one never started developing.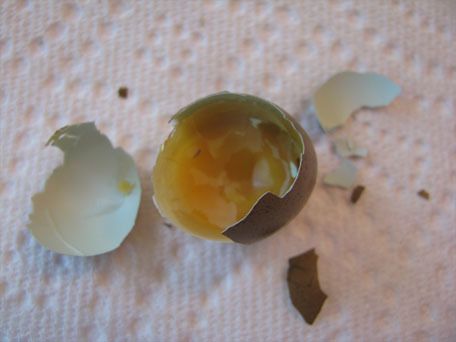 Egg 2:
Though I didn't see any cracks, this one also lost weight very rapidly.  Same thing.  No odor, no blood ring, 'cooked' solid yolk.  This one did have some solidified whites though: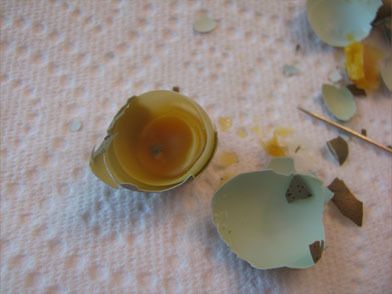 Egg 3:
This one was heavier and juicy.  Their didn't seem to be any development or blood ring though.  The whites and yolk appear to be mixed up like you get when you shake an egg.  There was no odor:
Egg 4:
The yolk was solidified, but it was a bit heavier than the first two eggs, and it had a blood ring.  It also had a slightly bad odor to it: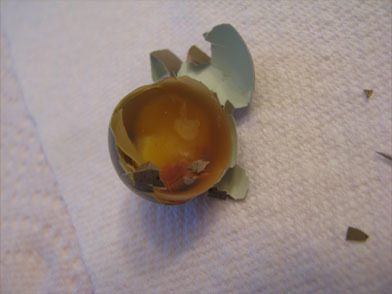 Egg 5:
This one appeared to have a chick that had reached few days of development.  The yolk sac had some light veining, and that looks like an eye to me?  The whole blob was dark and stank as soon as I poked a hole in the egg.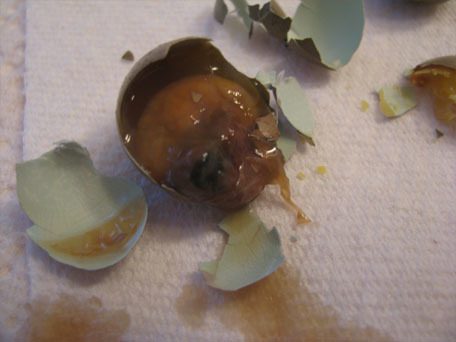 Egg 6:
This one was similar to egg 3.  No odor, no blood ring, whites and yolk seemed to run together: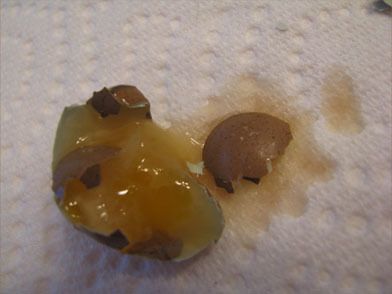 Egg 7:
Bad odor, small embryo.  Seemed much less developed and was much smaller than in Egg 5: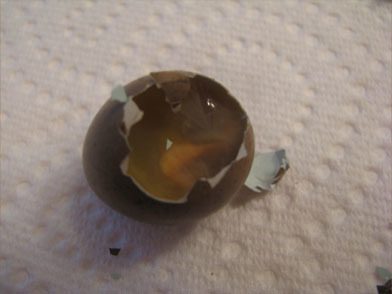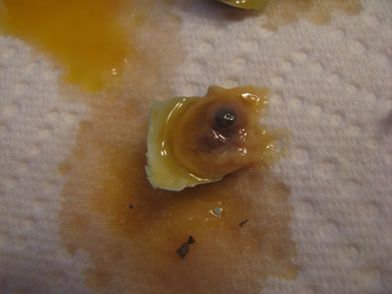 Today is day 18 for the eggs.  I will try to have the rest opened up and photographed tomorrow.  What are you guys thinking?  What should I be doing differently?  I have the brooders up and running, and it is more than a little bit depressing!