Currently undergoing construction!!
Will be done soon.
Hello and welcome to the Bantam rooster contest!
We need your help to vote for the winners! There will be a first, second, and third. Please choose your 3 favorites.
Link to second poll:http://www.backyardchickens.com/t/690484/2nd-part-of-the-bantam-rooster-contest-poll
Name: Sam
Age: 3 months
Breed: Silkie/cochin mix
User: Hannah159
I call him Little monster because he is feisty. He is sweet but is getting to be mean. He loves to roost on your shoulder and check you for mites..... but it hurts when he does. He is mille fluer and has some pretty girls. I might have to sell him though because of him being mean. I hope it is just a phase though....
Name: Oatmeal
Age: 6 months
Breed: Silkie/ D'uccle mix
User: hdowden
Name: Domino
Age: about 10 months
Breed: OEGB
User: hdowden
Name: blue boy
Age: 1 year 2 months
Breed: d'uccle
User: hdowden
Name: D-note Chanteclaire
breed: Serama
Age: 6-7 months
User: diornisextant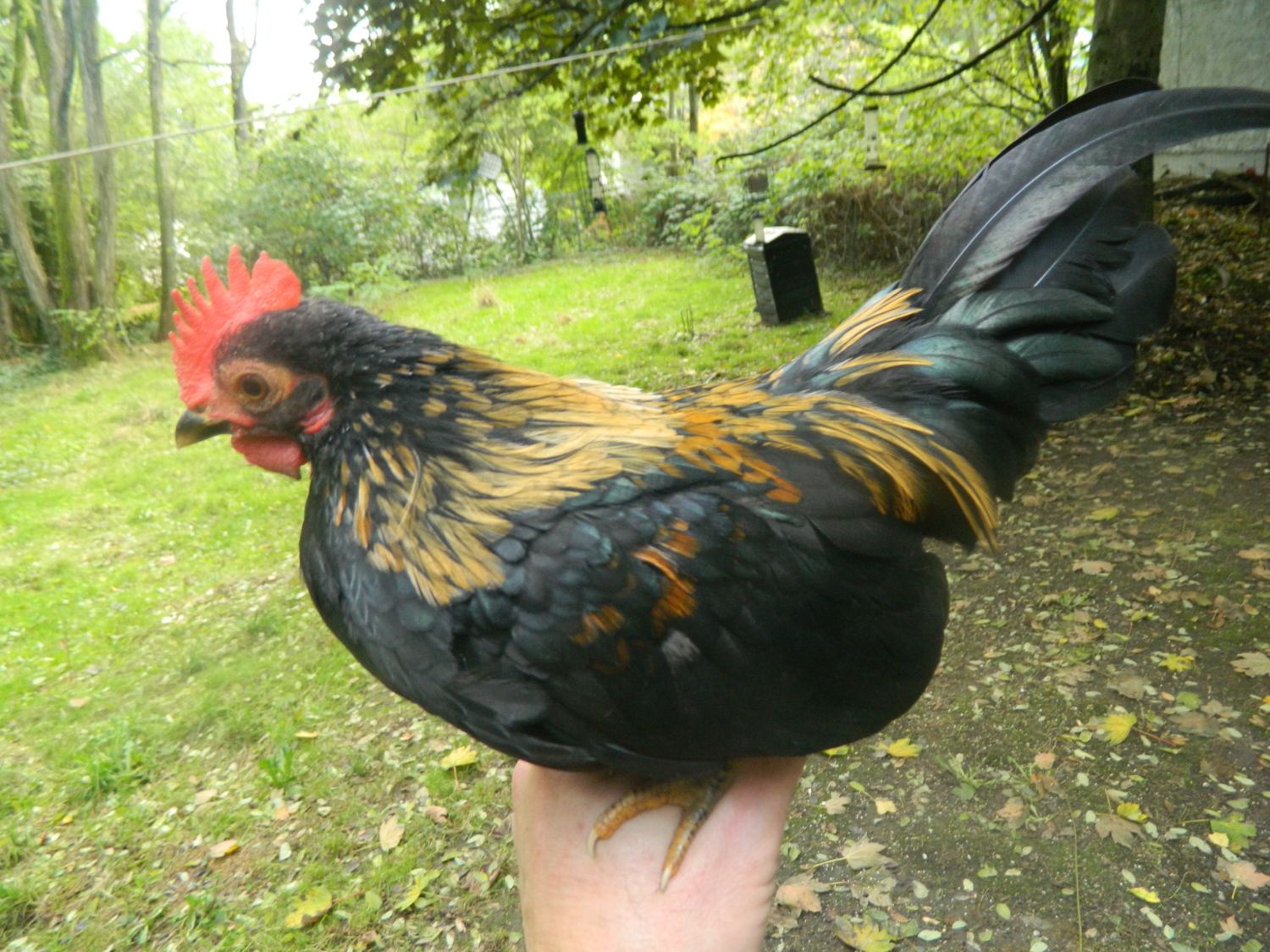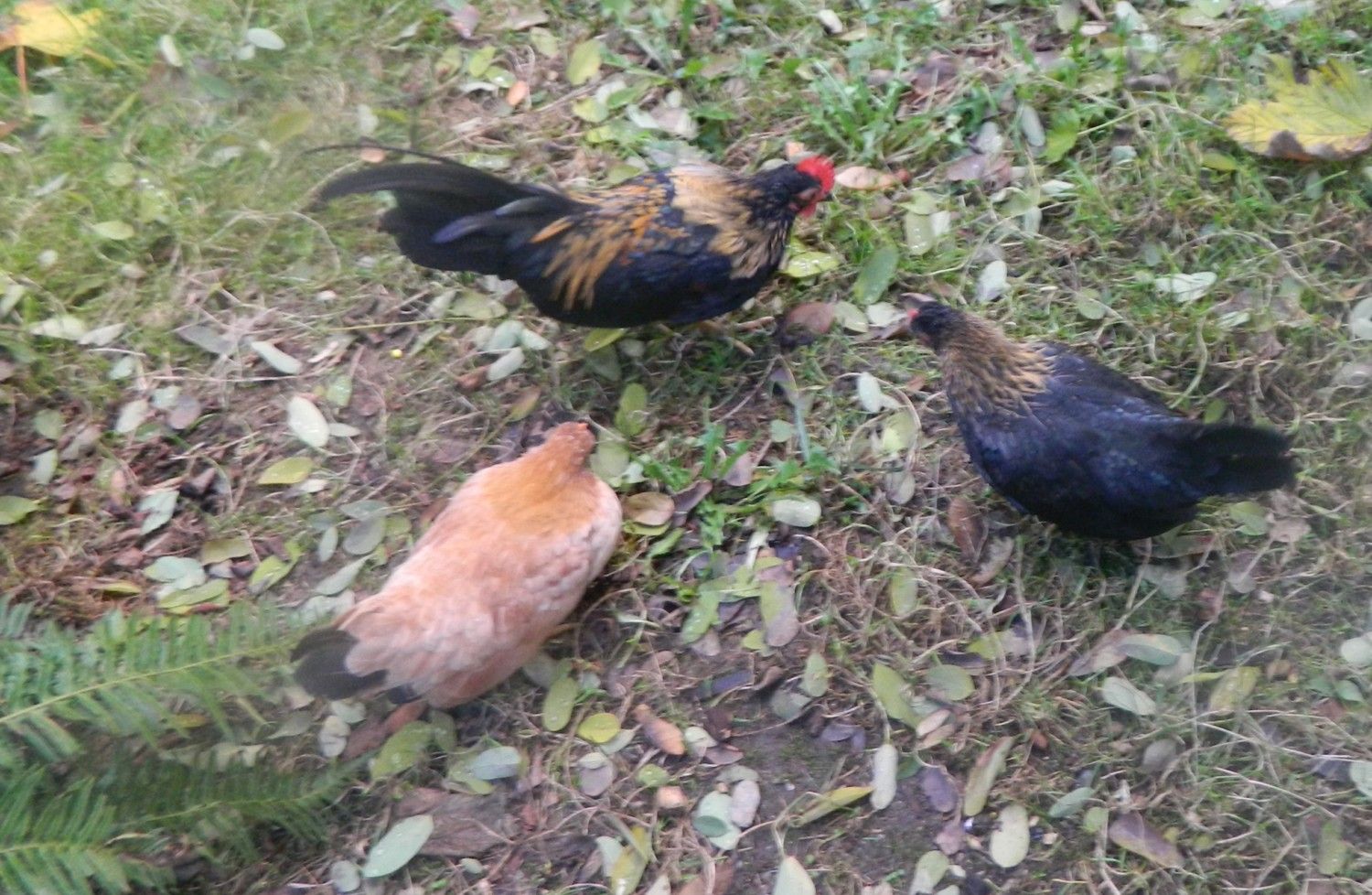 Name: Chainsaw
Breed: Serama
Age :over a year
User: diornisextant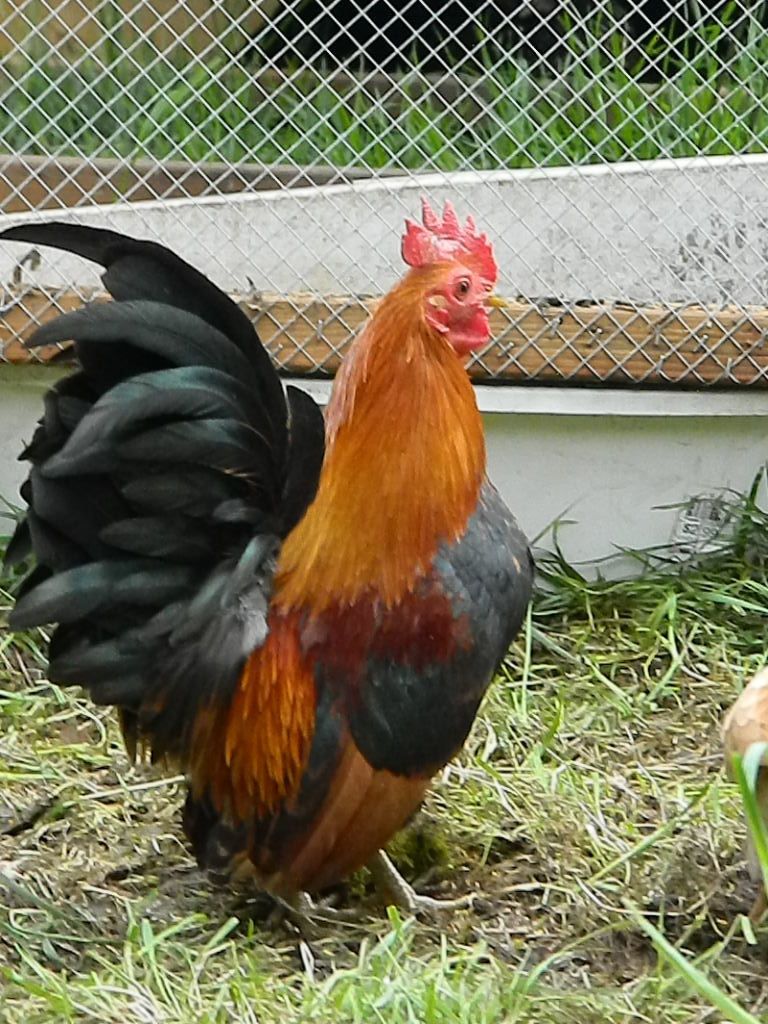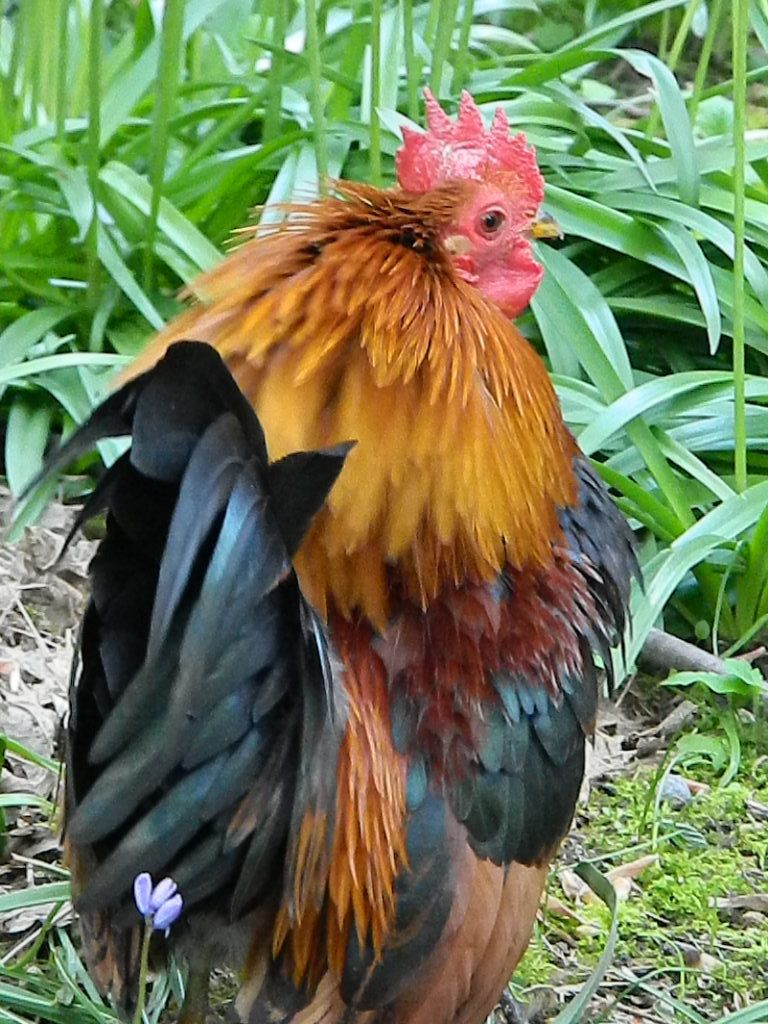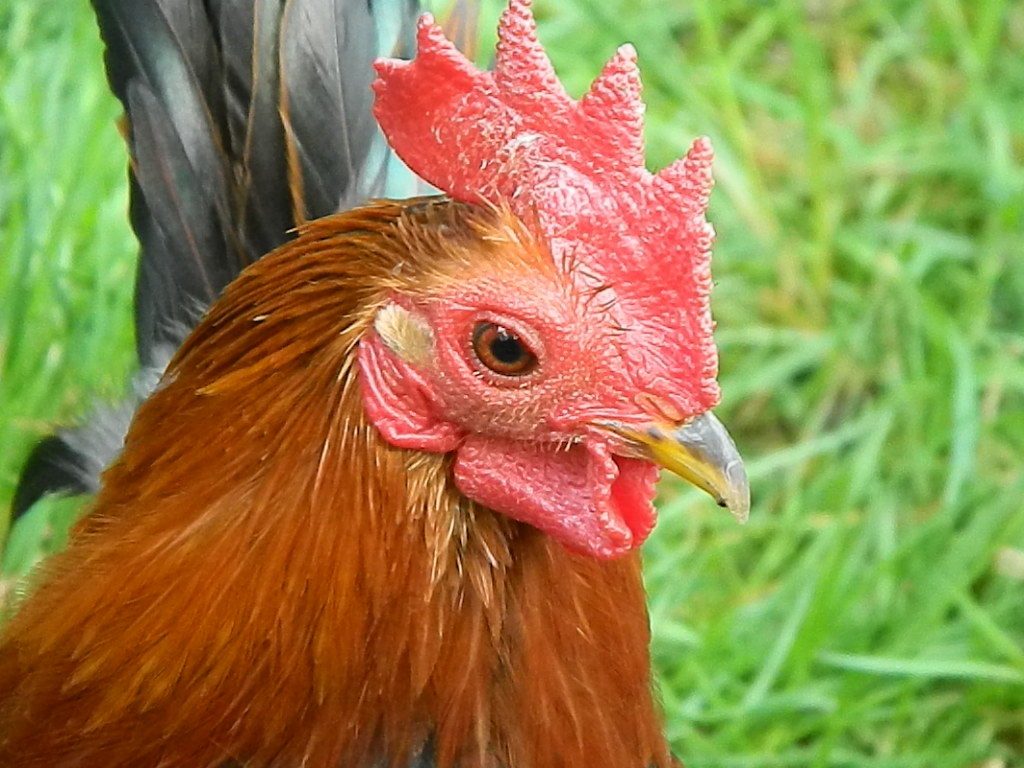 Name: Lance
Age: 9 months
Breed: Serama
User: leadwolf1
Lance is such a wonderful little guy!! He's great with kids and his ladies :) He has adopted 2 NN pullets as his own and no one messes with his women! He chases the NN roos all over the yard if they dare go near them! What a character!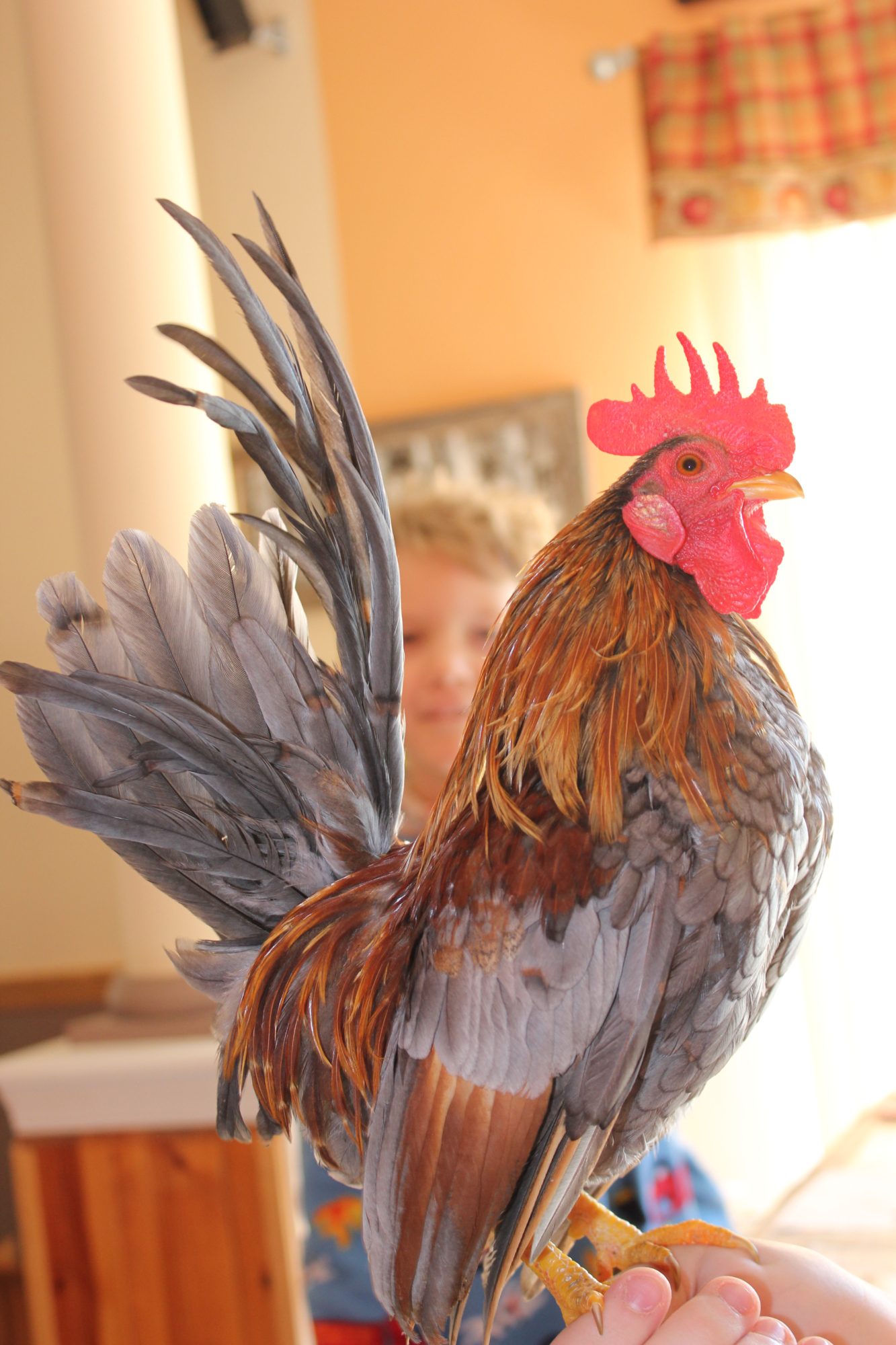 Name: Perry
Age: 9 months
Breed: OEGB
User:leadwolf1
Perry is the perfect gentleman...taking care of his ladies and his people. There isn't a mean feather on his body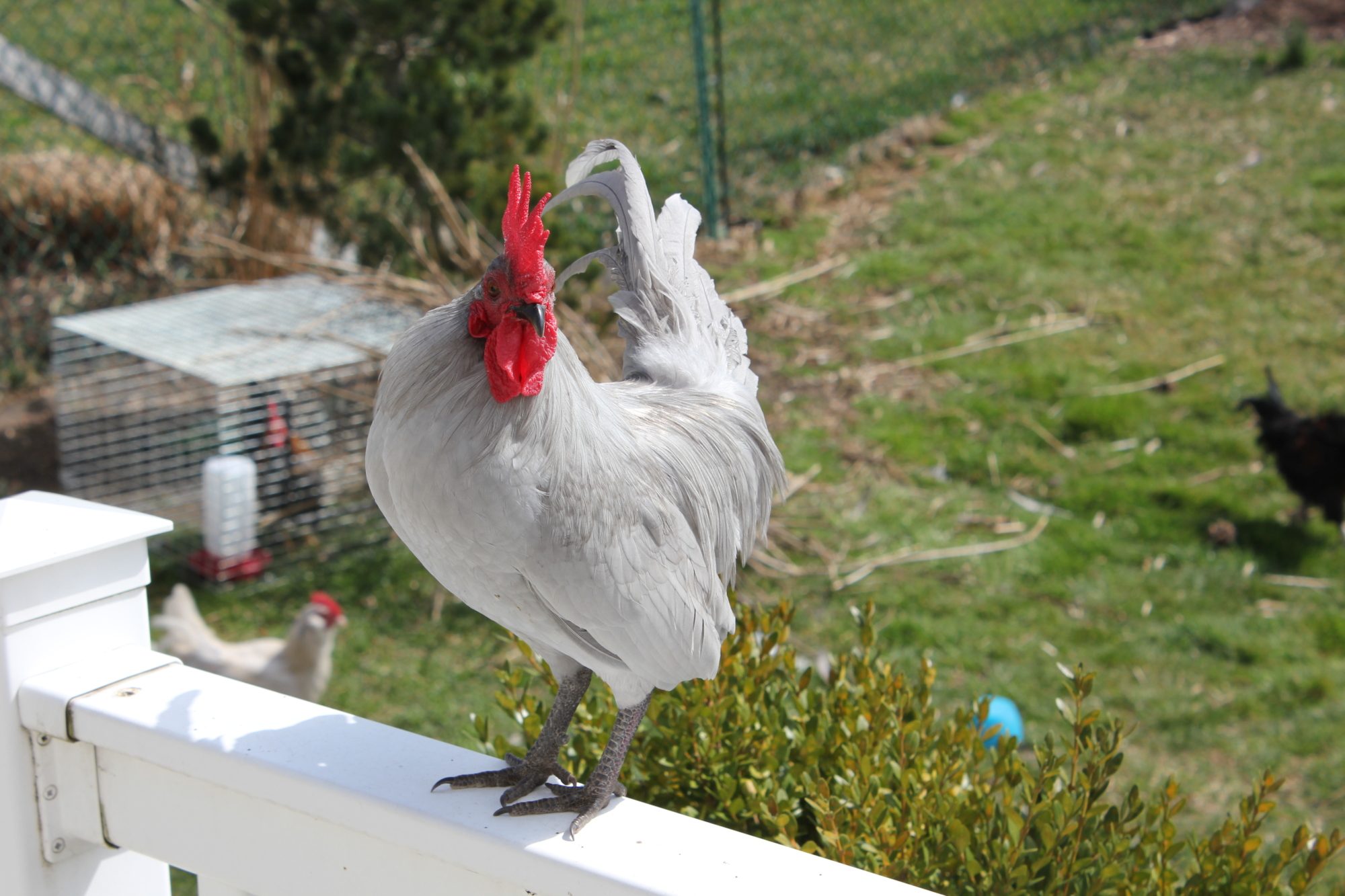 Name: Goldy
Age: 5 months
Breed: D'uccle X Silkie
User: leadwolf1
Goldy is my 8 year olds favorite little rooster...he carries him around everywhere and Goldy just loves the attention!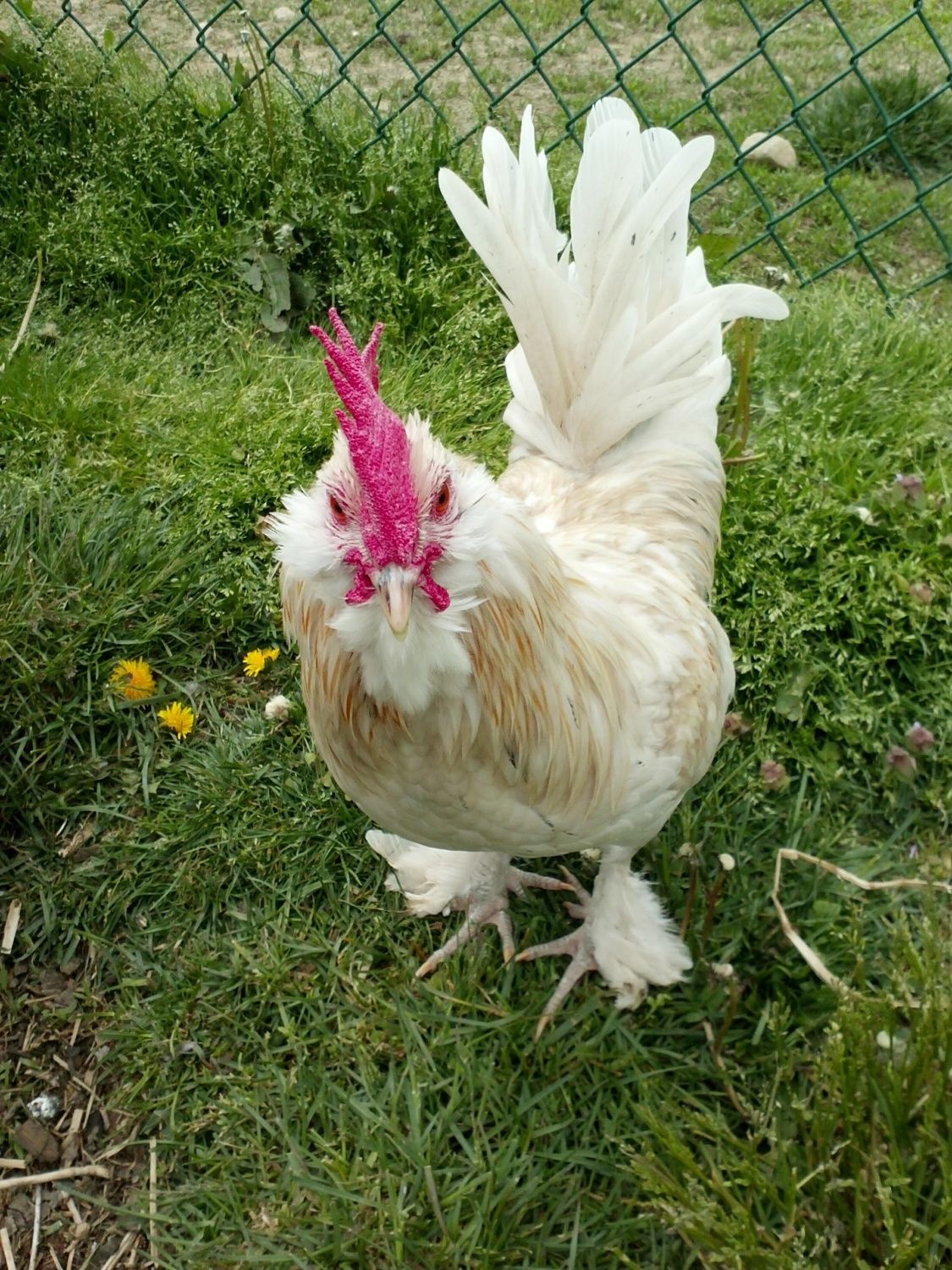 Name: Spike
Age: about 1 year
Breed: frizzle
User: Disco Hen
He is SUPER protective of his girls!!!!!!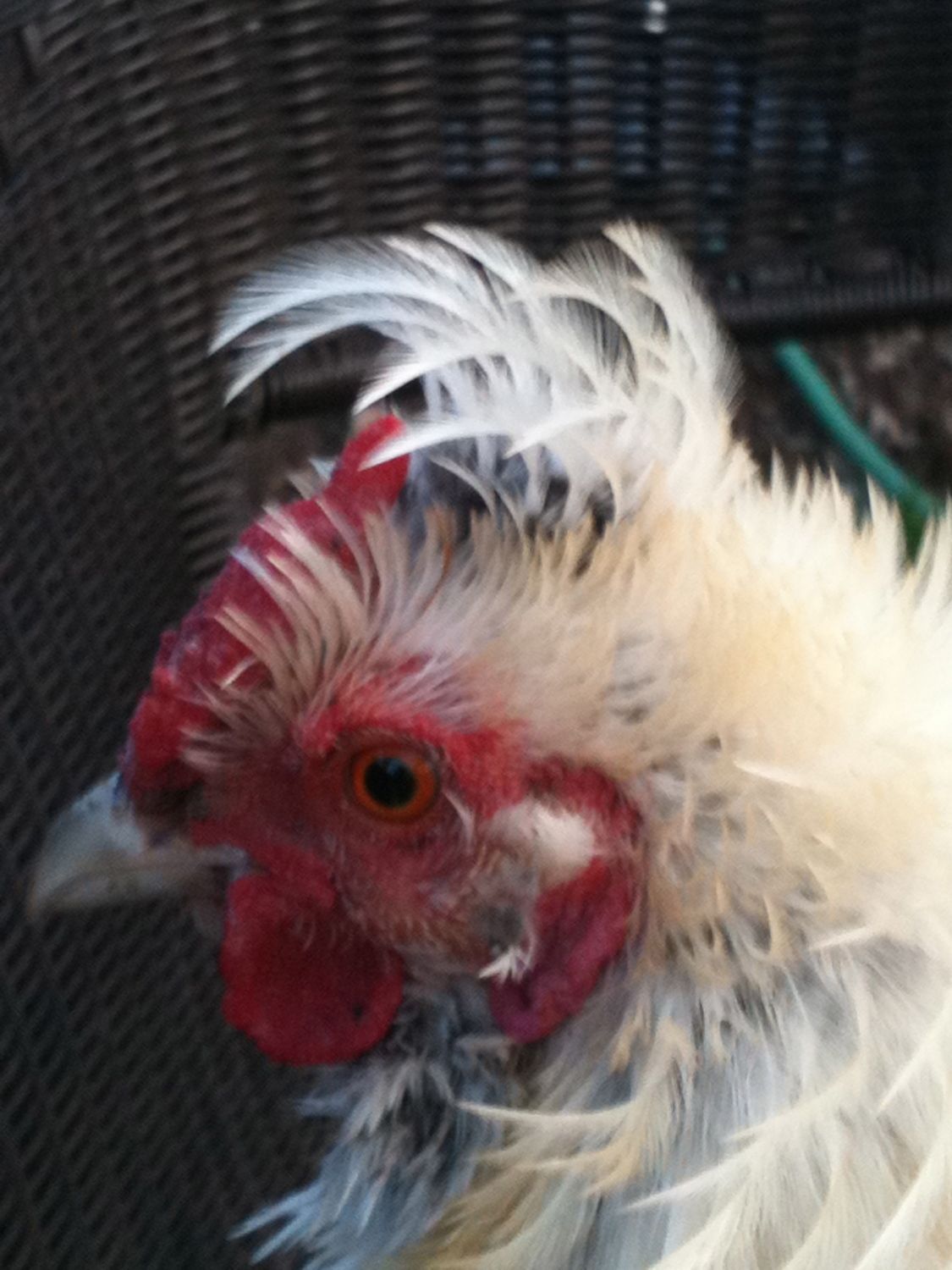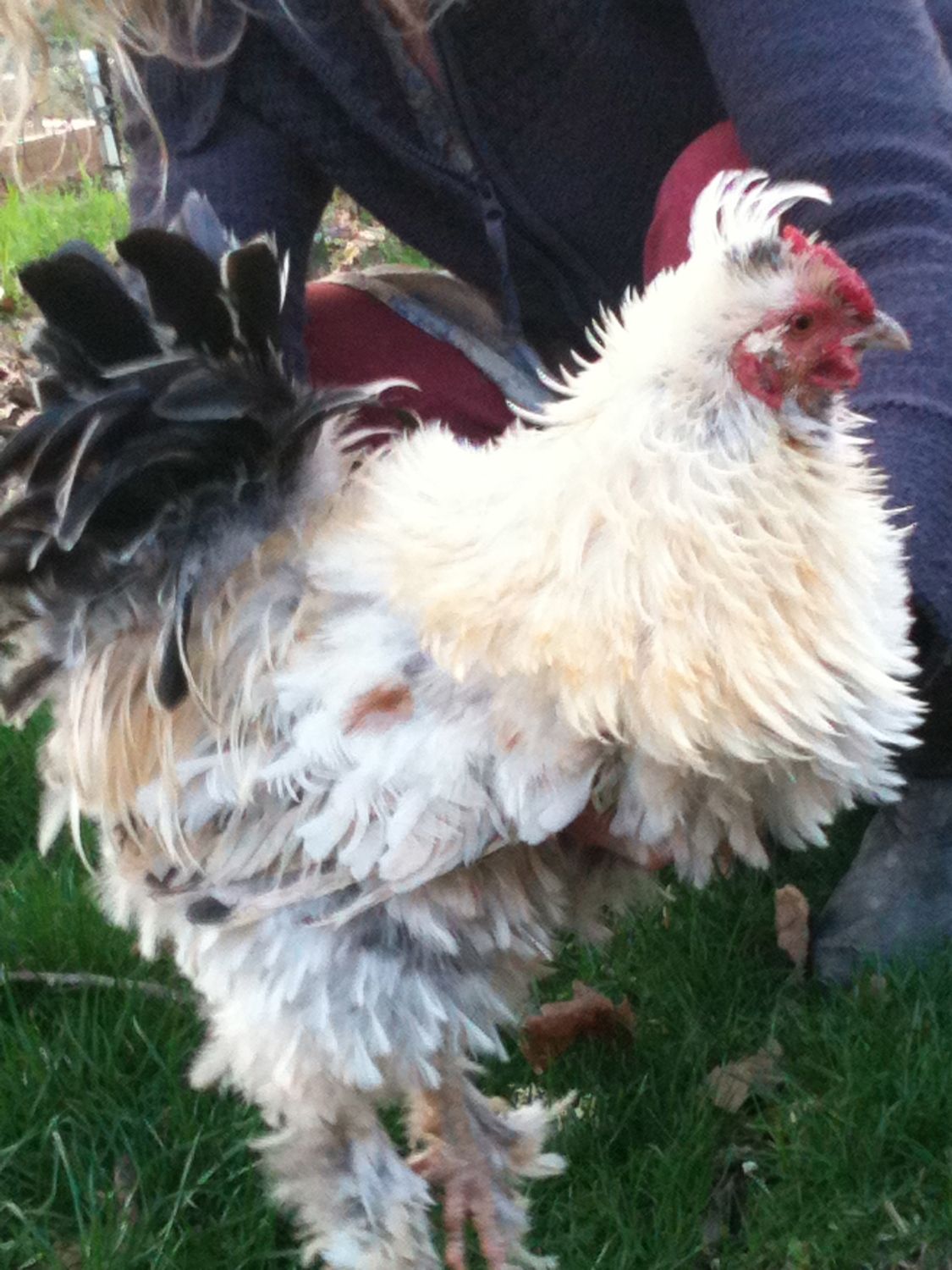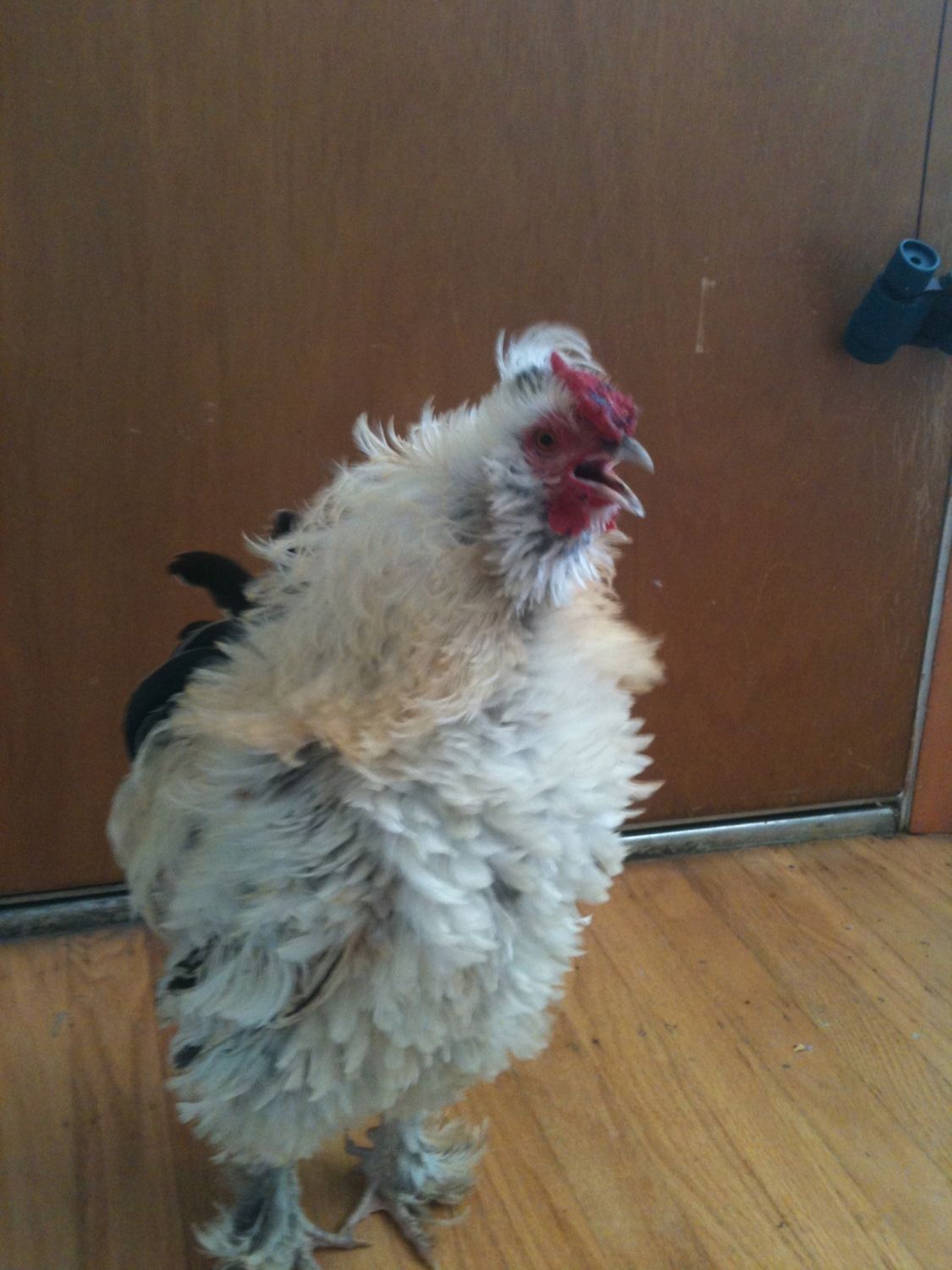 Name: Lilly
Age: When he died he was around 1 year
Breed: White silkie
User: <3ChickenForever
Sweetest roo, cutest crow, puffiest butt, very beautiful!
Pictures: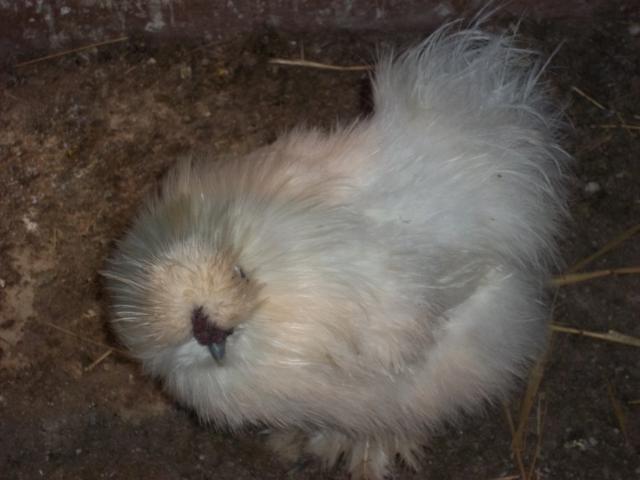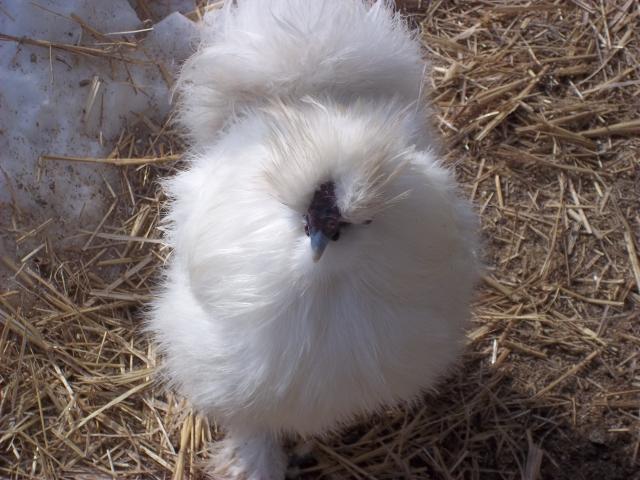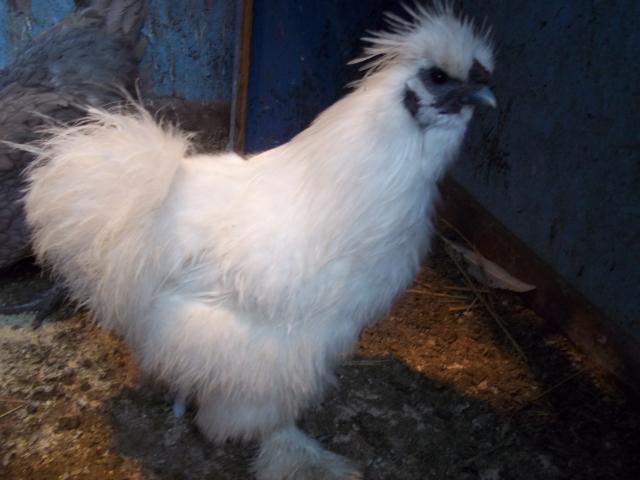 Age: 11 months
Johaan Sebastian Bock
Breed: polish bantam
User:allmychckens
This is when he i still growing in feathers from his molt ,now he has a beautiful LOOONNG tail!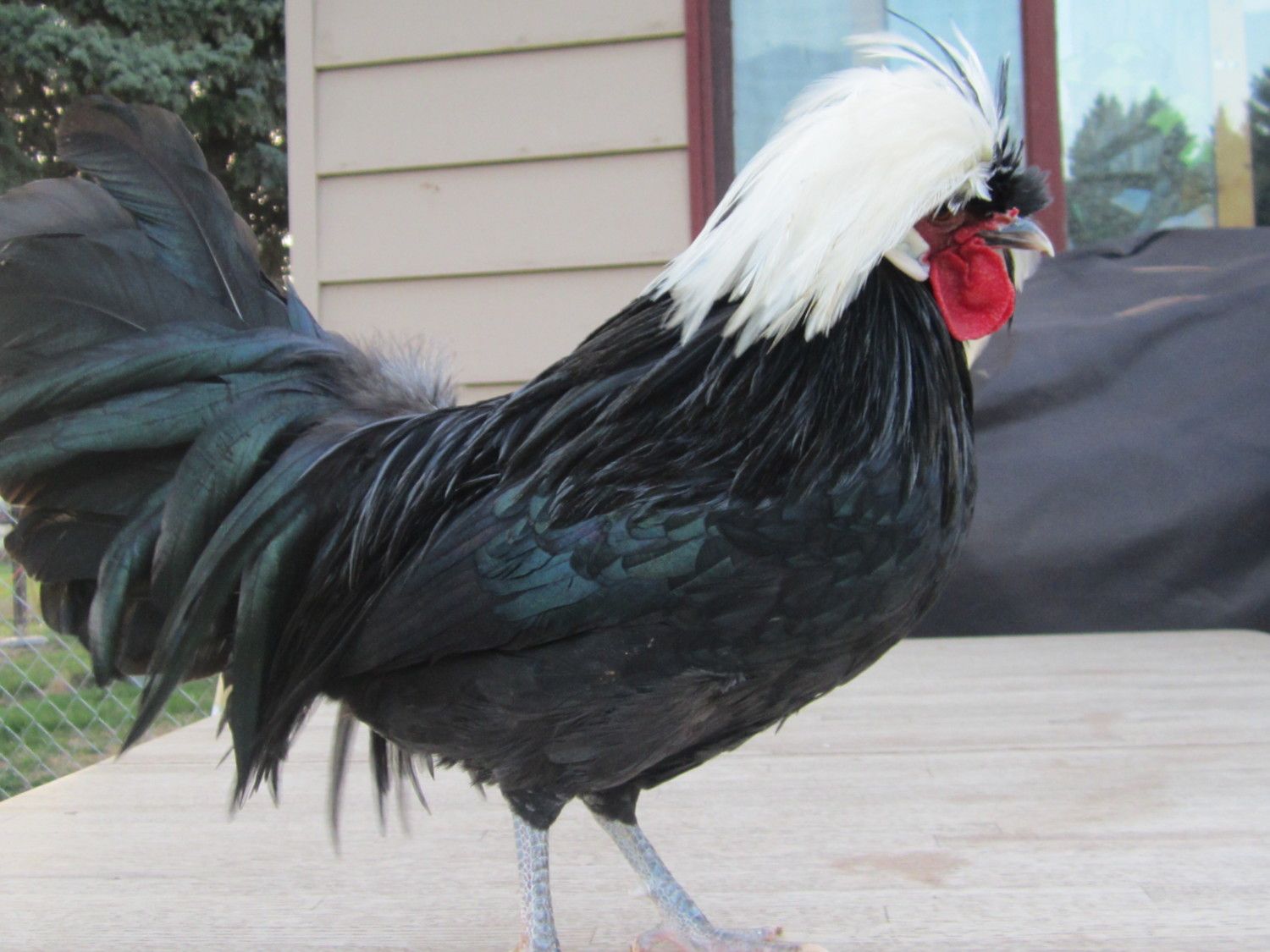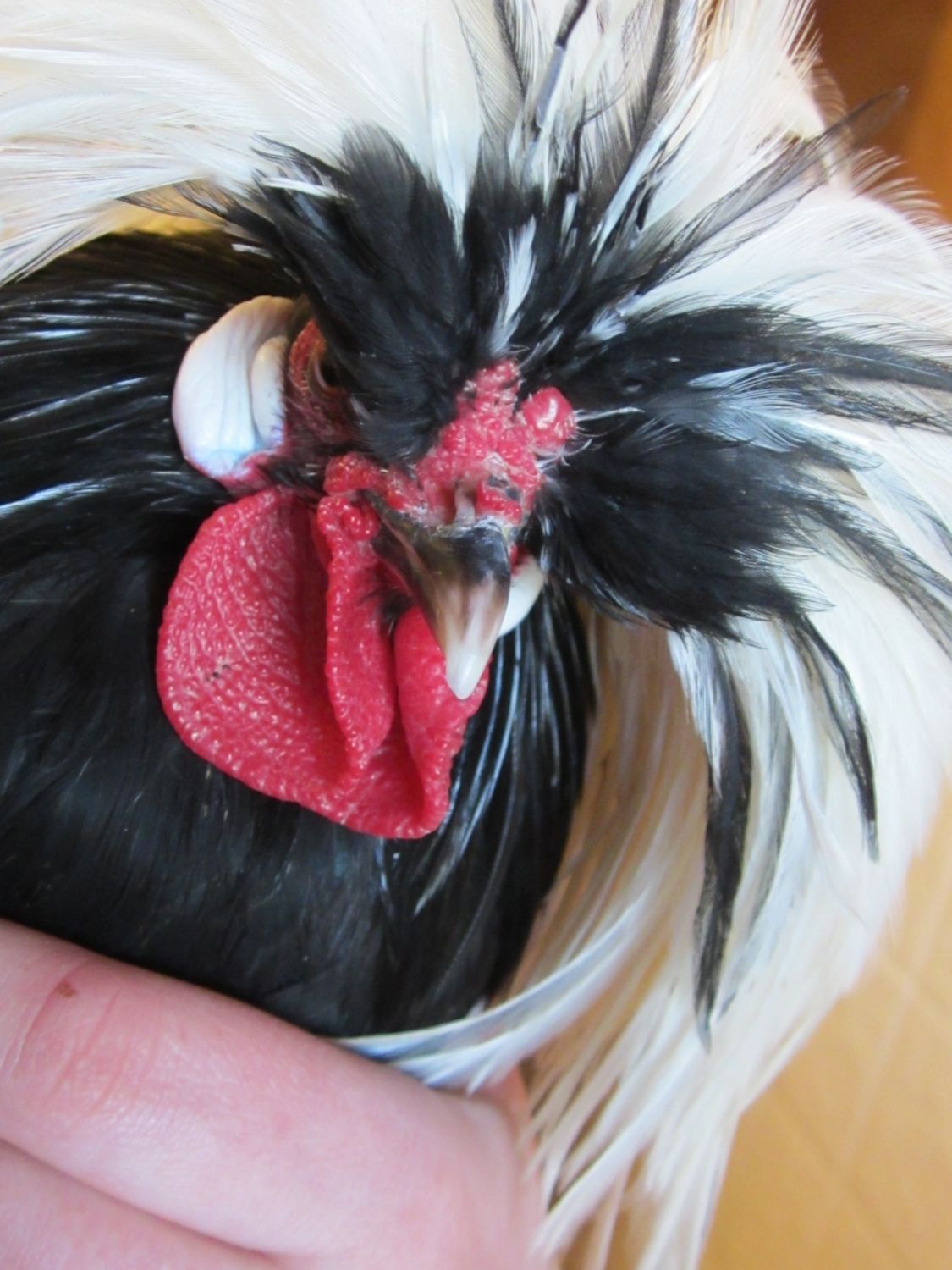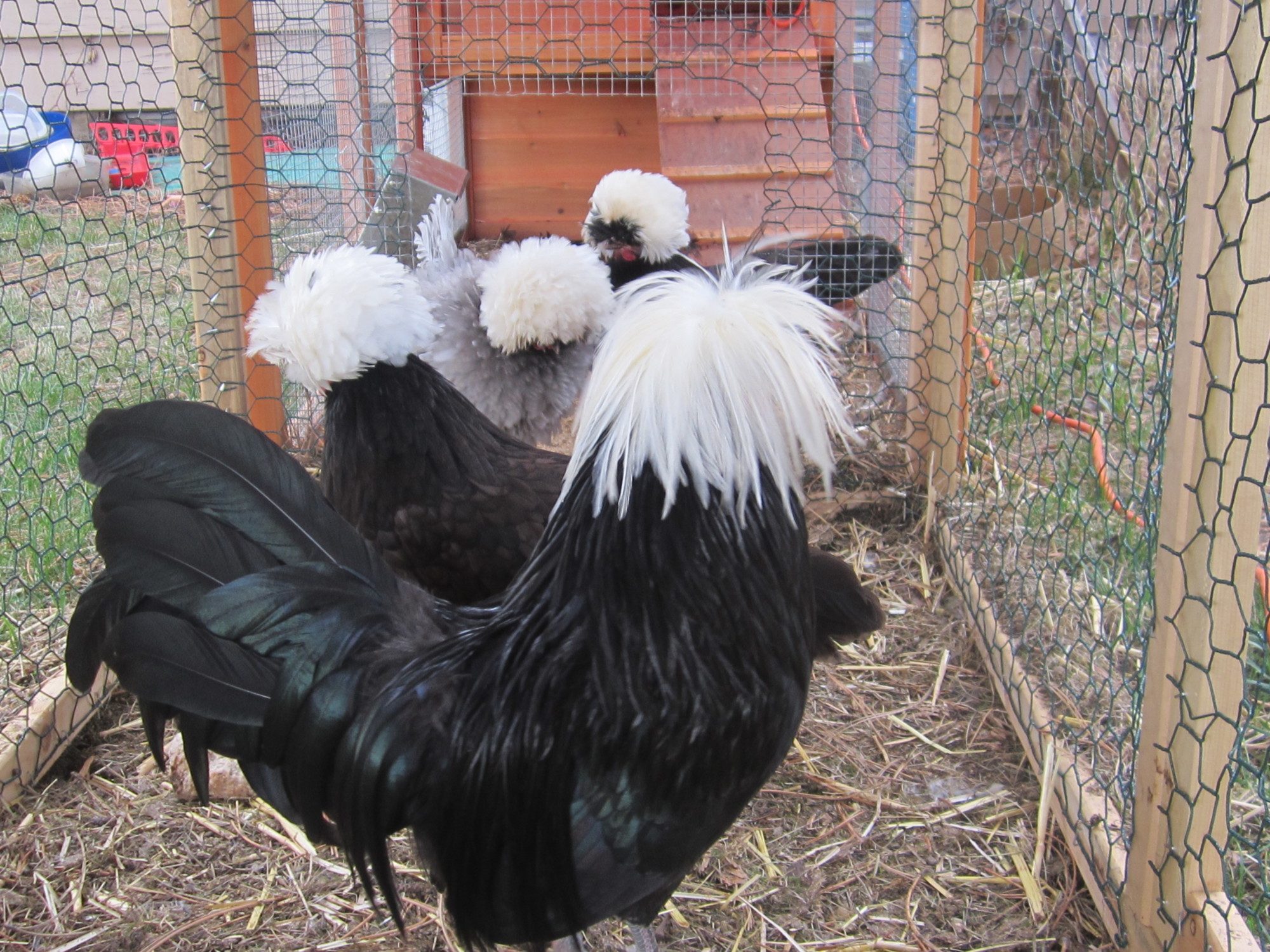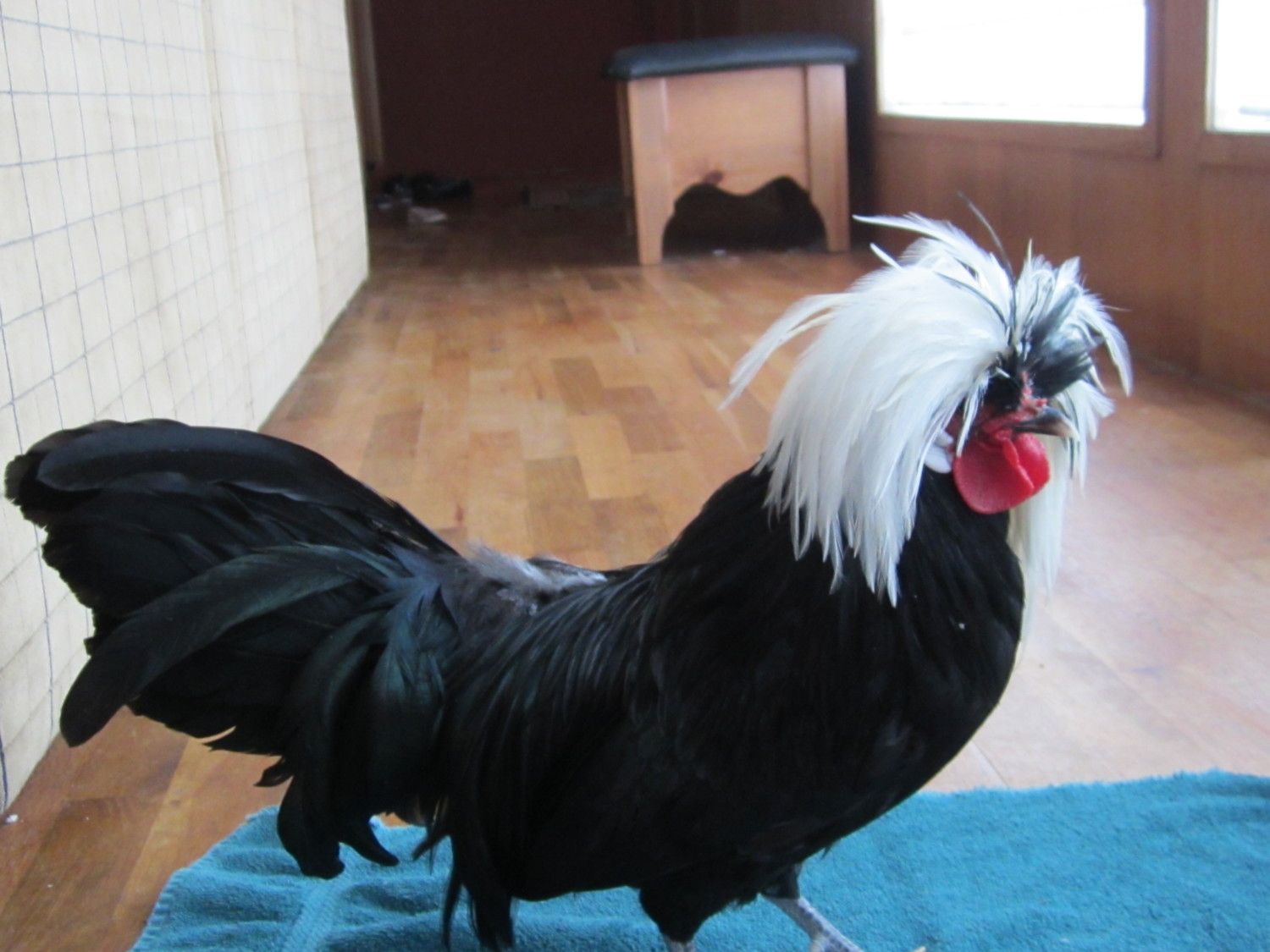 Name: Snickers
Breed: Choolate Orpington Bantam
User: Kidcody
Name: Pip
Age: About 1 yr
Breed: Ble breasted red OEGB
User: Baggagolers
I just got him because he was so cute. He's a friendly little guy and takes good care of his girls.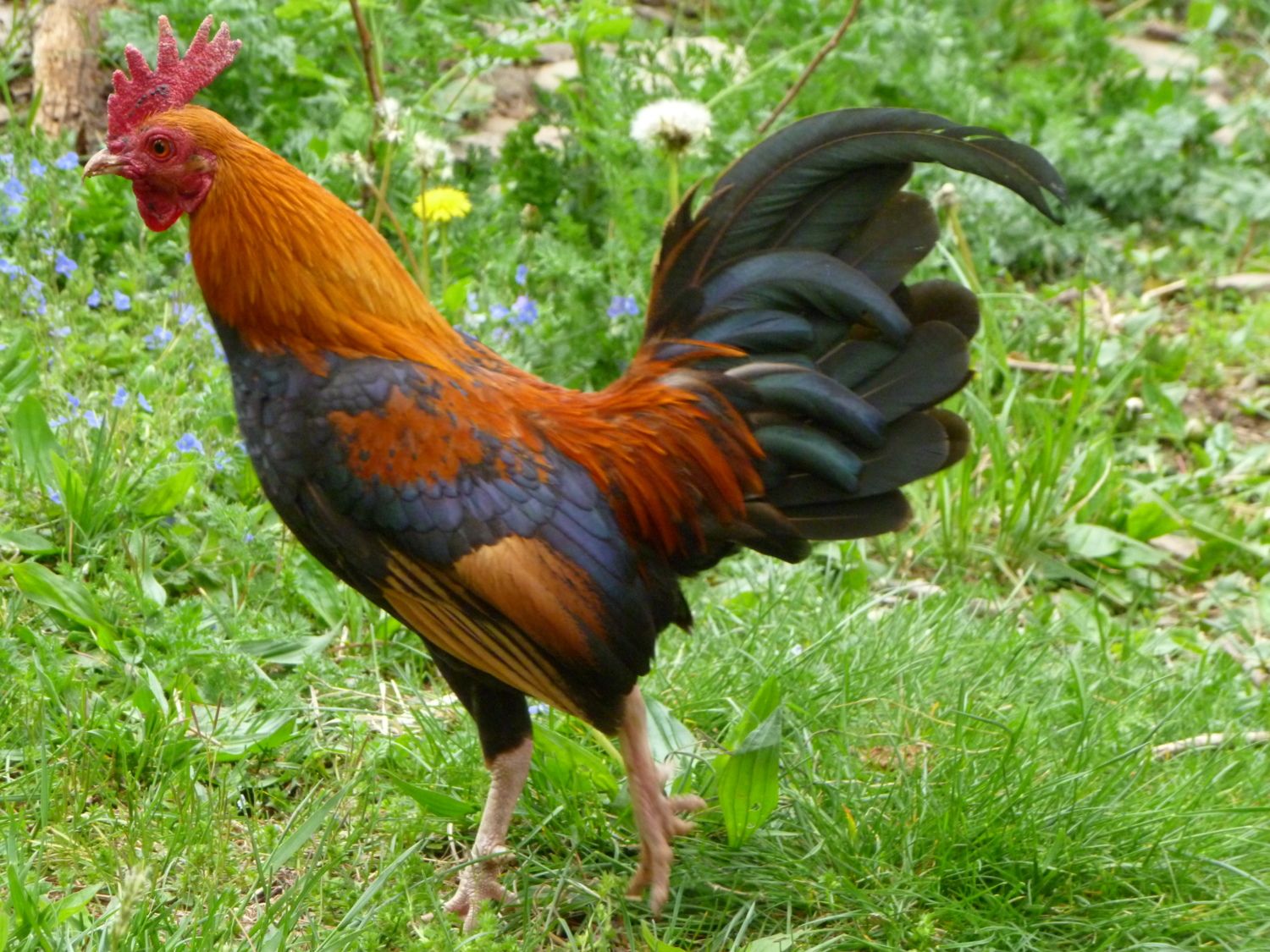 Name: I'm still trying to come up with one.
Age: ~1 year
Breed: Bantam Buff Cochin
 User: tgperg
Just got this little guy, two buff cochin hens, and a black silkie at a chicken swap last weekend. They live in an a-frame tractor in my front yard.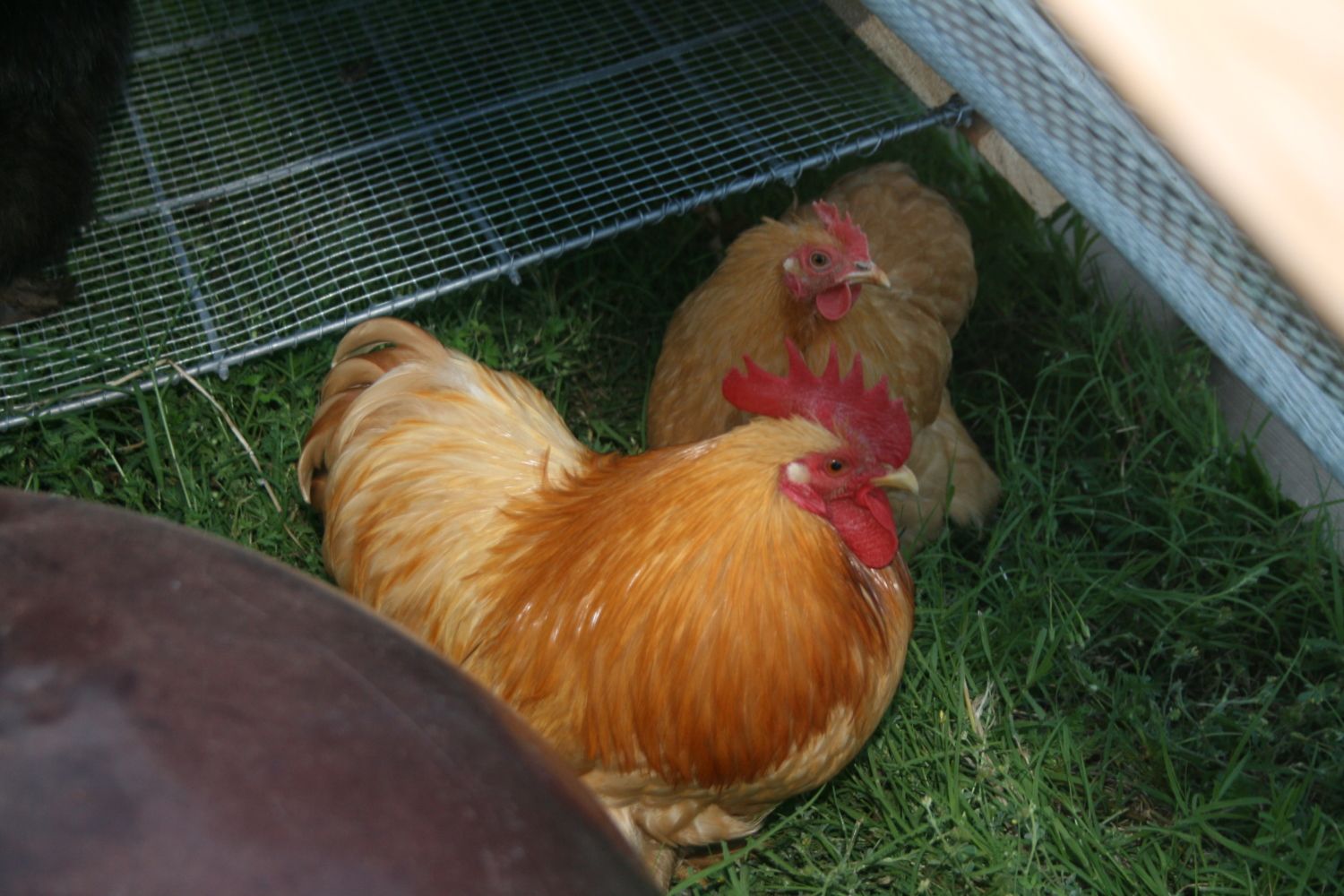 Name: Captain Hawkbait
Age: ~ 1 year
Breed: Partridge Silkie
User: tgperg
 Liked to stand around in the yard and scream for hours to attract all the hawks in the vicinity to my yard. My first and only attempt at free-ranging silkies. He's the reason I have an a-frame tractor.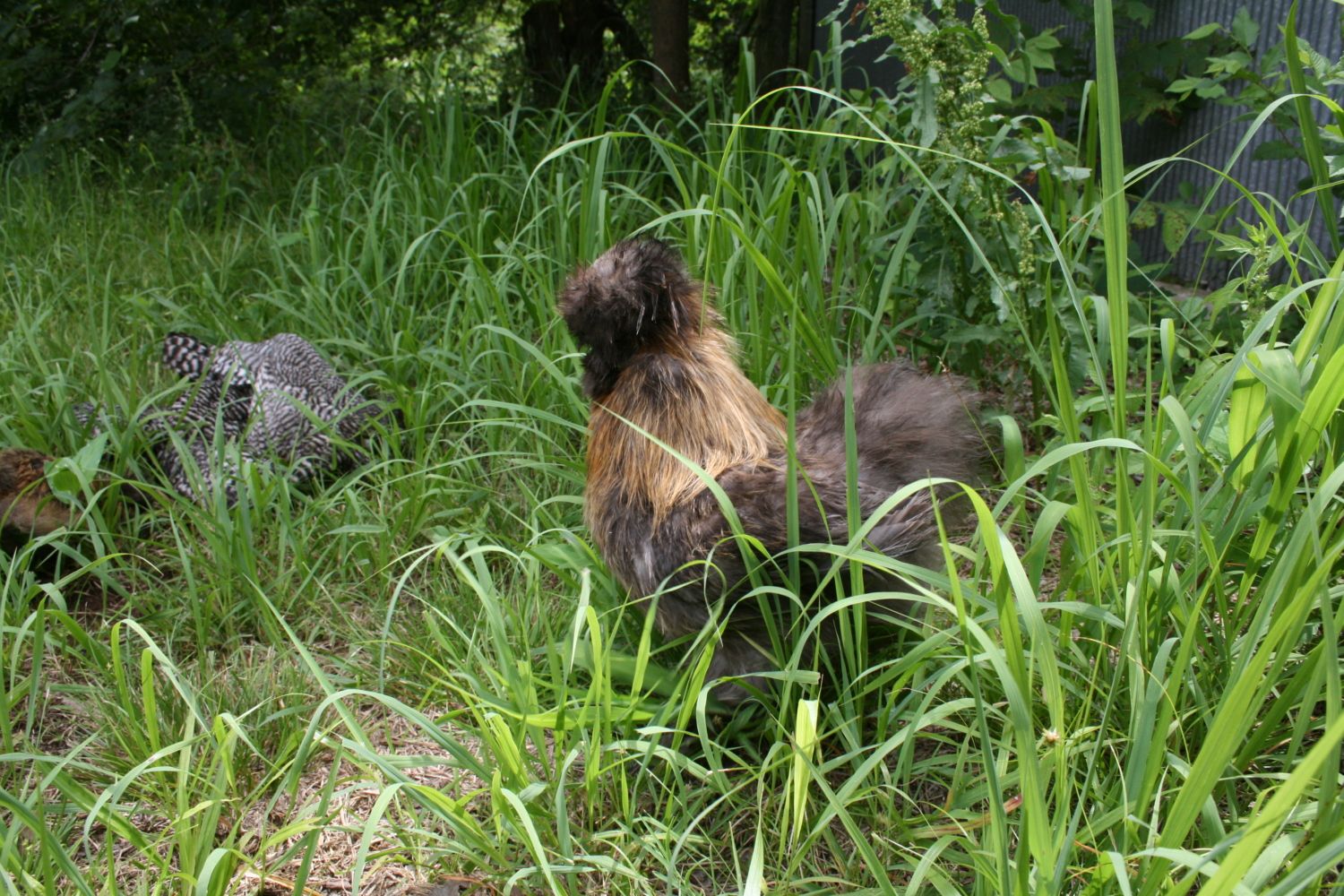 Name:Dudley
Age: 10 months
Breed: Mottled Cochin Bantam
User: County Boy
Dudley is a loving, super sweet, folows you around the yard kinda roo. He was at an auction where I was currently out of my mind and paid $15 for a roo in such a small cage I couldn't look over. All I saw was a face that looked sad and needed a home. So, I got lucky and got a roo with awesome quality.
Name:Chief
Age:2.5 years
Breed:Golden Laced Cochin
User:County Boy
Chief is my friendliest roo and also the reason I got into Cochin Bantams. He is very loveable and takes care of chicks as well. Once they hatch of coarse. He is awesome!!!!!!!!
Name:Remington
Breed:Mille Fleur Cochin
Age:4 Months
User: County Boy
I've had him one week tomorrow and he already is becoming very fiendly. I bought him for $20 from Lynne (wwmicasa1). He has a very big "crush" on my 2.5 year old Golden Laced Cochin Bantam lacey but when he makes a move he gets a beating from the other roos. So far, he is great!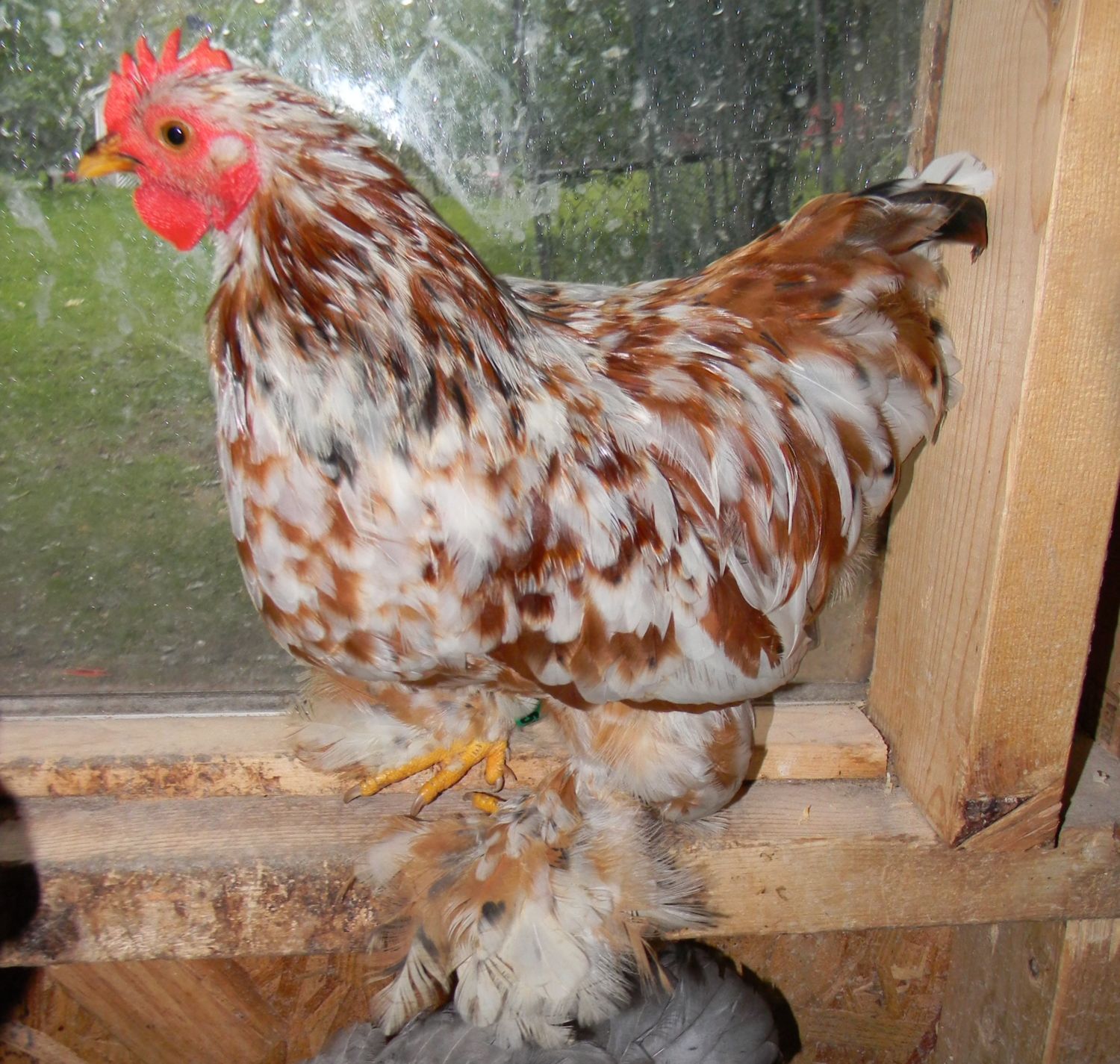 Name: Ivan
Breed: Belgian Quail D'Anvers bantam
 He is very sweet and has the best squeeky crow! He is the only one of our chicks who actively seeks people out - me in particular.
Love this guy! I'll try to get a full body picture later.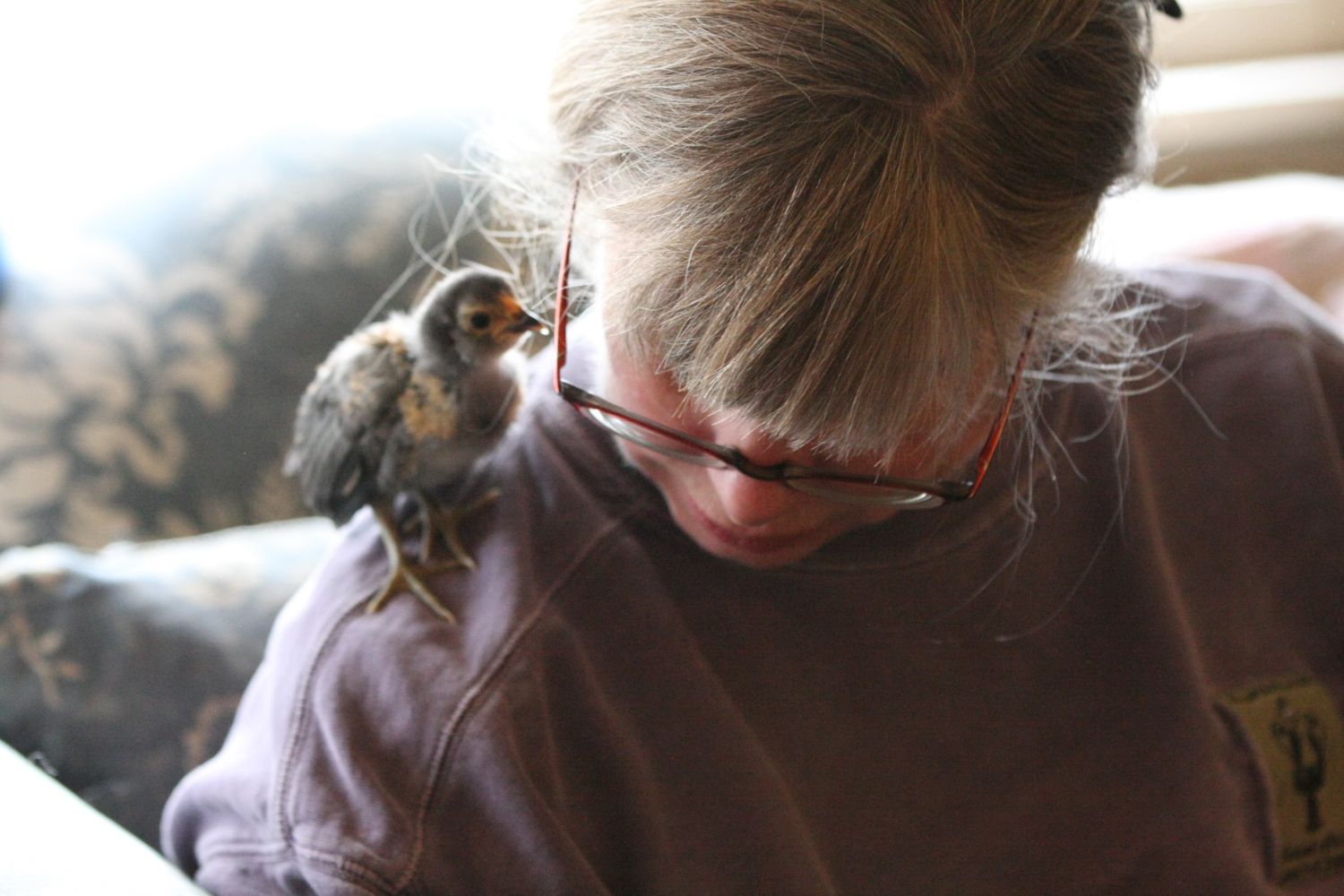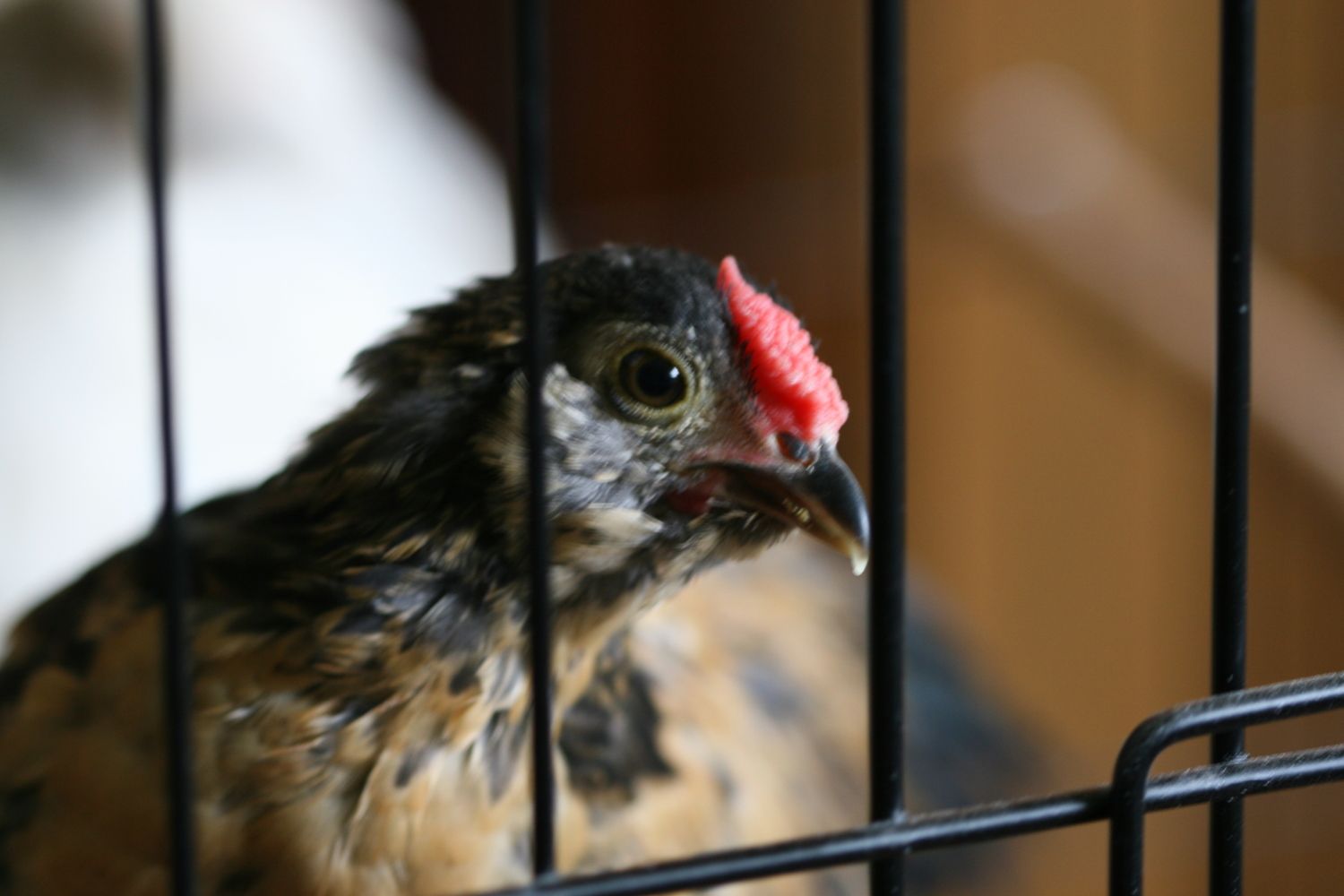 Name: Elvis
Age: almost 4 months 
Breed: Japanese Bantam
User: moonlitechick
 He is a lot of fun to watch. He likes to strut his stuff and show off for the girls. You can tell his size by the 2nd picture. That is an 8 inch cynder block behind him. He is a little guy. Elvis has been a wonderful addition to our coop.
Breed: blue brassy back old english game bantam
Age:1 yr old
User:boss400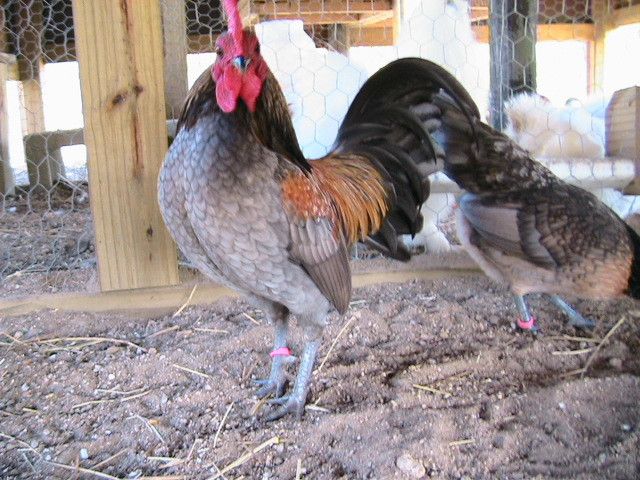 Name: The General
Age: 10 months
Breed: Porcelain Silkie
User: Swissmiss989
 Hes my youngster coming into his own. He dances and stands tall with his huge chest. He sits in the grass ready to protect his girls when they call. He will also dance for you if you sit with him.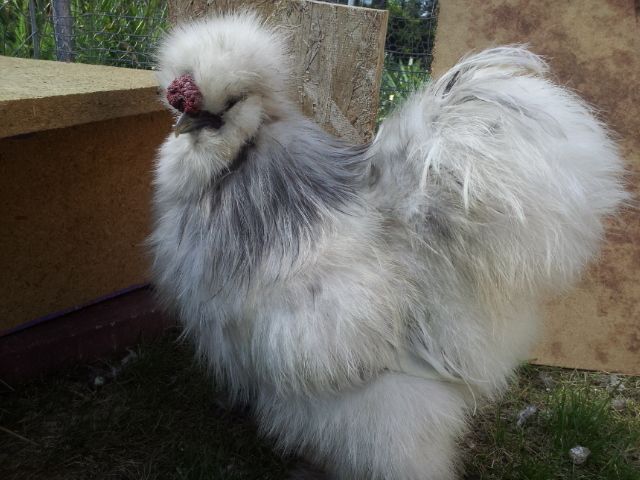 Name: Sir Jefferey Von Krows-A-Lot
Age:

3 months old
Breed:

Silver Phoenix
User:luvmypeepe1963
Tell us a little about him: I am a new member to BYC and fairly new to the

world of chickens. Jefferey likes to sit on my shoulder and have his head scratched, he follows me around and is always looking for a treat- whenever I go outside he will crow-he is an awesome young man and loves his ladies.
Name:Dinner (what happens when you allow a 5 yo to name your chickens!)
Breed:Silver Sebright
Age:8-9 mos old.
User: missydcpc

This little guy is actually big man on campus. Nothing funnier than watching him chase the Leghorn cockerels around. And they've learned to do as he says!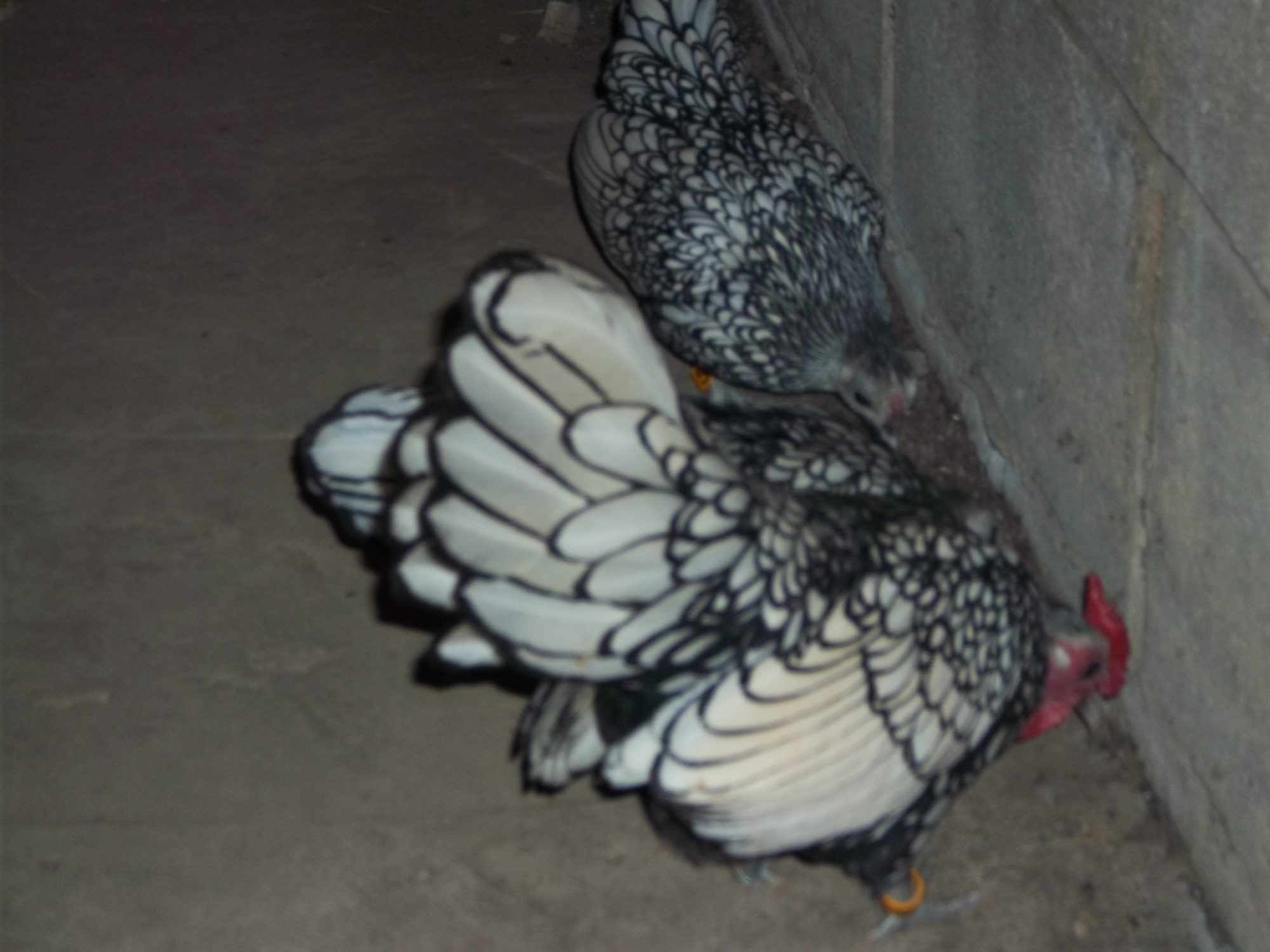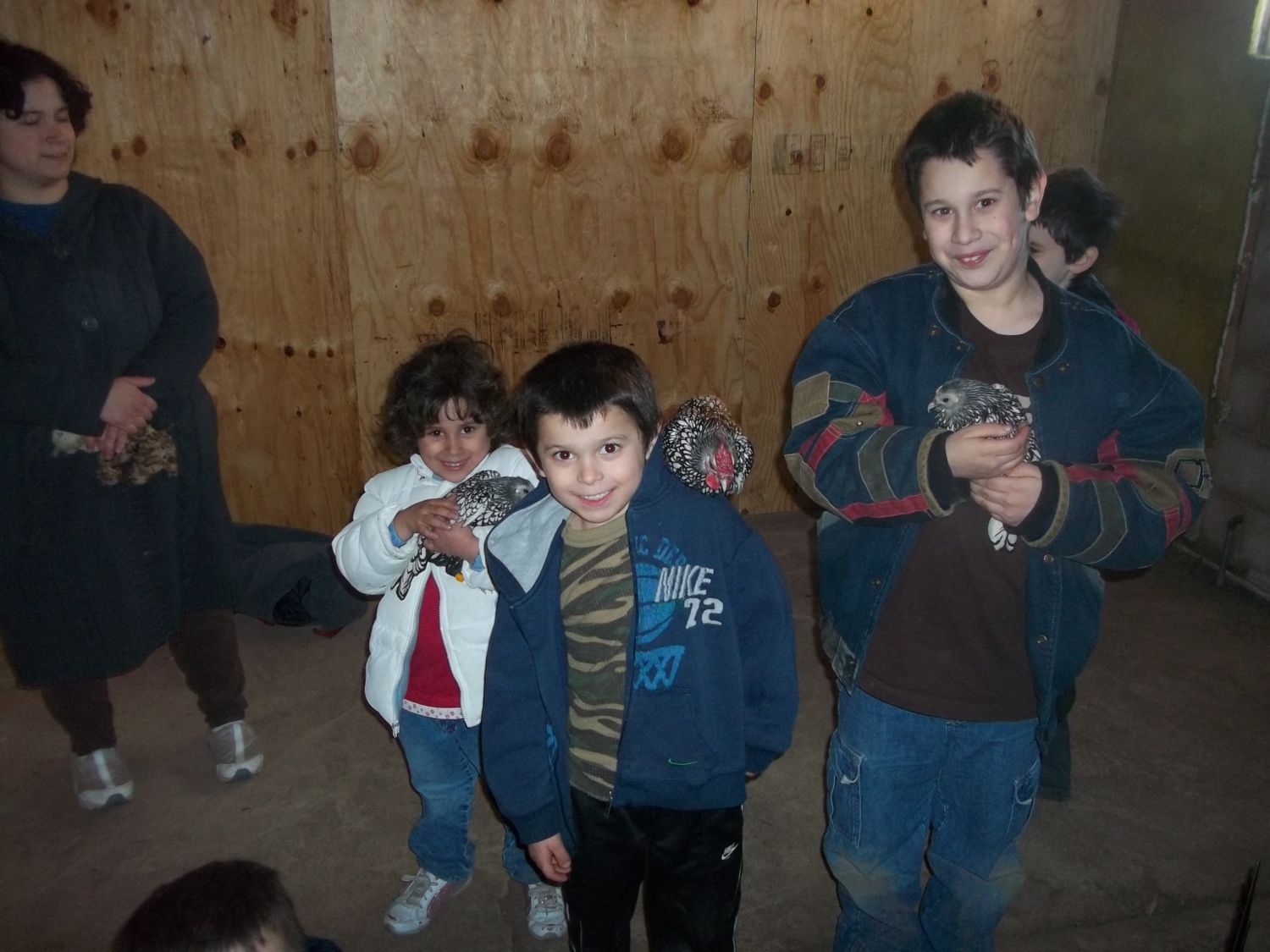 Name:

Angus
Age:

1 Year Old
Breed:

Belgian D'Anver, Porcelain Color
User: Speckledhen
 

Angus is the alpha rooster in the bantam coop-there is one other porcelain rooster currently. Angus is very mild-mannered toward his human keepers, which is unexpected, since D'Anver roosters are usually known for their "Little Big Man Syndrome". He's a great rooster. Second picture shows more of his chest mottling.


Name: "Murphy"
Breed: Bearded White Silkie Bantam
User:SilkiesForEver
Name: Rufus aka My Little Love
Age: 1 Year
Breed: Belgian d'Anver - Mille Fleur variety
User: Cetawin
I acquired Rufus from Speckledhen. When I met him back in the Fall of last year, he and I bonded immediately and he was my little buddy all during my visit and he became My Little Love and wanted me to pet him, hold him and carry him around....after I left, he became mean to Speckledhen and would flog her daily so I just had to go back and get him. He is very talkative, affectionate and takes good care of his four new girls. He is very odd for a d'Anver because he likes affection and is a cuddlebug for me. He hates plastic pitchers.
Name:Tommy
Age: 2 years
Breed: OEGB
User:ethanj20
Meet Tommy my 2 year old oegb he is out of the sheriff blood line
Name: Otis
Breed: OEGB
Age: Just over a year
User: Whittini
Edited by ChickenPeep - 7/24/12 at 6:52pm
Mark 11:22-23
"Have faith in God," Jesus answered. "I tell you the truth, if anyone says to this mountain, 'Go, throw yourself into the sea,' and does not doubt in his heart but believes that what he says will happen, it will be done for him.
Mark 11:22-23
"Have faith in God," Jesus answered. "I tell you the truth, if anyone says to this mountain, 'Go, throw yourself into the sea,' and does not doubt in his heart but believes that what he says will happen, it will be done for him.