Now normally I'm pretty much set when it comes to training dogs, but I have never in my life had a dog like my Greyhound Leo's son Sarge.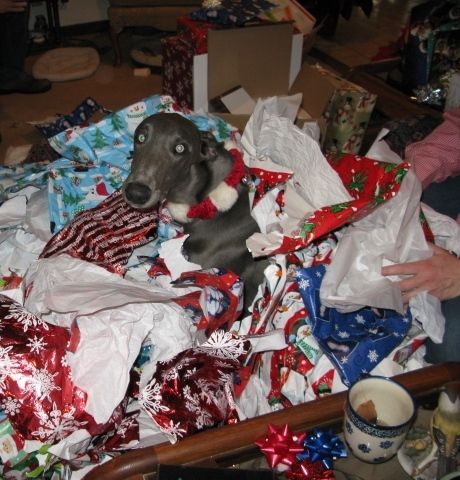 He collects things. And I don't mean normal things, I mean the pillows, the table cloth, mugs, phones, bra's, shoes, the porcelain doll...
He takes the most bazaar things and puts them in a pile to either lay on or chew, or play with...
First I tried taking them and swapping them with stuffy toys, peanut butter hooves and bones.
Then I tried disciplining,
Then I tried hiding the things he collects and putting stuffy toys in there place.
Then I tried covering a few things with bitter apple. Then hot pepper, then lemon juice...*You try explaing why the phone is slathered in lemon juice!*
Then I tried simply crating him every time he did this, and letting him back out after wards.
Diversion, treats, angry voice, clicker, smelly stuff, squirt bottle...
All of the usual things is not working. Though I was able to convince him to stop climbing the couch to get the porcelain doll off the shelf...
I really have no idea what else to try. He seems to be getting better with age, (Hes a year old now) but he still collects the most bazaar things.
Does any one have any idea what else I can try? I really dont want him to be crated so often.