From time to time we'd like to highlight features of the site which our members may not be familiar with.   Today we chose the "Show off your stuff" feature in signatures.
The best way to show off stuff you've posted on BYC, from photo albums to reviews, is to put it in your signature. This way everyone reading your posts can see your awesome stuff. This walk-through will show you how to set up your signature.
First you will need to go to your profile page which you can access by clicking on your profile in the top navigation bar on the screen.

Then scroll all the way down to the bottom until you see the "Your Forum Signature" Heading. To edit your signature click the "Edit Signature Text" link shown here.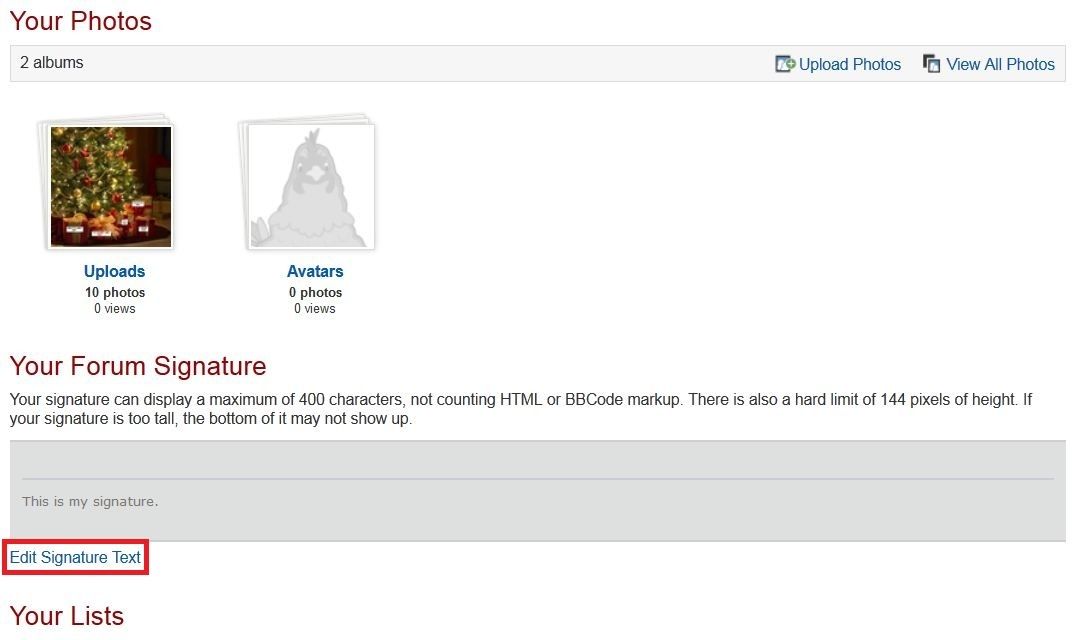 This will pull up the area to edit and add all sorts of cool stuff.
Adding an Album
Click the first "Show off stuff in your signature" box. Then select the album you want to highlight.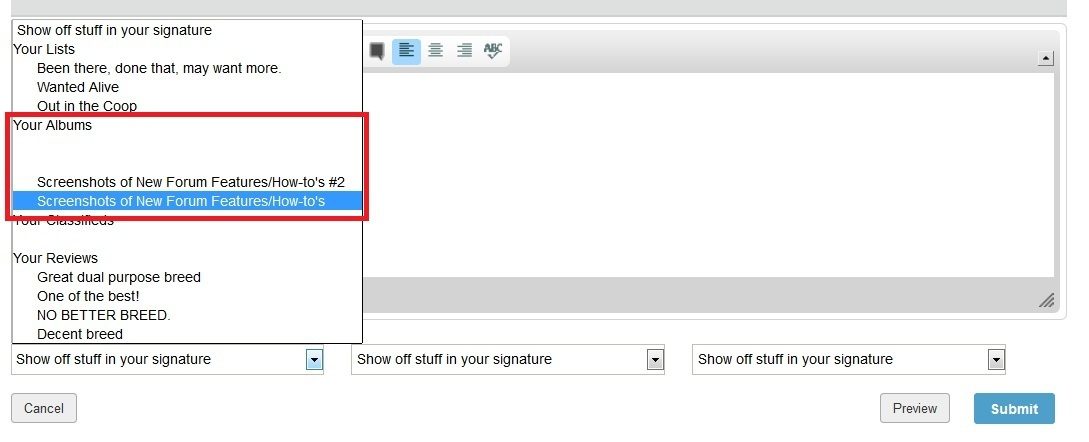 Adding a List
You can also add Lists to your signature. A list is a compilation of stuff you own, love, want to own and love, or any other things you can think of to group a bunch of products and items together that you want to show other people. If you have never created a list, you can create one just below this section in your profile page, or directly from any product page. I am adding the list "Wanted Alive." You can also see below the preview for the album I added in the previous step with the option to remove it.
Adding a Review You Wrote
You can also show people reviews that you wrote so that people will be able to access them more easily and leave you comments. Same process as above. I am adding here the review "One of the best!" This will show the image that is related to the breed we reviewed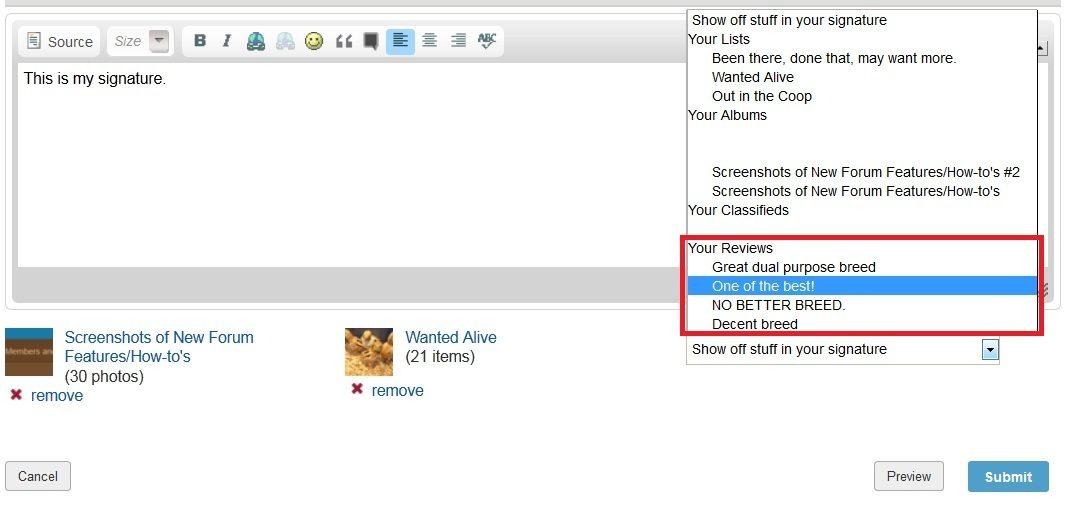 Editing Signature Text
You can also add some text to your Signature up to 400 characters, not counting HTML or BBCode markup. There is also a hard limit of 144 pixels of height. If your signature is too tall, the bottom of it may not show up. Please do not add outbound links to this signature as it will be moderated and they are only allowed for paid memberships.
Your Final Signature
After these easy additions, your signature on any post will be updated (including all the posts you made in the past!) with the new signature showing off your favorite breeds, reviews, and pics.

Can't wait to see what you do to customize your signature!
Note: The system has some limits on new members' ability to have a signature, it is because the system doesn't know you. The requirements appear to be having 10 posts, so as you participate more, the system will learn to trust more.