UPDATE:  *its long... I know.. but funny so its worth the read* 
Well we have now been inspected THREE times... zero code violations. But our neighbor was VERY enteratining there for a while!! Let me tell ya!
First: we had had it up to here *waves wildly over my head with a broom* with his crazy behavior and stocking us. SO we hired our lawn guys (who also do fences, patios and decks) and built a big fence. BUT before that got put up...we had to have the property surveyed. When the guys were doing the survey crazy neighbor guy came charging out of his house screaming and yelling about "HEY YOU. GEEET OFF MY PROP-AHHH-TAYYY!" (cause no he cant say 'property' right.. which just makes it funnier).  He harrassed them the whole time they worked. Then followed them out to thier truck yelling at them about how bad *we* were as neighbors. (really? SERIOUSLY?!)
Then the day our fence guys got here to start the fence he came chargeing out again and started screaming at them about not setting one heel on his property or he was going to have them arrested. Well.. needless to say... our fence guy is NOT one to be messed with. Hes a tough older guy who somehow managed to hold his cool even with our neighbor screaming in his face and pointing his finger right in his and his sons faces (his sons work for him). Well... to put it mildly... Our fence guys at this point jsut wanted to piss off our neighbor becuase they knew full well the guys nuts (having had neighbor already yell at them about how they were cutting the grass wrong... seriously?!). Well they even waved thier arms like they were going to fall over onto the property. Which of course illiceted more screaming from my neighbor of "STAY OFF MY PROP-AHHH-TAAYYYY BUBBA!!"  (
)
So as the fence went up... Neighbor then starts yelling about how we are and are not allowed to put the fence up... Intresting! Apparently he thinks he has a say in what type/size/color/ and placement of said fence on OUR property.To make it possible to stain both sides of the fence we had the boards sprayed waaay over on another of our fences and moved over for instaillation rather than putting up the fence then spraying it which we coudlnt do due to crazy neighbors ranting. Well needless to say the fence was bearly started getting put up and sure enough Here comes the code inspecter!
So... we had the chickens inspected AGAIN. The code inspector said it was a 'nuseicne due to smell' complaint. Which was funny.. becuase the code inspector stood in the middle of my chicken coop... on the inside of the barn... and went.. "did you know I was coming out and hurry up and clean?" We went .. "no... we clean 100% of the litter out every other week and wash down both coop at the same time" and he just laughed and he went "this is the cleanist chicken coup ive seen in years. There is no smell at all other than wood shavings." 
  **awww** thanks Mr. Code Inspector Man! ;)  We told him what was going on and he said by law they have to show up when he calls... *BUT* he said he has responded to our property over and over for YEARS and was rather amused that we are entierly diffrent owners this time.  So its not like hes unaware. So... he decides to go over and talk to neighbor for us.

So we all (including the fence guys) got to stand around and watch neighbor have a HUUUUUUUGE temper tantrum at the code inspector.
Neighbor yelled at the code inspector going "Thier compost pile made me have small onions!" 
Code Inspector: What compost pile? I dont see one.
Neighbor: "I told them to move it"
C.I.: Did they?
Neighbor.: Yes.... but...
C.I: Ok then. So where is the problem?
Neighbor: Thier pile of chicken coop shavings made my tomatoes small!
C.I.: I don't see any piles anywhere.
Neighbor: I told them to get rid of them.
C.I.: And.... they did?
Neighbor: BUUUUT!!! Look at my tomatoes!! LITTLE TOMATOES!!! They are making my TOMATOES LITTLE!!!
C.I.:  I'm not understanding the connection.
Neighbor: FUMES FROM THIER CHICKEN GAS!! *ranting waving his arms around .. like a chicken*
and trying to get in the code inspectors face.
C.I.: I do belive chicken manure is highly prized by gardeners to make their plants grow bigger... not shrink. *Point SCORE!*
Neighbor: LOOK AT THIS!! LOOK HOW LITTLE!! .... Pointing wildly... LOOK... LOOOK! (now running around screaming and charging back at the Code Inspector)
C.I.: What I see is a large patch of ground that you have sprayed with weed killer right next to your tomatoes.
Neighbor: ITS THE CHICKENS!!!!  *tries to chest bump the inspector,who does NOT find that amusing*
C.I.: Sir, I came here to get your side of it, I did not have to. Step away from me.
Neighbor: Screaming that doesnt involve actual words... (as far as any of us can tell... as we are all trying very hard to controll our laughter)
C.I.: Is there anything else.
NEighbor: What are you going to do about them!? Waving and pointing at us.
C.I.: Nothing. They havent done anythign wrong. What would you have me do?
Neighbor: GET RID OF THE CHICKENS!
C.I.: They are allowed to have them. They have no violations, again.
Neighbor: *got in the Code inspectors face pointing and started threatinging him if he didnt do anything about it*
C.I.: *manages to get past neighbor to leave the property*. 
Code Inspector got into his car but slowed down to tell us that it would ALL go into his report then waved at us and left. LMAO.... wooooopsie.... guess that backfired on crazy neighbor huh?!
Ok.. Fence went up and crazy neighbor hid in his house the rest of the day. But hes since been going around to all the neighbors trying to rally them agaisnt us. But even thats backfireing becuase unlike neighbor who wants to SELL all of his produce... we give it to our neighbors free ;) And we have told the other neighbors whats really going on. Turns out... most of them kinda knew already the guy was a little... off. Noo... REALLY!?
Oh and since the fence went up... we talked to our other adjorning neighbor and she was upset that I got rid of my rooster... ok ok.. I butchered him.. but she doesnt know that. lolI did it because the crowing was just another reason for crazy neighbor to call complaints.  Our other neighbor was upset that the roo was gone! She loved seeing him and hearing him! hahahaha. I still have the little tiny black cochin bantam rooster and I she said she wants him if we decide to give him up. LMAO. How funny is that?! So. Honistly: I think they are ok with the chickens. They are looking forward to eggs anyhow. I hope that our relationship with them stays ok.  We cant afford to put up another huge fence right now although we did tell them that we would have to eventually due to the 30 year old fence thats there is about to fall down. But for now *shrugs*
Anyway.. Enjoy the pictures! ;)
These are the great guys that put in the fence. Highly recomended!!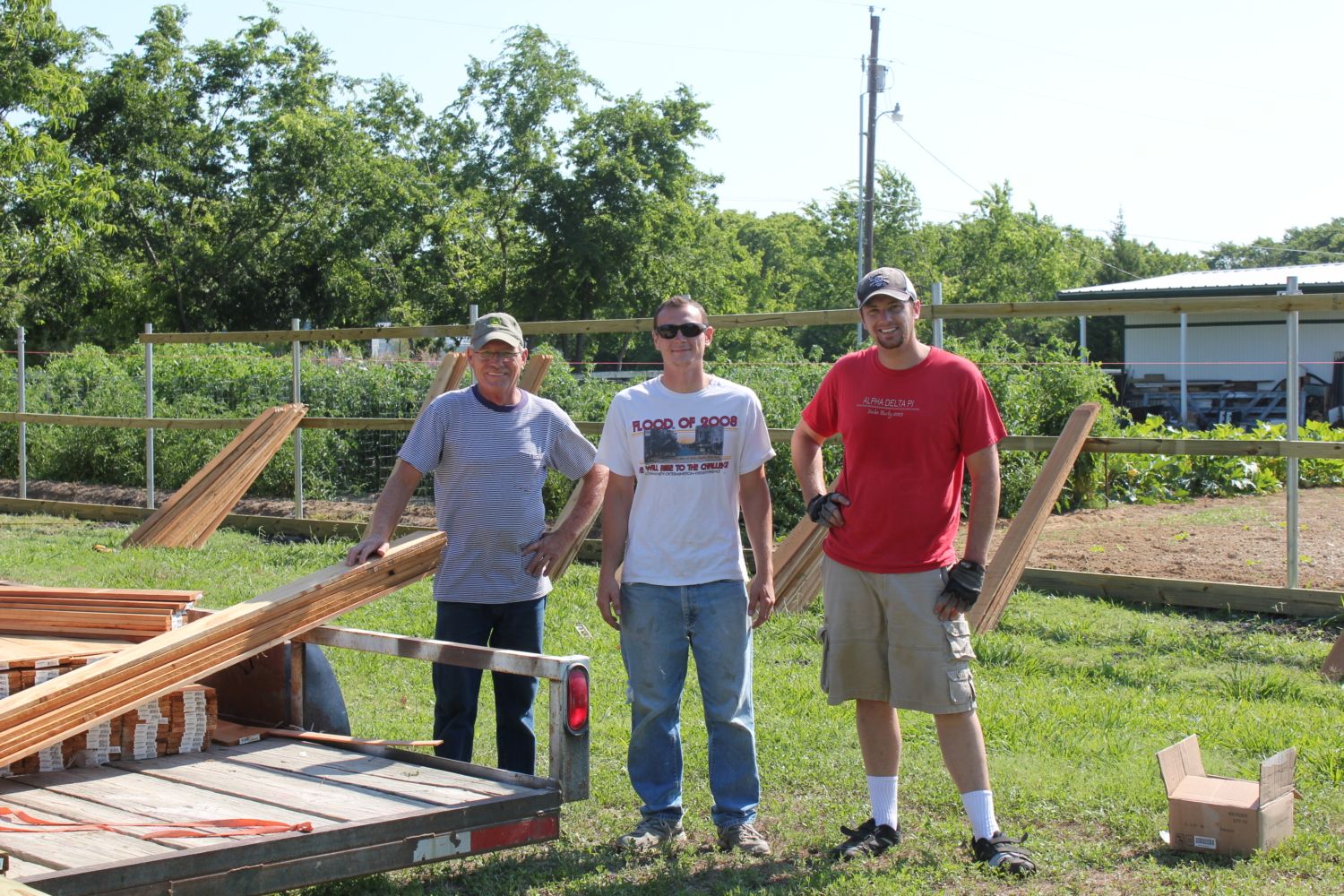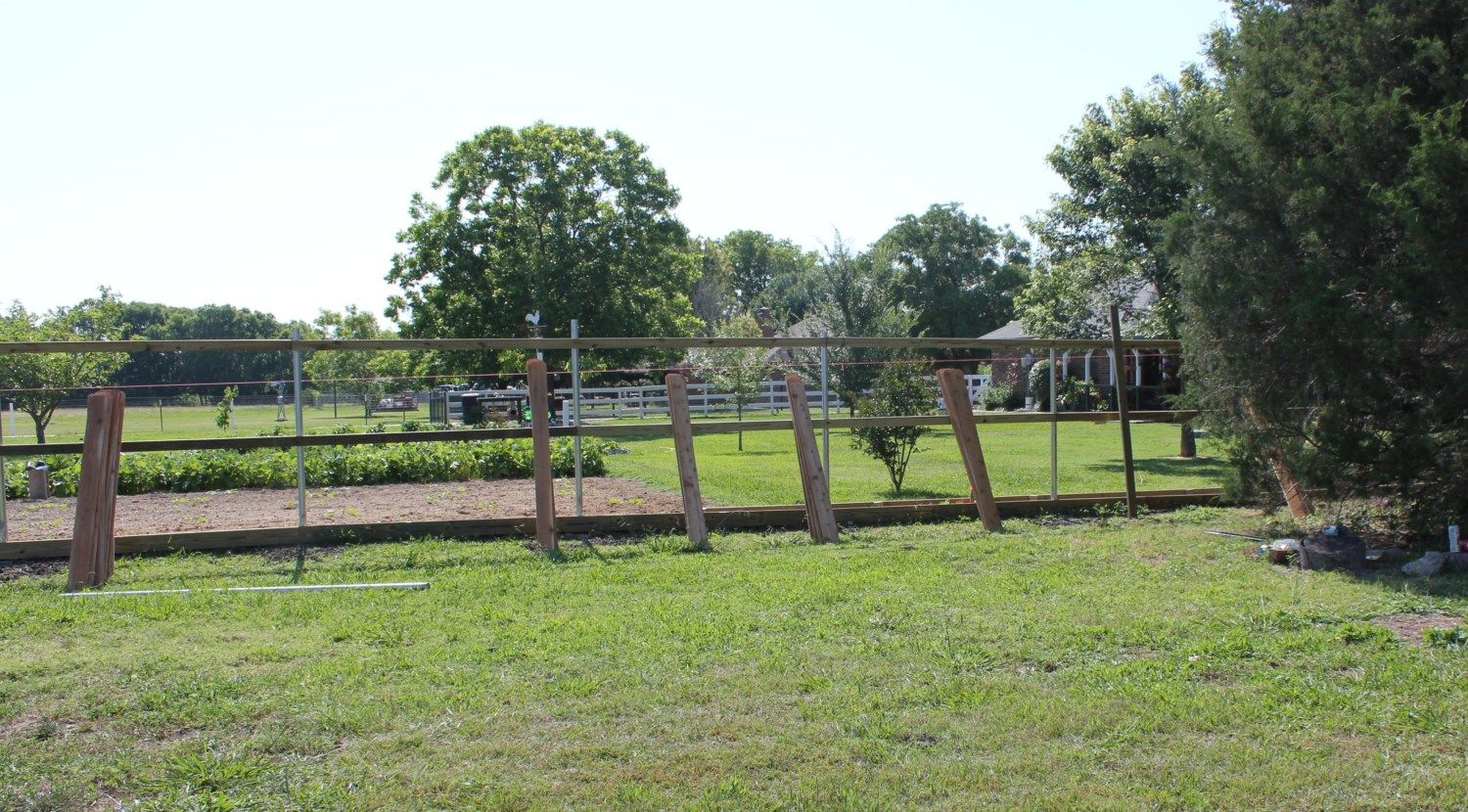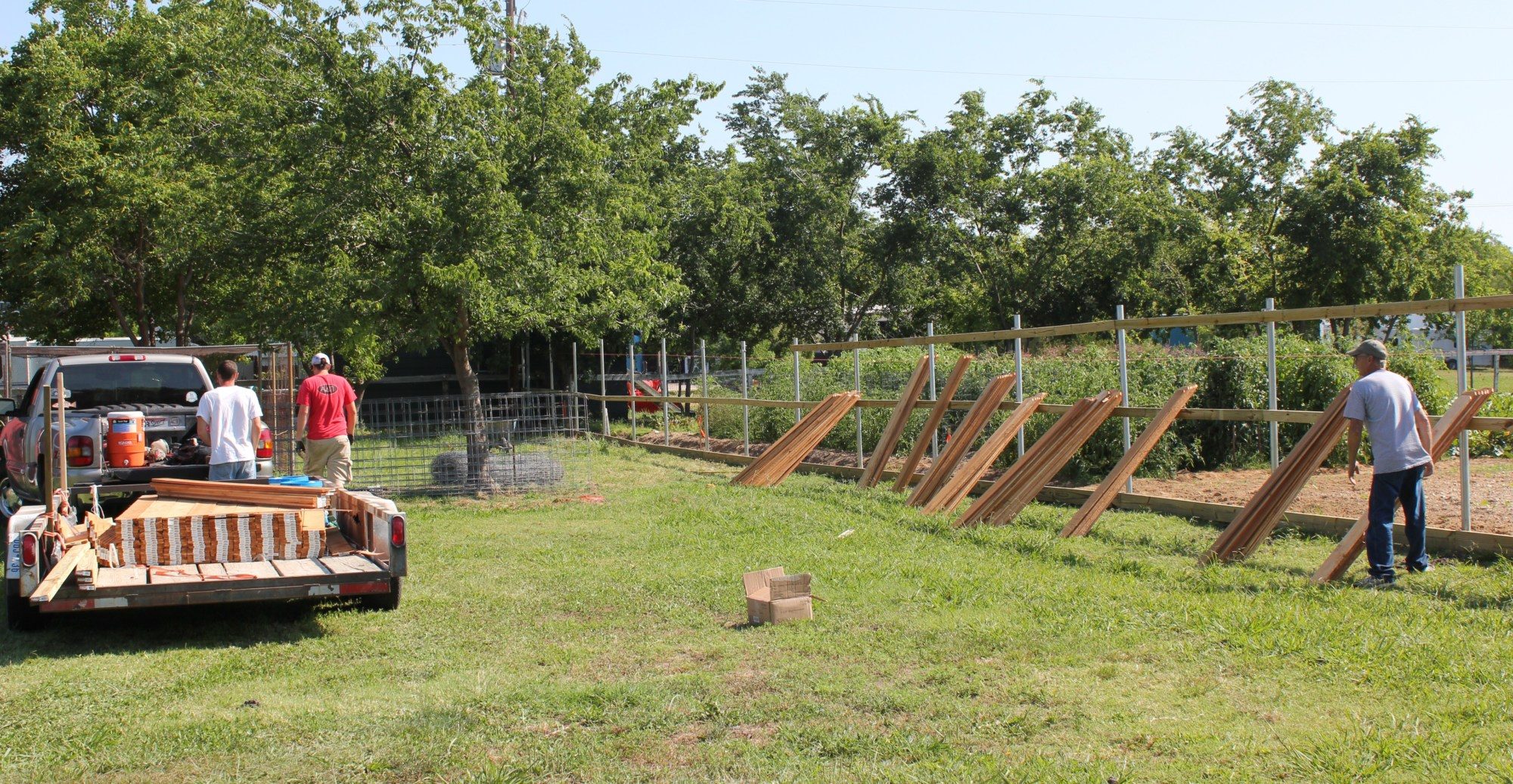 Stained fence boards waiting to go up... btw... notice the trench of bare, baked earth between our fence and the neighbors wierd wooden boarder? YEahhhh... see that nothings growing int he middle... with a property stake in the middle?? yeah... thats his favorite thing in the world... weed killer! The whole length of the property....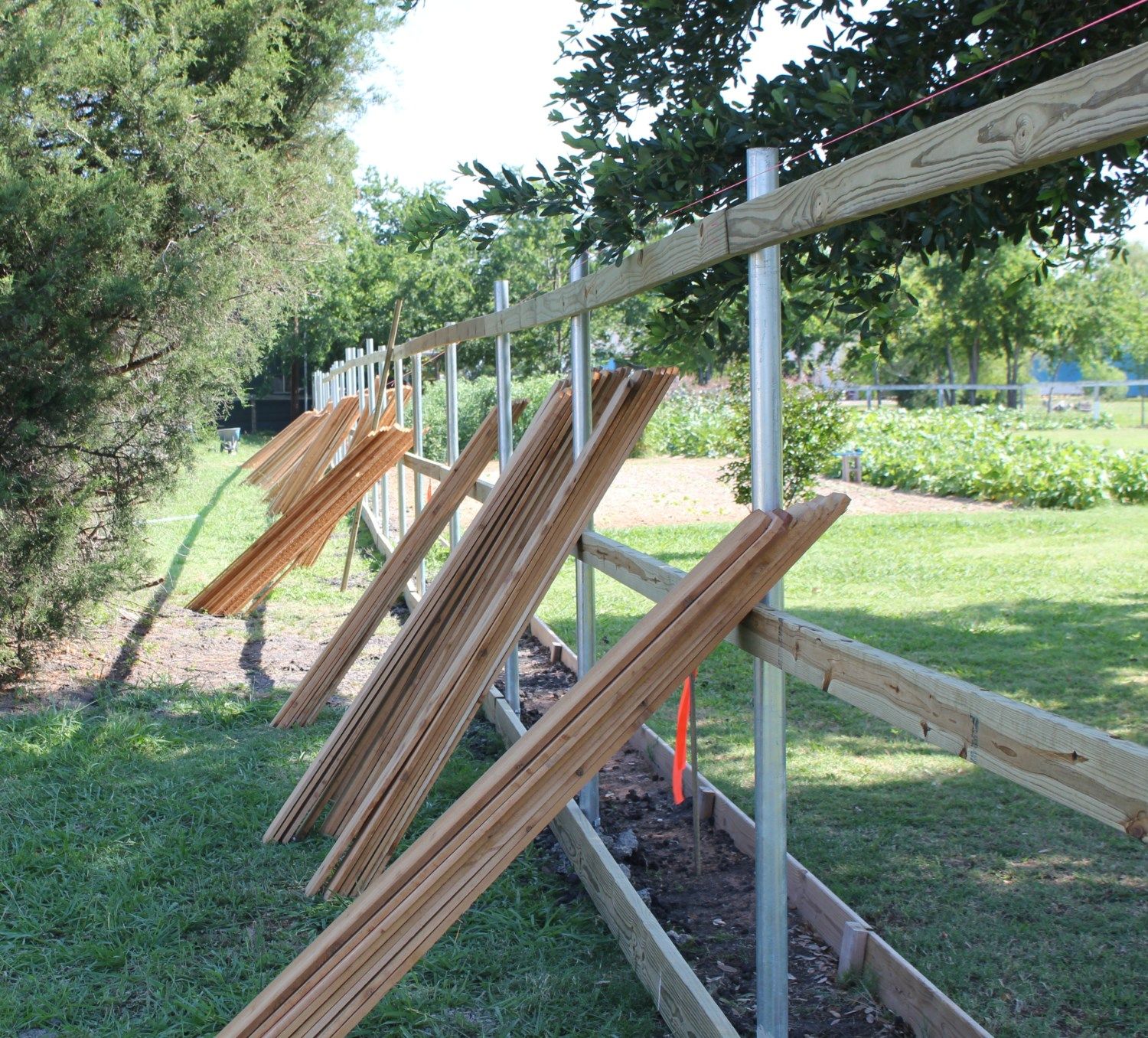 Cracking up trying SOOO hard not to laugh loudly while neighbor goes crazy on the code inspector. It really WAS funny!!
Fence going up.... stress level going down.... its almost like the bar on a cell phone...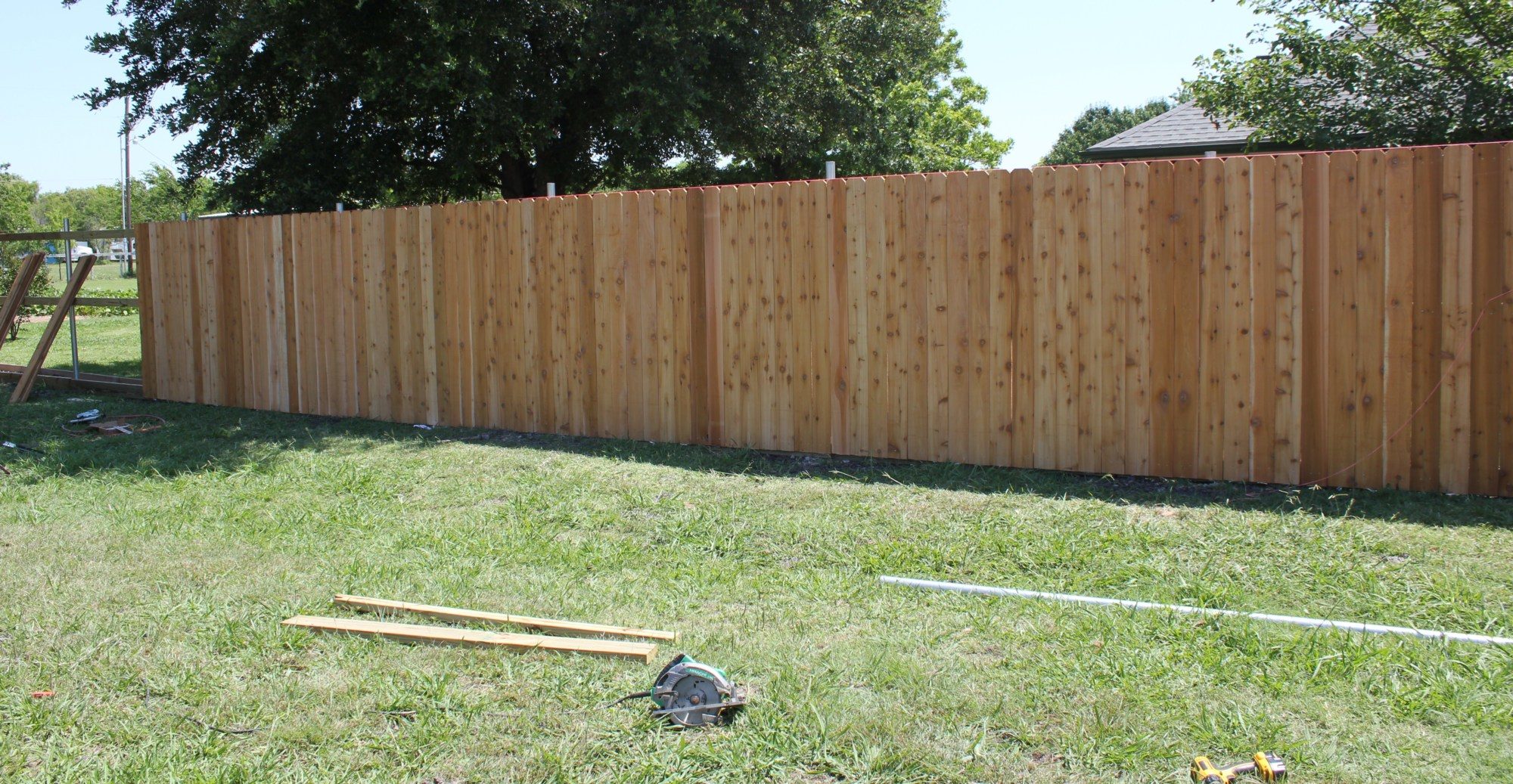 I can already feel the stress lowering at this point... although I did have constant panic attacks at this point still. I was seriously afraid he was going to retaliate at this point when he saw how much sun he was going to loose on his precious garden.

And the GREAT WALL OF WYLIE IS DONE!!!! YEAHHHHHHHHH!!! :D  And the neighbor was still screaming at us that we are "Idiots"
Really?? Seriously Mr. Chicken Farts Give Me Little Tomatoes Man. Idiots? Ummm... whatever.
Oh and the fence caps were put on the following monday. The store was out of the size they needed and the order didnt get there till monday.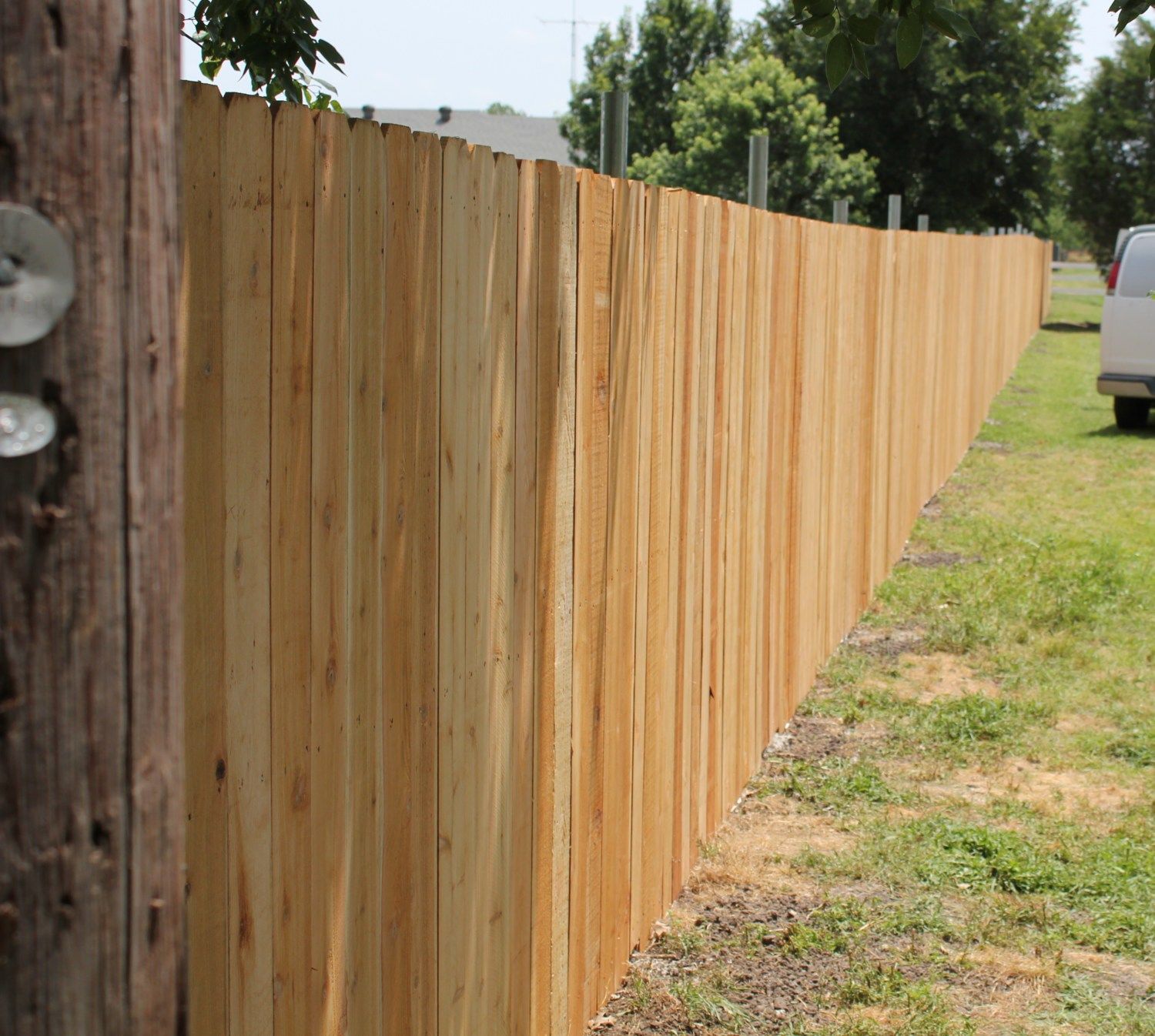 Btw... we DID have to call the Sherifs department on Crazy Neighbor because he tore out all of our property stakes.... he told the sherif that were running a 'chicken farm'...
So apparently he has it in his head that we have HUNDREDS of chickens hidden in the barn. How amusing is that?!  I think hes got chicken gas between his ears... but ... well... As long as he stays on HIS "PROP-AHHHH-TAYYYY"... and stops harassing us... his butt wont have to go to court and explane his behavior to a judge. We had the sheirf tell him that the next time he tries anything he WILL be going to court. Shierf also informed him that if he does anything to our fence he will be arrested. ;)
I'm soooo happy that I can acutally go outside and tend to my garden without him harassing us or standing there watching every move we make with his arms crossed.
I guess its true..... "Tall Fences Make Good Neighbors"