Hi all!  I've had chickens for 2 years, but have recently delved into the world of ducks by getting a Muscovy duckling.  So far it's been living in a Rubbermaid tub in my bathroom, but that's not going to last forever.  :)
I tried setting up a nice outdoor brooder area, but the little gal looks so tiny and vulnerable out there, and peeps constantly, so I brought her back inside for now.
Is this a decent setup?  (See pic below) What age do you generally move your ducklings outside?  Was it too cold?  (The air temp is currently about 83 F.)  I know it's not ideal having only one duckling, but chickens are barely legal in my city, so, I don't want to push my duck luck.  ;)
What other advice can you give me about caring for my duckling?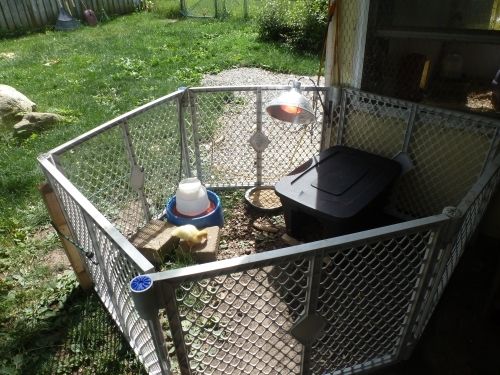 Thanks,
Angela