So I have been raising my first batch of meat birds, and after butchering 3 of them today, thought I would share some of my experiences and "data".  I started giving them fermented organic starter at one week after being totally shocked by their expulsive diarrhea. i also limited their food, feeding several times a day but only what they could eat in a few minutes. They also got outside everyday in a small tractor in my yard. by 4 weeks, they had just finished their first 50lb bag of fermented feed, and weighed 2.3 lbs (pullets) and 2.6 lbs (cockerels). I became worried that I was not feeding them enough, so I doubled then tripled the amount of food- and they enthusiastically plowed into it. By 5 weeks they weighed about 3 lbs for pullets and 3.6 for cockerels.At 39 days, the pullets were at 3.7, cockerels 4.6. At 44 days, the cockerels were all too heavy for my 5 lb scale, and i broke open the 3rd 50lb bag of feed.  Today, day 47, I butchered the smallest pullet "Gimpy" and two average cockerels. Gimpy's live weight was 3.68 lb, dressed carcass 2.32. She had been crippled since week 2 and it was only getting worse. Her brothers were 6 lbs and 6.6 lbs, and dressed out to 4.3 and 4.8 lbs, respectively. This does not include the feet, giblets, neck or liver, which we will also eat. The conversion of live to dressed was 0.72 for both cockerels! 
Blood and feathers went into compost pile, heads went to the dogs, feet went into making stock and we will have fried chicken on the 4th of July!  1.3 lbs of "guts" were buried.  I am quite pleased with the large amount of meat, but find it a little daunting that it took me roughly 3 hours from start to end of clean-up and I still have 7 left to do!  I know that it will go faster next time.  My boyfriend did not help at all and hid out in the house :(
Notes on the actual killing: after agonizing over this for the past 6 weeks, I finally decided to make a cone out of a paper feedbag stapled to a board that sat upright in a garbage can with shavings to catch the blood. I bought a new poultry "vent" knife and sharpened it right before hand.  It took me about 30 minutes to work up the courage to slit the first one. Taking a life is the most difficult thing I have ever done! Contrary to what others have said, my chickens did NOt pass out while upside down- which made it sort of unnerving as every time I would put the knife to the throat their eyes would open and stare at me.  I finally couldn't take the delay any longer and just went for it.  I slashed then jumped away and ran and hid in the kitchen. The 2nd and 3rd time, i held their beak and head while they bled. the last one was alive for a few minutes- thankfully he was quite calm- unlike his brother who was very vocal.  Next time I will definitely be sure to cut the vocal cords.
On day 38, i was preparing to go out of town for 2 days so I built new feeding troughs to hold more mash. i filled up both troughs which last all day and they were not ravenously hungry the next morning when a friend stopped by to feed them. i can't imagine how much food they would have gone through had i fed them unlimited for the whole time. Now that they have been eating all day long, their poos are very loose and i can see some undigested corn and grain.
I figured that the 10 birds used about 120 lbs of feed in 47 days. This is quite a bit less than what I was expecting So, I got 10.4 lbs of carcass meat (not including giblets, neck, feet etc) for 36 lbs of feed- given our local price of $34/ 50 lb bag of 22% organic chick starter, I estimate my chicken dinner will cost $2.35 a pound, based on feed alone...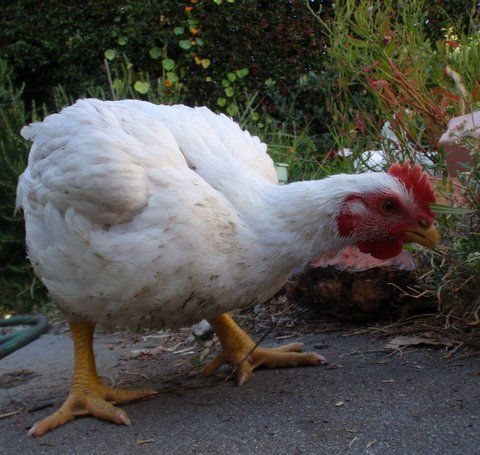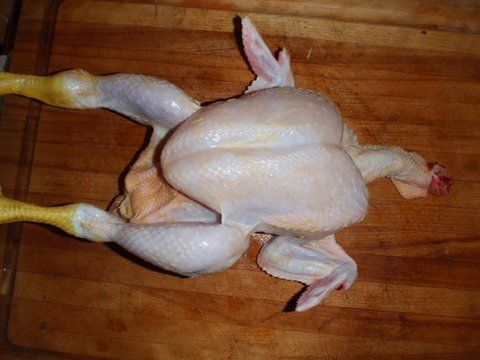 Any way, it's been both fun and rather horrifying raising these funny birds. i will probably do it again but still have to get through the remaining 7 and get them to the freezer, before I put it on the calendar. We don't eat that much meat, so i figure one chicken every couple of weeks-so maybe in September or October i will get another batch.  Hope my notes help some of you!