Maybe I should say "Diva" rather than Designer, LOL. Until the recent addition of Belgian D'Anvers in mille fleur and porcelain colors, thanks to Boggy Bottom Bantams, here at the Chicken Asylum, my only bantam chicken was my hatchery lavender banty Cochin we lovingly refer to as the "Purple Princess" or Diva Princess, our Shadow. She lived with the main standard size flock until the D'Anvers grew large enough and then, she was added to their numbers. After she got over having a few pint-sized hubbies and began to allow them to mate her, her eggs were added to the mix since she is now over 4 years old and we thought we'd like one of her daughters.
So, we have hatched Mille Fleur D'Anver x Lav Cochin (chicks are black with red or silverish color in hackles/chest) and Porcelain D'Anver x Lav Cochin babies (chicks are lavender). If you are familiar with porcelain, it is just mille fleur with the addition of the lavender gene.
D'Anvers are clean legged and rose combed while Cochins are, of course, feather legged and single combed. Out of this experimental cross, Cetawin and I have discovered that we really like our new "Coch'Anvers"! Most are feather legged, in varying degrees. All except one so far has been rose combed, as rose comb is dominant.
I kept only two lavender pullets, who are sired by one of the porcelain roosters, Aubrey or Angus (recently we lost Angus). Cetawin has a black pair, sired by the Mille Fleur rooster, Rufus, over the lav Cochin.
We don't know exactly how the Coch'Anvers will reproduce with each other, how true they will breed, especially the blacks, but we are going to find out soon. We just really like this particular fun cross and wanted to share them with you so please, no breeders have a coronary. The Coch'Anvers are larger than the pure D'Anvers, for sure.
Cetawin will add her photos of the ones she kept to this thread soon, but first the parents: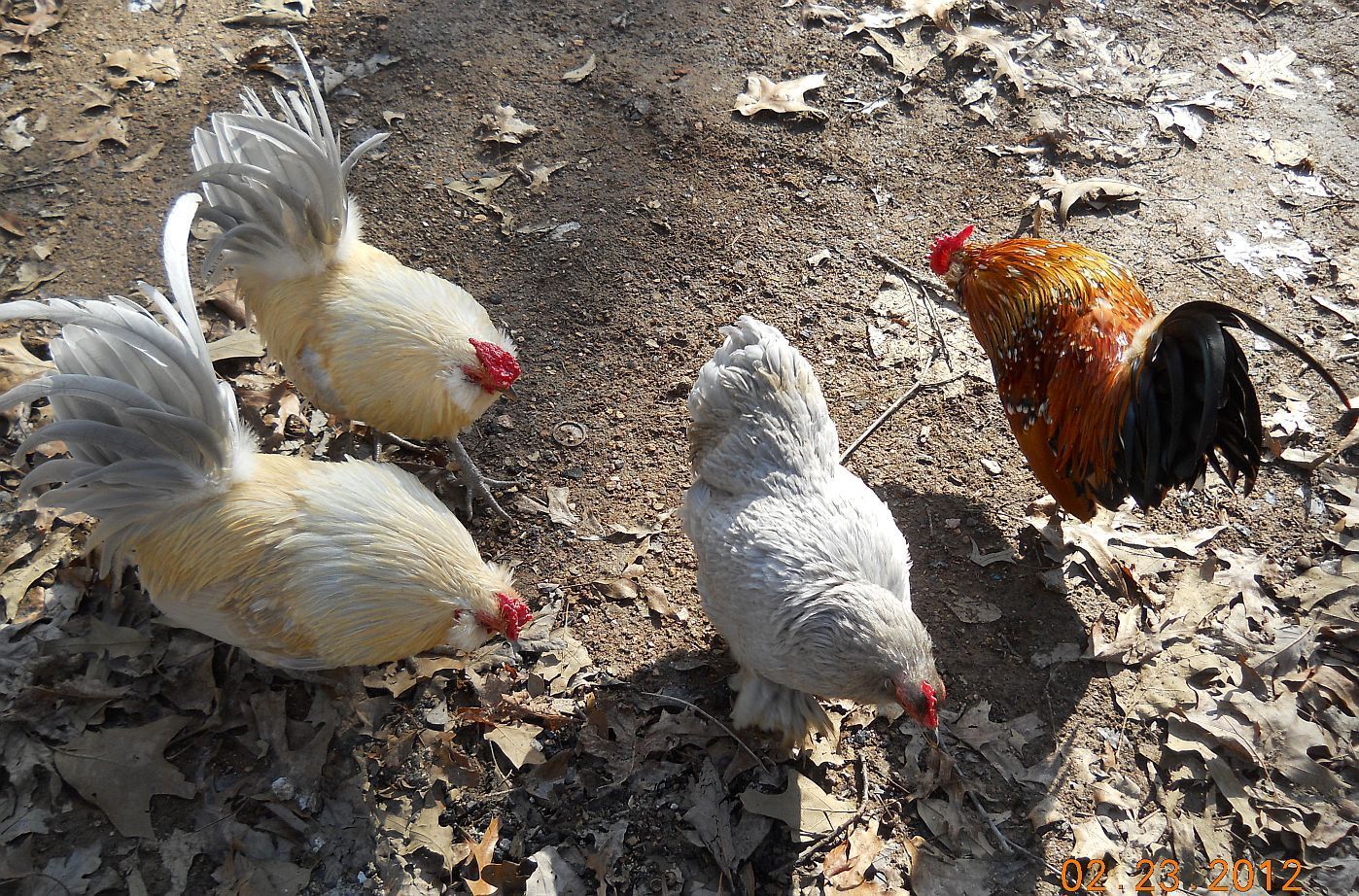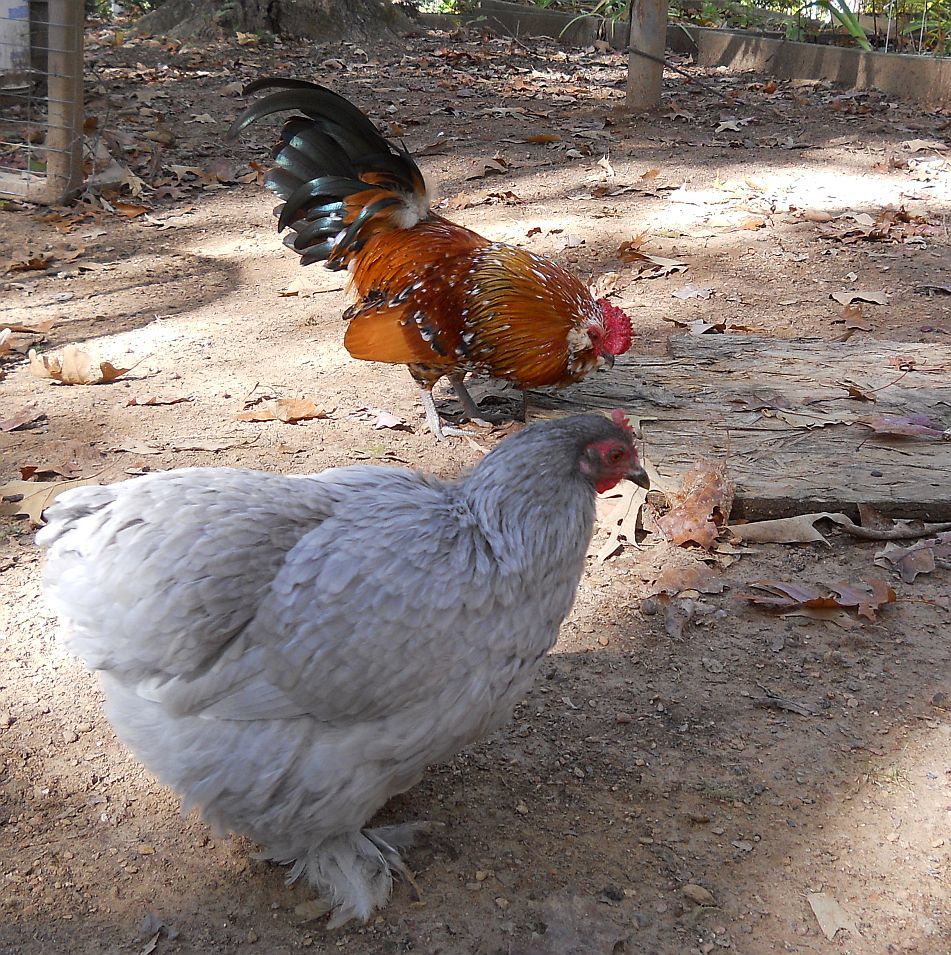 Now, the Coch'Anver pullets I kept, Opal and Misty, who are now 16 weeks old. Opal has more foot feathering than her Cochin mama, Misty less so. Both have rose combs and are lavender. The Mille Fleur D'Anver on the left is the same age, so you can see the size gap.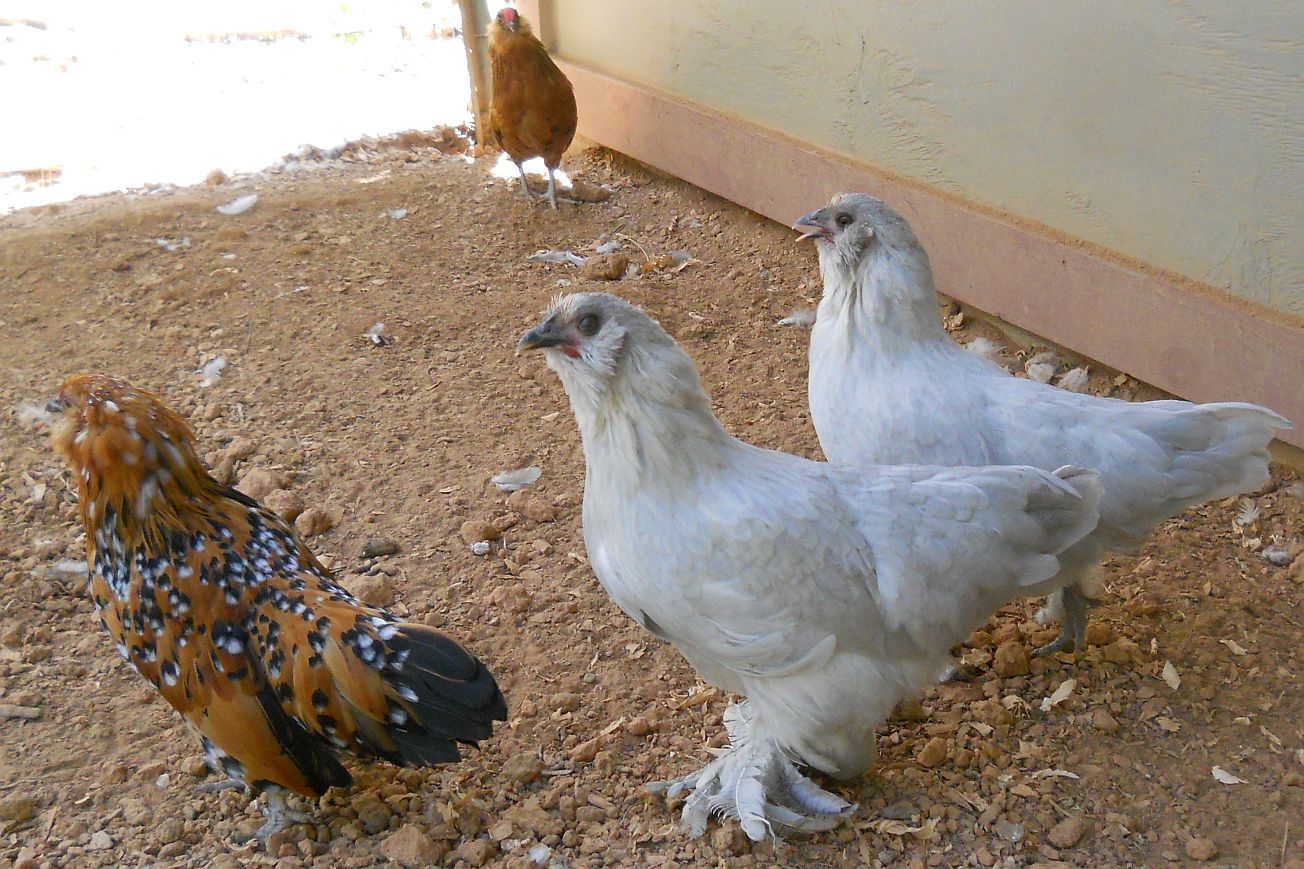 Edited by speckledhen - 7/6/12 at 6:00pm
~A dog on its owner's property is a pet; A dog on someone else's property is a predator~
Living the Good Life in the North Georgia Mountains~ Cynthia
~A dog on its owner's property is a pet; A dog on someone else's property is a predator~
Living the Good Life in the North Georgia Mountains~ Cynthia