Quote:
Originally Posted by
Gresh

Thanks for the info, Walt. That is a very handsome drake! Too bad East Indies aren't broody-prone. I prefer poultry that is fairly self-sustaining.
I have another question. Is there much of a difference between hatchery Mallard ducks and breeder Mallard ducks? I know that, in the chicken world, the "original chicken" (Red Junglefowl) is very often polluted by hatcheries (and even ethical breeders don't always have the purest stock), but I'm not sure if that's the case with the "original duck." Our Mallards are from a hatchery and they are only about three months old but they don't look any different than any other Mallards I've seen.
God bless,
~Gresh~

Yes, the hatchery mallards tend to be big and lethargic. They can fly, but the ones I show explode from the ground and can go straight up. Side by side there is a tremendous difference in the way they look. The first noticeble thing is the length of bill, and the racy body. They will hatch and tend to their young, but the real mallards are pretty crazy birds. I keep them in 20' X 40' flight pens so that they can fly around a bit.
Here is one that I showed..it is in a bantam chicken cage, but it is still hard to see how small they are.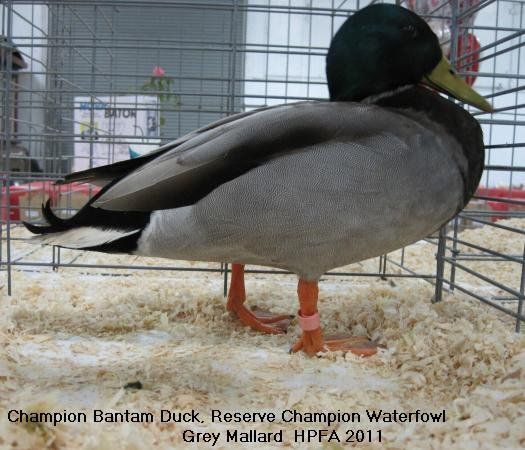 Walt