I live in Northern Thailand and over the last 3 weeks we have had two chickens - hen and now my only rooster - die suddenly.  Both had following symptoms...sudden paralysis, sleepiness, not eating, gasping for breath and then death.  From paralysis till death took about 6-8 hours.  Both chickens had eaten this spider, the rooster being found dead with the spider crushed inside his mouth. The hen was seen to eat and swallow the entire spider.
I need URGENT help please in identifying this spider.  I only have 3 hens left and I'd like to prevent their deaths.  Can someone please help me?  I don't know if there might be an antidote available or not.  I'd need to know what I'm dealing with first.  I did take my hen to the vets here and they took blood tests which indicated avian malaria.  However, as both chickens have eaten this spider and died within the day I'm suspicious that the spider might be more the culprit (I don't know the 'load' of the malaria in the chickens blood but assume it has to be fairly high to cause death).  All chickens are very very healthy, including the remaining 3.  The rooster had a blood red comb right up till death.
All help/advice appreciated.  
Photo below of spider.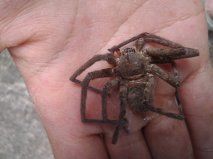 ~ Angela
Wife to a FANTASTIC husband, Mum to 11 kids, carer of 7 rabbits, 6 chickens, 5 cats and 2 talking Lovebirds  
~ Angela
Wife to a FANTASTIC husband, Mum to 11 kids, carer of 7 rabbits, 6 chickens, 5 cats and 2 talking Lovebirds