Hey! Thanks for taking a look at my little "blog". The first WHOLE LOT of posts turned out to be a failure due to poop thermometers and lack of experience. You CAN read them, but I started again with proper equipment and it's probably much more interesting. 
Hi there.  I live in Michigan !(: I like to spend time doing things like playing with my hamsters.. or cooking, or drawing, or ... incubating chicken eggs ! I'm always looking out for the cheapest things with my animals, so when I compared chicks from meyer hatchery/ my pet chicken, etc. compared to a 2 dollar carton of fertile eggs, I trashed everything and got to work on a home made incubator. This thread, is going to reveal everything in my head, from start to finish of incubating these eggs... And I think some crazy stuff, so STAY TUNED. 
DAY ONE !! 
My eggs were shipped into whole foods FRESH, on July 14th, 2012. 21 days is on August 4th! I ran into whole foods and picked up a carton of eggs. It had "Fertile" right on the top. I couldn't help but freak out. I chose the ones closer to the air in the store, because I wanted the ones that had been refrigerated less. The first carton I picked up had a cracked egg, deep enough to be SURE it wouldn't hatch. So I picked up another one. I realized how peculiar the eggs were. Some were small. I got one the size of my pinkie ! It's smooth and brown. I decided I wanted this one to hatch the most(: I got one that was GIANT, the size of my palm or BIGGER. Some of the eggs were nice sized, but rough. Some were smooth! Some when I placed them would run off, some would stick in place. I had a variety of sizes, colors, and textures, something completely different from Kroger's FAKE as mess eggs. Lord knows what I've been eating! I ran home and left them out for a couple hours, then marked them and put them in. THIS is where I made my first mistake. Eggs are supposed to be room temperature for TWELVE HOURS. Oops. However, the temperature was fine. I have 2 cheap thermometers from Meijer, and even though they're small, they seem to be doing GREAT, and fine by me. Being so excited, I checked on the eggs all the time and swung open the top several times to grab the thermometer for a hot second and pop it back in, and I mean FAST. It was out in 3 seconds tops. Everything was going great, especially to be in a HOME MADE INCUBATOR! I didn't buy a THING. It was goin' great, so I went and buried my face in a book. About 25 minutes later, out of curiosity, I checked the temperatures. I have the eggs on a tray, so some are closer to the light, and some are off farther to the right of my incubator. I think this worked to my advantage, even though it was fate that decided that. You see, the light only ranges about 2 eggs directly. The rest circulates throughout the incubator. As I looked at the thermometer, it read about... ONE HUNDRED AND TEN DEGREES ?! Aww, hello KITTY naw! I completely FLIPPED, took some ventilation out and took some blankets off the screen over the top. Now, about that placement... The eggs CLOSER to the light worked out right where I wanted them. One was chipped and a bit cracked, that I threw in there just for kicks, because this is my first time ever incubating. The OTHER one was a GIGANTIC egg, that really got it, at about 115 degrees. For a while, I was ******. Why couldn't I do anything right? Why couldn't my family afford an incubator, why do I OF ALL PEOPLE, have to get obsessed with some stupid chickens and then FRY EM UP IN AN HOUR? I was fuming, and I couldn't do any research on BYC to figure out if they would live cause my Internet was down ! For a hot second, I considered just smashing em' all, giving up my vet dream and trashing my old life. I was THAT mad. Then I got to thinking, hey? not all of em' are bad... The best eggs were off to the side! I wasn't going to hatch all of them anyway... so what? (This is really helping me vent right now, it feels good to tell other people my eggs might hatch!) Then, my INTERNET goes  back on and I get on line and find that low humidity mixed with a temperature spike, doesn't really matter! It could have killed the eggs, gave enough heat to start the embryos, or done nothing. I figured that the one thick, giant egg might have made it because there was SO much interior! I hope that it hatches! I really want one hen and one rooster, so I don't have to buy fertile eggs! Anyway, I made some adjustments, and now it hovers from 91 degrees to a 90, not one less ! Of course, I have to admit that I imagine things that I would like to happen. Was the chipped egg really one of the two (maybe three that got a bit effected. I'm POSITIVE most stayed nice and warm.) eggs that got toasty? I know for sure the big one did... I guess I have to wait until day 4, and see if I have veins ! This is a good time to set goals for myself that I know a pre-mature incubator and chicken raiser (I've only seen a flock of chickens once.. These will be my first!) cannot make, but I'm gonna set em high, even though they'll probably crash and burn and get ****** all over again ! YAAAAAAY ! Okay. By day FOUR, I want there to only be three eggs that I chuck. I want to see at least 5 chicks developing of 12. WITH VEINS. That shall be my goal for now :3 Oh, and to top the heat spike (which is wearing on me, I gotta realize that accidents happen!)  my fan blew out ! No charger is working for it now :( So the eggs to the right of the tray (the perfect brown ones) are at 90 and the ones to the left (the giant one, I figure it needs a lot of heat.) are a bit over 90, maybe 92-95. My room is getting REALLY humid *pant pant pant* but oh well. I don't sleep in my room normally anyway, believe it or not. I prefer the ground. I'm hoping for a good hatch. My rates are more than usual, because I literally called Whole Foods and had them shipped in fresh one morning. 40 minutes after they loaded them onto the truck, I was there, camera in hand to get my eggs. A couple hours later, they were in the incubator! Anyway, to wrap up this session, I'll go through my mistakes and good things I think I did.
MISTAKES-
Setting the eggs RIGHT UNDER the lamp. I think the MAIN ones were the 2 I explained, but of course some others got effected. I guess I'll have to wait until Thursday or Wednesday to candle for eggs :/ I can tell waiting for these things is going to be nerve wrecking, considering how worked up I was today, even after someone assured me the spike didn't matter.
Starting so early! I could have done some more research on the eggs and everything. 
Expecting all of them to hatch. Fail. I know some eggs got affected. It was 110 degrees (on low humidity) for at most half an hour-40 minutes. I've heard some surviving spikes like that for 12 hours, but it depends on the type of chick, the ones that survive are usually darker skinned chicks. These are probably red stars/ Cinnamon Queens, etc.
FORTUNES- 
Getting it together after that. If I can say, "I hatched 5 chicks on my first try in a home made incubator with eggs from Whole Foods" it'll really make an impression. Even though 5 out of 10 chicks is a lot... maybe 3? I want a hen and a roo <3 <3 So I don't have to pay for fertilized eggs ! Considering there were 12 to start with, the chipped one was fried, so I'm saying 11, the giant one probably not, so 10, expecting 5-6 dropouts at the end. So maybe ending with 4 or 5 ! Good enough ! 
I guess I have to post entries in the comments from now on :/ Hope you guys liked this first session ! I'll be back tomorrow ! Heheh ! So when I'm done, first time hatchers or people thinking of hatching whole foods eggs can see what it's like from a good perspective. 
IF YOU ARE PLANNING ON INCUBATING WHOLE FOODS EGGS. 
Call whole foods a couple days before and ASK the dairy department to have some SHIPPED IN on the date you are ready. Make sure to come as fast as possible, maybe even before they shelf them. Also, I would leave them out overnight at least. They SHOULD be okay, there was little condensation and what condensation there was had gotten out of the eggs. See you guys tomorrow !
~Steven. 
P.S. Spread this around so maybe it can be popular by hatch day ! I'll be sure to post lots of pictures - hopefully tonight.
HEY GUYS ! It's day two now, and I'm back with pictures ! >:)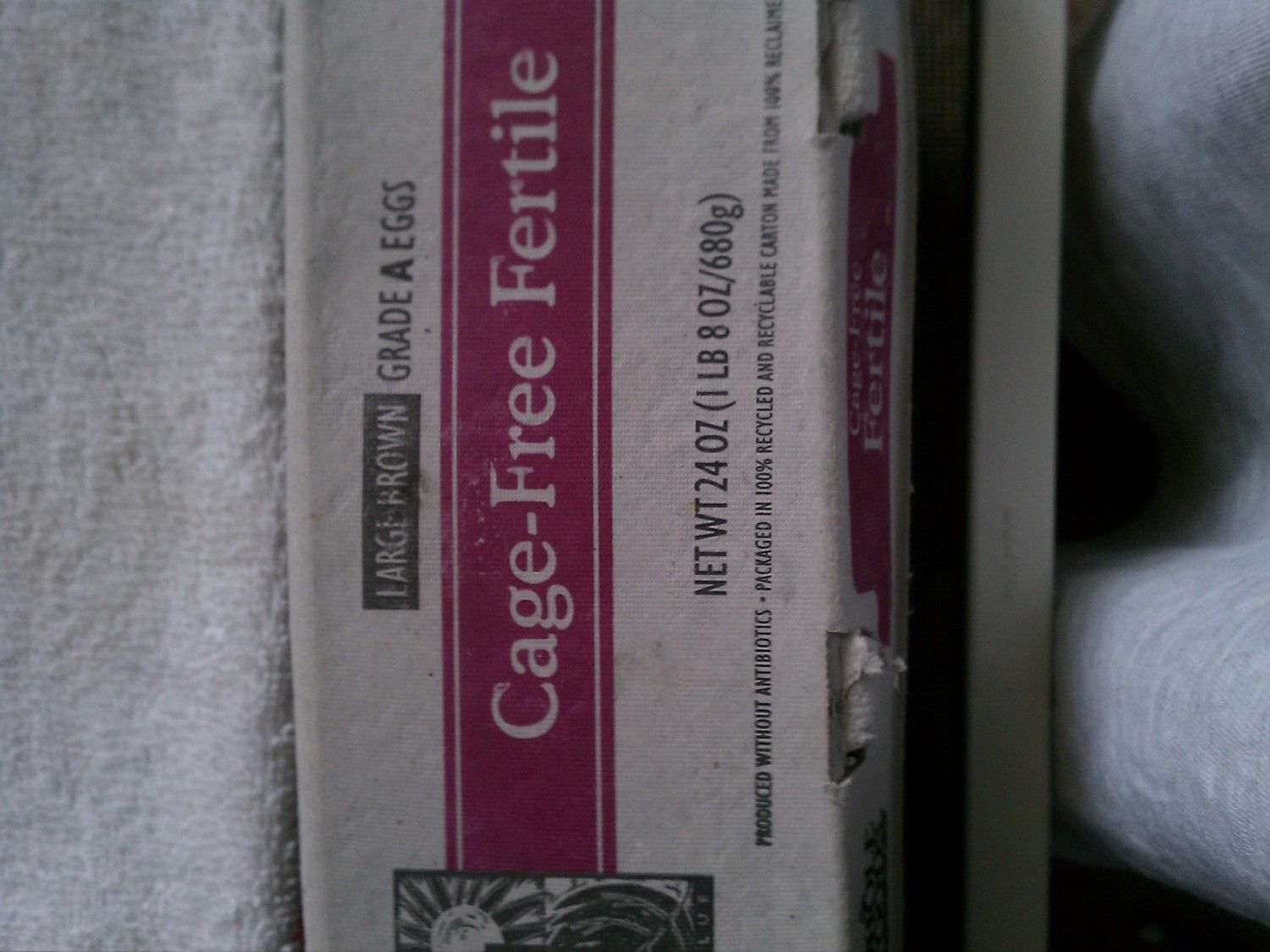 For all planning on trying a Whole Foods hatch ! This is what the carton looks like. CALL INTO WHOLE FOODS and place an ORDER (it's free, they just bring them in the next day and shelf them. Then you come and buy them.) for fertile eggs. They only have one type currently (7/15/12) so just say "fertile eggs". You want them as FRESH as POSSIBLE! They collect the eggs daily, and I really do believe they are fresh. Ordering them is almost sure to raise your hatch rates by a lot. They might have collected them that very morning !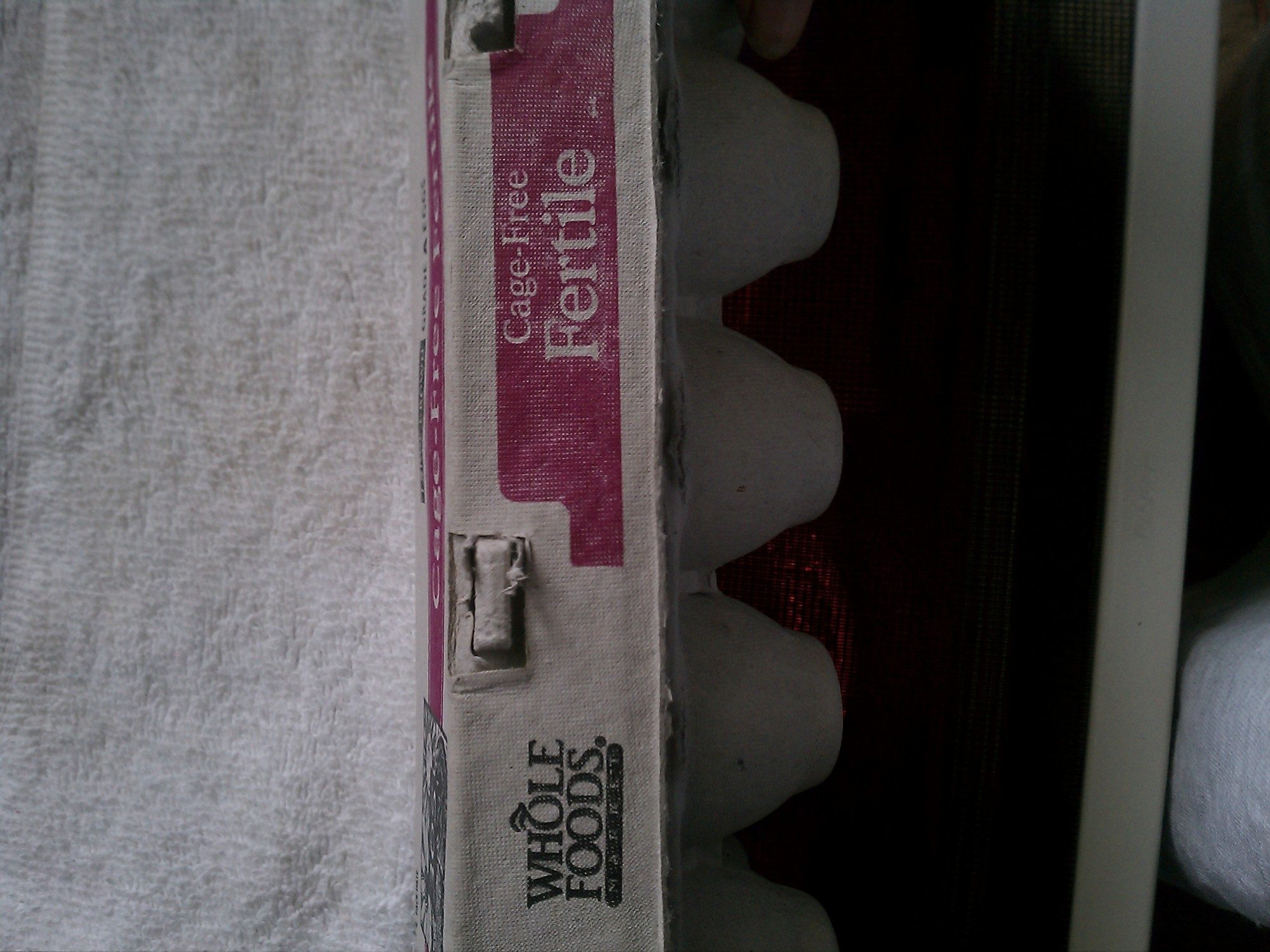 Here's what the carton looks like on the side. It's supposed to look old, all of the materials are recycled. I guess they have free range chickens?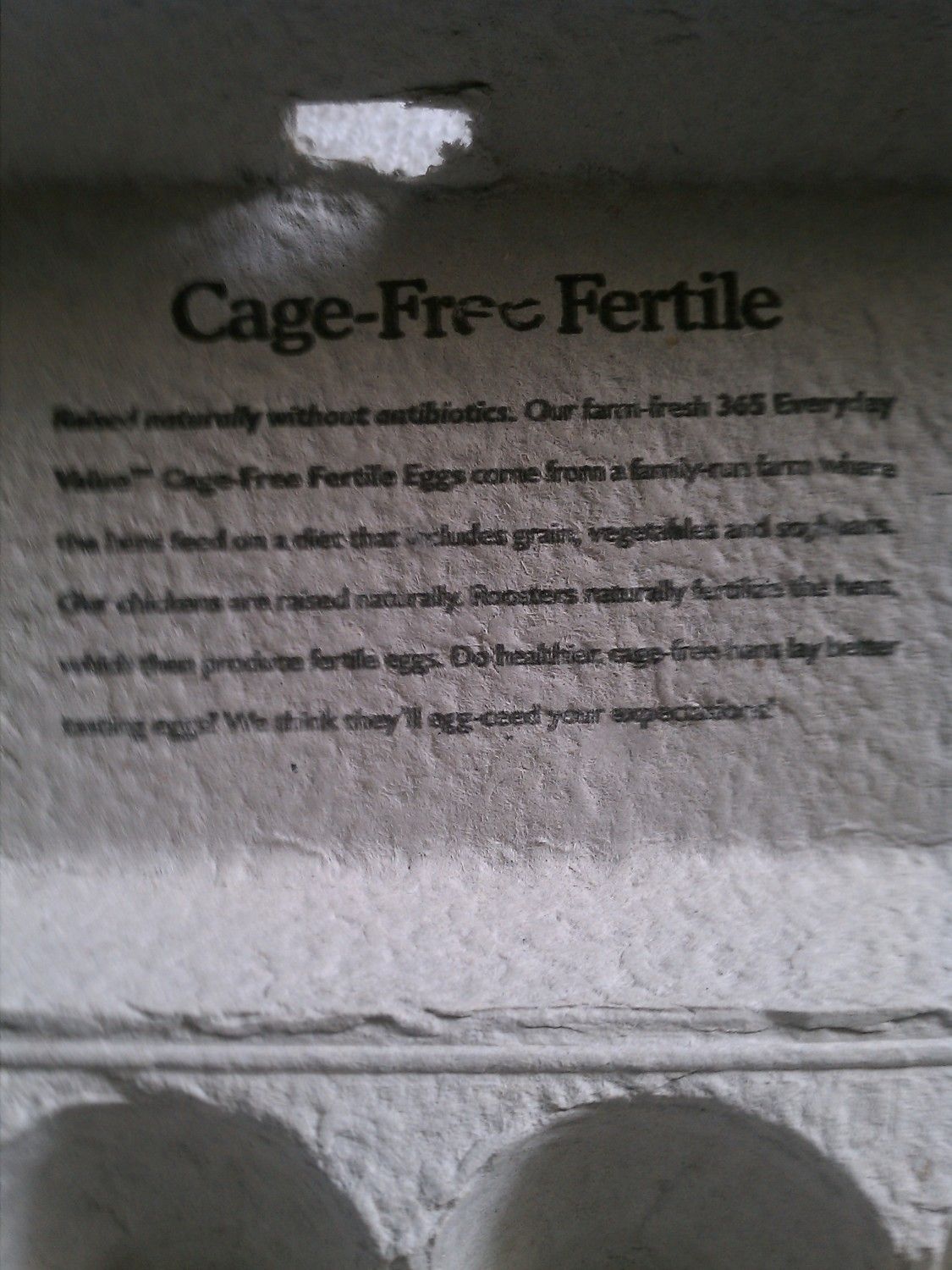 Someone on BYC once told me they think Whole Foods thinks "fertile" means "free range". I'm here to prove ya wrong ! It says "Raised naturally without antibiotics. Our farm fresh 365 Everyday Value Cage Free Fertile Eggs come from a family-run farm where the hens feed on a diet that includes grain, vegetables, and soybeans (I think that part is smudged on my carton). Our chickens are raised naturally. Roosters naturally fertilize the hens, which then produces fertile eggs. Do healthier, cage free hens lay better tasting eggs? We think they'll egg-ceed your expectations!" Obviously they weren't planning on people hatching them :'D Silly whole foods people...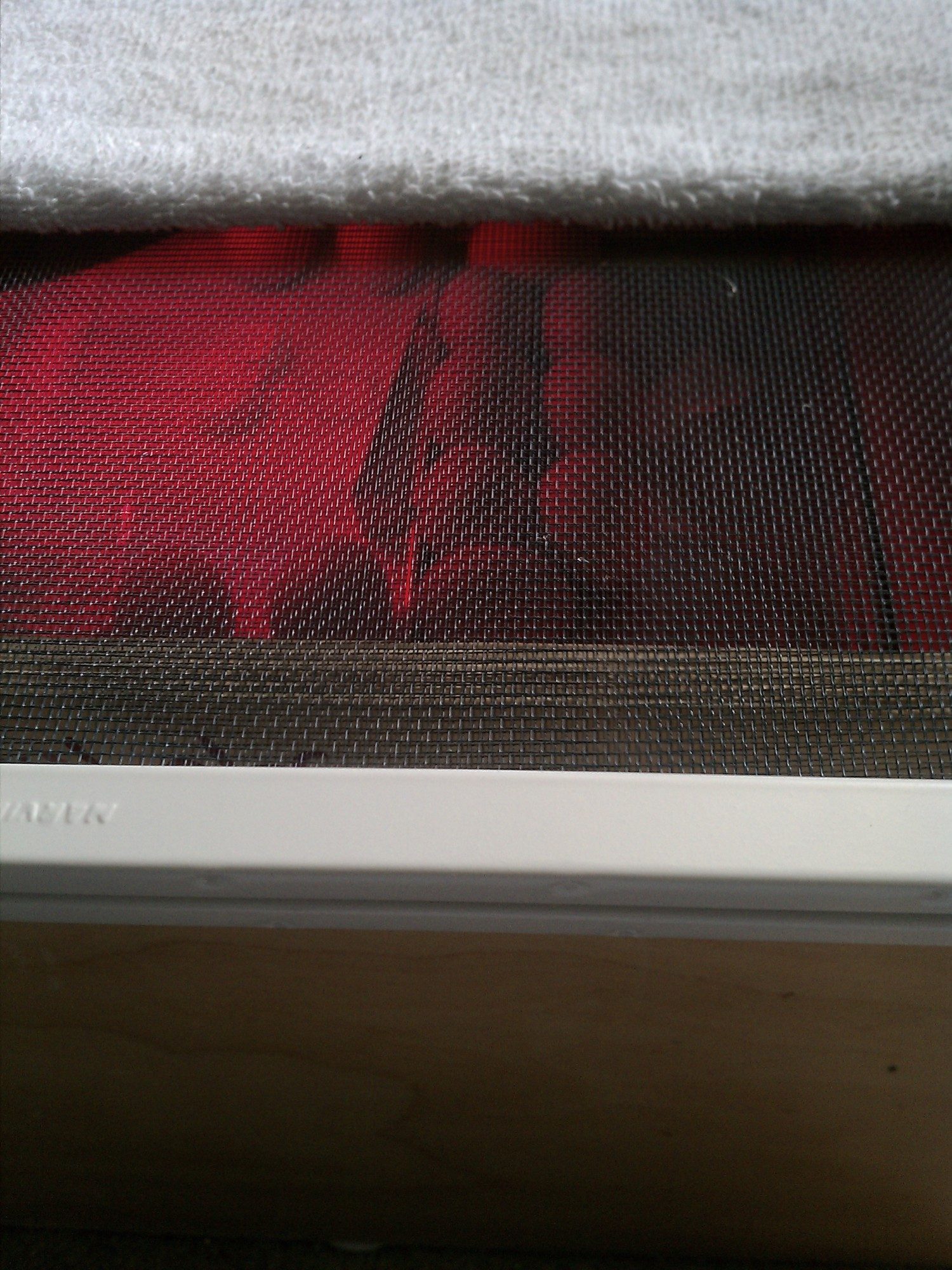 This is a bit of my set-up. For people incubating for the first time: Incubators do NOT have to be fancy. The most important (and sole purpose for incubators) is the temperature. Humidity and surface area are also very important, but TEMPERATURE COMES FIRST. I didn't fancy up this incubator because I wanted to prove to people that you can hatch eggs in anything, not some hundred dollar incubator (if you do, don't get LG, they're notorious for temperature issues O__o) or some homemade one that took forever. If I hatch ONE chick, it'll be worth while. Every single thing in that incubator (except for the thermometers) were from inside my house, most lying in my room or the closet. People have hatched eggs in drawers, boxes... even bras ! 
I didn't get a picture of it, but on the back of the carton says "Eggs are gathered daily....". 
Mind you, I'm just a beginner sharing what I DO know. 
Day 2 Entry: 
I've really begun to cling to those eggs! When I leave the house, say to go to Church, like today (God comes FIRST in my life !!) I push the eggs on the towel (you can see them in my pictures above) back because I'm not there to keep the 103 degree temperature regulated. So they stay at about 100 degrees. I make sure all of them have the big end slightly above the smaller end and my humidity is okay. I have about 15% surface area covered, a bowl and a contact case. In the last three days I'll put some more water in to help the hatch. If anyone knows anything about how much surface area I should have now and in lock down mode, please tell me. Three-four more days and I'll be able to candle the eggs! I'm planning on Wednesday night and having probably 5 quitters or that didn't start. Fine by me. I was talking to a friend and here's a bit of the conversation after my heat spike that probably wiped out a couple of eggs. 
Me: "It's all so discouraging... This is a WAY bigger project than I thought..."
Friend: "But if even one hatches is will be worth it (:" 
And it's true. Why should I give up on all 12 lives because a couple embryos got damaged. Doesn't make sense. I have to leave for a bit! Thanks so much for reading !(: 
More Day Two: 
My incubator has been going GREAT ! All the people on Backyard Chickens are such a blessing, sending good wishes and tips for me !(: Thanks so much ! Today I practically had a heart attack at church when I thought I closed the breathing holes. I got home and all was well ! Tomorrow is the day... the day I get to CANDLE ! 
 yayayay ! I should start seeing a  "network of veins" in my eggs! I hope I get a lot of developing eggs! I think I know the sings of a bad egg. 
1.) blood spots
2.) dark ring
3.) very porous eggs
That's bout what I got. And of course nothing is inside the egg. The eggs are all developing at different rates, I think, since my stupid fan blew out ! >:( Does anyone know how to determine my hatch rates? I find myself so protective over those eggs! I've been counting my chickens before they hatch ! >:/ I got to thinking today, I'm hatching chicks ! but... what kind? Someone said red stars might be what they use. What are some brown egg production layers? It's all so much to think about ! It's a shame you can't candle at day 2. POOP! Last night I stayed up until three in the morning because I was SO paranoid. August fourth will never come fast enough ! :( At least I have candling to occupy me. I just want a rooster and a hen so badly ... I've got to come up with a BROODER ! I'm thinking about taking a drawer from my refrigerator and using that. It's small.. I have no need for a big one. In all honesty... I just find it SO hard to believe I can hatch an egg. That I'm "building" chickens in my very own room... I can't make myself to believe a CHICKEN is going to come out of one of those eggs. I simply cannot believe it. And even if I do hatch some, will they be healthy? Deformed? NORMAL? I tend to get clung to things that are taken away. I'm naturally starting to pull away from those eggs because I KNOW I'm going to get hurt somehow. There's going to be one that won't make it, and I'll have to sit and watch it die. Or... what if the eggs aren't fertile ?! NOO ! What if the heat spike killed them all ? What if I DO hatch chickens... and they're all mean. I'm planning on selling my eggs, if I have a hen. If I don't get a hen and a rooster, I have to incubate MORE eggs... before I started incubating, I saw someone say "It's like watching paint dry..." I thought it would be cool! There's candling, and adjusting and such... Now I realize that until candling day (three days after incubation) it really is like sitting by, watching a wet slab of paint freeze into place. I'll literally get some food and sit next to the incubator. If any hatch, I'll know I sat next to him/her as an EGG.. I really want hatching rates, but I have no clue how to decipher them. It's 10:40 PM, July 15th, 2012, and yesterday I started incubating at 11:00 AM. In 19 days and 20 minutes, I begin lock down ! I wonder if I can candle with a really bright lamp? Hm.. Anyway ! Thanks for reading ! Signing off for today ~
~Steven.
AAAAAAH ! DAY 2 UNEXPECTED POST >___________<
I had a temperature spike !! - Well, a temperature spike scare. I had the thermometers closer to the light than they were and picked it up and it read 110 !! Then I put them on TOP of the eggs and it gave me 100-102. Almost had a heart attack ! Not funny, thermometers ! 
Day Three !: 
I'm now about 47 hours into incubation, and at noon today (7/16/12) will be 52 hours and I'll be able to see (maybe, I've never done this before 
) which eggs are developing, which didn't start and if I have any quitters already. I think I might be able to see them already, and I'm considering trying to candle them now before it gets so bright outside I have to wait until night. I should see blood pumping or something along the lines. Their hearts (the ones that survived this far) are beating in those little shells ! Let's pray I don't get too many bad ones ! I'm going to go ahead and candle a few now, and if I see nothing they're either 
1.) infertile
2.) not developing
3.) not developed that FAR. 
So hopefully I'll see some pumping blood! 
I'm back... :( Nothing. I candled one and it wasn't overly porous but there was absolutely nothing to see in there. I wonder if I need a brighter light? I doubt it. It's a big, powerful bulb. Maybe I... Maybe they're not... fertile. :/ I guess I'm off to find out more about candling eggs. 
Back. More "Day Three"... sort of. I went to candle my eggs, and I wasn't very happy with what I found. Well, I guess you can't be happy with NOTHING! Just dark shadows on the sides of the eggs... One of them had a bacteria ring next to/ inter-joined with it's air sac. I'm going to crack it open soon and see what I get. I'm guessing it got infected. Another one had a moving yolk (I'm diagnosing as a "three day quitter" and the rest had shadows. Un-moving shadows. I think it's good, though ! I guess that must be them "growing"? I'm not sure what to think. Noon is when I get to 52 hours. I'm supposed to be seeing VEINS by then, and right now I'm getting shadows. But technically, I'm NOT at three days. Three days is 72 hours. I haven't hit 52 yet. I guess I have to keep on waiting... like "watching paint dry"... *sigh*. In the meantime, I'm going to try to build a more powerful candler. The one I had was just an old florescent bulb I had. I'll try again at nighttime, I guess, but I don't see how there could be that much a difference. From one of the eggs, I saw the dark blob and from it were some undefined and black lines. I'm guessing these are veins, or maybe just an illusion from the light or the eggshell. At this point I think it's safe to declare that I have 2 quitters and all the rest are developing, but at different stages. Which is BAD.. very, very BAD.. 
I'm not seeing anything in these eggs *rolls eyes* UGH ! Before I was using a lame flashlight and saw the different "shadows" now I'm using a light bulb for candling and I'm getting NOTHING. Literally nothing at all, not even the shadows. Very discouraged now.. I cracked open the already chipped one and there was nothing but warm insides to see. There wasn't any sign of a "bulls-eye" either. I get to thinking, how do they know the roosters mount EVERY HEN ? I doubt these eggs are even fertile ! >:/ It could be my incubator, but it's been keeping a steady temperature ! I'll give them until tonight... I won't open the top until I guess 8:00 or something around there? I can't believe this ! But some of them have been incubating at 90 degrees, so maybe they're just coming along slowly... That whole no bulls eye thing is giving me the thought that I might as well be microwaving Kroger's eggs. It looked just like a regular store egg. And the other eggs are giving me nothing but the shadow when I use the flashlight. 
Back. Again. Just realized that in 1 hour will be 52 hours of incubation on low (about 90 degrees), and at three days is when I should start seeing the veins and such. But at 52 I should be seeing the "blood island" and I'm not. I cracked open that egg, that might have hatched... I doubt it, the shell felt weaker than the others and it had a lot of little cracks running through it. And it opened up a spot for another egg ! And I learned some valuable information... These eggs might not even be fertile ! Come to think of it, I haven't seen a whole foods hatch on BYC ! 
Bad news, guys 
None of the eggs are developing. None of them are even... fertile :(
JUST KIDDING ! 
After candling today, and feeling pretty dang dull because I couldn't see anything, I put them back and decided to try again later. At about 12:20 I was candling for the second time today and not seeing anything. Then, all of a sudden... "OMGOMGOMGOMGOMGGG ! Veins ! Veins, I see veins inside the egg!" Yup yup ! One of them is growing faster than all the others and if you look close you can see the veins emerging from the "shadow". Most of the other eggs (11 now, I trashed one) that I candled you could see the faint, very VERY faint veins if you could FIND the blob. They're so faint you can mistake them EASILY for the pattern of the eggshell. So it was a good bit of motivation for me, knowing that one is definitely growing. I'll check the rest tomorrow and see if I have any more quickies! I think I'm going to trash maybe 2 tomorrow that I saw nothing in. Candling was getting so hard, I didn't look at all of them because like I said, if I hadn't seen the "miracle egg" with the defined veins I would have never been able to find them in the others. And I'm not even sure the other ones have veins, they just look like shadows of veins, and undefined- veins in the making. This has all been so cool ! But my patience is NOT agreeing with the whole 21 day thing. LOL. I'm always staring at the eggs wondering what's going on inside there? Who's dead? Who's living? And most of all, who's coming out to see papa bird ?! 
Even MORE day three: I've got a lot of fertile eggs. Like... TOO many fertile eggs. Even the GIANT one that got fried for 30 minutes is hanging in there! The embryos look like blobs sticking to the side of the egg. And I can now make out some more blood vessels in the eggs. I have a yolk that isn't sticking in place, looks like the embryo died, but I can't find the egg! I'm gonna leave them until tomorrow morning at 5:00AM and then candle some more. Hopefully it's not infected and hurting the other eggs ! 
 I'm going to go hunting for that egg ! And I saw another one with a ring around it ... bacteria ?! NOO ! So maybe 8 eggs that are hanging in there. At day three, that isn't too good, but hey, that's eight possible chicks! 
MORE DAY THREE -_______-
I can see I'm a BYC addict, and BYC has made me into a CHICKEN addict ! I hope I don't turn into an incubation-holic ! I can't get overrun lol. I've decided that 8 of the eggs are still viable for hatching and seem to be thriving nicely in the 100's (not 104 or over, at tops 103 and for a brief moment) I wonder how many eggs drop out after the first few days? Is the worst over? I want to say that I can achieve my goal of 5 chicks, but I dunno... depends on the egg, not the incubator. I think by ordering fresh my hatch rates really went up. I ALSO think that Whole Food's farm must be closer to my house. I guess Trader Joe's is for West Coast and Whole Food's covers everything else? Luckily, TJ doesn't carry fertile eggs here, and I would have surely gave in and bought some of those before I did WF. Why? Because frankly, Trader Joe's hatch rates are MUCH higher than Whole Food's, though I saw one person did a dozen TJ and a dozen WF, 8 out of 12 WF (maybe like me...!) and only one TJ egg hatched. But TJ eggs are white, WF is brown. I was about %99.9 sure I would've gotten a leghorn had I incubated TJ, and I need a cuddly chicken. LOL. Striving for 5 hatches, but the more the merrier, I have no problem with 8! I think I'll have probably... 3 more dropouts. 3 in the first week, 3 in the second. That leaves me with 6 eggs, maybe minus one, then YAY FIVE! We'll see how it goes when I candle again ! 
Even more day three (I'm officially a addict beyond medication. I KEEP coming back to BYC.) Tomorrow at 5:00 will be 69 hours of incubation. Things should really be cooking then! I trashed 2 eggs altogether. One of them was cracked, and one had a misplaced air bubble I accidentally took for a bacteria ring. I don't  know if he/she would have hatched had I left it in there. Some of the eggs, I can't make out anything, not even the yolk ! But tomorrow, I'l have more definition. Right now, they will be at 60 hours of incubation in 2 minutes. For my records, it's 7/16/12, 7:57 and at 8:00 is when we'll be 60 hours in. I wonder how much the electricity bill is going to be.. Sorry mom and dad. 2 more minutes ! Anyway, I have one egg that's a real quickie and developed faster than the other ones. I can see some small defined veins, without squinting and re-focusing my eyes a billion times. 8:00 ! 60 hours in ! :D :D 12 more hours until three days of incubation. That'll be 10:00 AM, 7/17/12 !(: Then I should be able to tell which ones are viable. Let me try to explain what I saw when candling. There's the quickie, which was only one egg that I saw, the one where I couldn't make anything out, and the ones that had teeny tiny little veins. One of them had big shadows that looked like veins, but thick, not much smaller than my pinkie nail. So there was either nothing or an indication of veins, at least - I think there was... I hope I'm not confusing you! But tomorrow at 5:00 AM, I'll be back !! 
Day Four ! :
It's 9:08, 7/17/12, so MAYBE I over slept a bit ! I went to bed early and when I go to bed early I wake up tired. I have no idea why, but it gives me sleeping problems (I think I'm an insomniac. It's horrible.) I woke up at 5, turned and candled, and then went STRAIGHT back to bed 
 !! But anyway, we are now 73 hours and 10 minutes into incubation. Which is great. I have 10 eggs in there and they all seem to be doing okay besides one or two that are suspicious. One is that moving yolk one, I can't tell if it actually is moving or it's just a trick of the light. And seeing veins is difficult! Only in a few am I certain there are veins, and in others I thicker lines that might flatten out into veins. I'm not sure, but what I DO know, is that they're BEHIND. Which.. is a no no. Since I took those 2 eggs out, I rearranged the eggs so that each one got more heat. HOPEFULLY they'll all start thriving. It's day four of incubation out here, but in there, they're just beginning day four. Now I know to start incubating at 12:00 AM instead of 11:00AM. I have to count hours to see how they should be coming along. I'm praying that they made some progress since 5:00AM, but... I dunno, I just don't think eggs can develop THAT fast... it just doesn't seem possible. Maybe they grew a bit, but not that much. I can't keep candling over and over again. It's probably really counter productive, and I keep seeing the same things in most of the eggs. I don't understand how people can incubate SO many eggs. I couldn't do 20, and I've seen people do 600 like it's nothing. What do you DO with all those CHICKENS? But, the positive side to that is knowing that not all of them will quit or die. You're bound to get a great hatch, but not with small numbers, like a dozen. I'll be bouncing off the ceiling if I get ONE. I'm trying to let my room overheat on the OUTSIDE so I can take the eggs inside without disturbing it too much. I know they can be away from momma hen or the incubator for 30 minutes, but I can't wait too long past hatch day (August 4th), because I'm supposed to be leaving to New Orleans, Louisiana that next week. I'm thinking of staying home with my mum for it, but my cousin that I only see once a year is going to be there, and usually he only comes to Michigan (where I live) to see his family, so me and him in New Orleans together... too much fun. Raising baby chicks from day 1? Too much fun. I don't know which to decide. Being a responsible owner of chickens might call for me to stay there. I shouldn't have started incubating if I couldn't have been there for my fuzzy butts. I could just sneak them in the car... back to incubating lol. Here's what they should be like inside. It's a day 3 chick.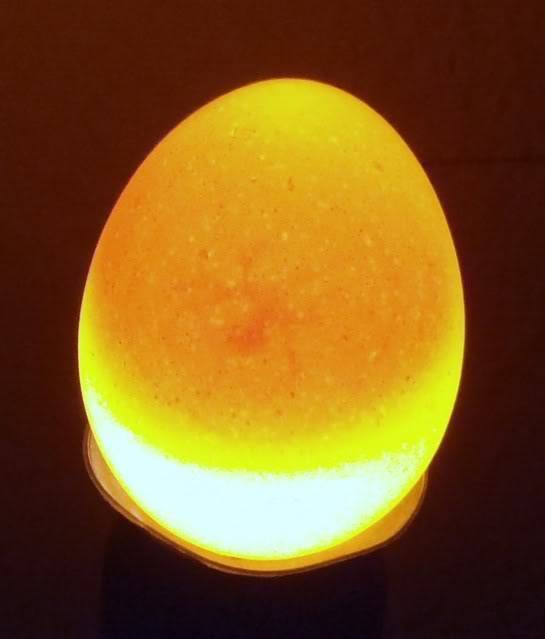 All those veins... I'm squinting just to see mine. I wonder if they all fell out and died inside... I'm going to go candle and look.
Most of the "veins" can be felt on the eggshell. I think I'll just crack them all open today.
ERR.....
None of those eggs were gonna work. All the yolks were moving and everything. It's not the incubator.. Here are my ideas on why they weren't starting
1.) I didn't leave them out 12 hours !!
2.) They might have been old... 
3.) maybe refrigerated?
So I rang up Whole Foods and asked them a few questions. Turns out they have shipments that were SUPPOSED to come in from an Amish farm, but because of the hot weather, the hens weren't laying. 
Today is the hottest day of the week, at 103 degrees outside. Tomorrow will be 91, Thursday 82, and Friday (shipment day) will have a high of 86. I guess I have to wait for the Amish farm to deliver! In the meantime, I'll keep on learning. Maybe upgrade the incubator. This was a cool experience, even though I wasn't really "incubating" because there was nothing to incubate :') Now I know. I come to Whole Foods as SOON as it opens. I leave the eggs out for at least 12 hours. The incubator should have already been running for a day. Then I mark them, put them in, and wait. I finally got a good candler! I'm looking forward to some chickies ! Looks like it's sayonara New Orleans, but somehow I think it'll be more exciting home, here... With my babies growing in their shells. And I'll get more surprises. I have to learn about Amish farms, but maybe they have a variety of chickens ! Maybe even an Amerucana ! However, I won't be deleting this thread. I'll be continuing soon starting with things to prep for the eggs. It's all part of my ... journey. Until Then ! 
~Steven.
7/17/12
7/19/12
Day ONE.
I'm BACK. With ALL new stuff. Sorta. 
So here's what happened. I found out that whole foods gets eggs from an Amish farm with a rooster in the hen house ! 1.) isn't that illegal ...? Don't you have to tell people the eggs are fertile? 2.) YAY ! The only problem is the hens aren't laying. Here in MI, we're having a heat wave, and even if they DID lay, it's so dang humid and hot outside the embryos might start ! So that was out of the question. I decided giving whole foods another shot. This time, I got prepared. No pictures today, but here's what I did. I took some foil and wrapped it all around for insulation. I went and got a hygrometer and a thermometer from Pet Smart for 12 bucks. I calibrated them and the temperature was off by 3 degrees and the humidity was off by SIX! Calibrating is VERY important. High humidity can kill chicks, causing them to grow too big to be able to hatch. So right now, the eggs are in, nice and toasty.. The incubator is now STILL AIR. All the eggs are not different temperatures, all 95 degrees or higher, none over 103. I made egg trays from tops of sauce containers from restaurants and got some wire hangers and cut them up to make a frame for the egg so it STAYED on one side. Of course, it's technically Thursday, and I won't be leaving the house for EXTENDED periods of time besides today or tomorrow for a few hours and Sunday, when I'll be gone most of the day. I went  to whole foods and bought TWO cartons, cracked 6 open and looked for the bulls eye in the yolk. One was not fertile, the rest APPEARED to be, but I myself have never seen it before. They can't be LYING, can they? Anyway, I put them in at about 12:40. This time I WILL candle at three days but won't chuck anything until at least day six. I got myself a good flashlight than I can use instead of risking fire with a box over a lamp (LOL. I hated that thing...) so I definitely upgraded. I put in only TEN eggs this time, because if I put in 12, they would not all be at the same temperature. What are my feelings on this whole thing? I think I'm not going to walk out with a chick. Why? Because there are VERY few (I've seen ONE) success stories about whole foods fertile eggs. I'm a beginner ! Then WHY are you still doing this? It's a great experience ! And, there's always that little voice in the back of my head that's egging me on saying "They might hatch ! Go for it!" What can hurt? Also, I have 10 eggs left over I can always try if I get a hatch. This time I let the eggs sit more than 12 hours (13 and 1/2, I think) until they were room temperature (about.. 80, 79 degrees is room temperature in my room). So we'll see what's what in a few days. In the meantime, I'm not gonna bust my butt freaking out ! I'm gonna go chill and get a rest. It's only 1:00AM, but I don't want to be blogging till two. :/ SEE YOU GUYS ! Please share this thread !(: 
Sincerely, 
Steven.
Technically day 2?: 
Hey-o ~The eggs are doing amazing !! No temp spikes.. just smooth smooth sailing.. besides a humidity accident. It's low now, don't worry ! LOL. Because some of the eggs (5 eggs) were in the high 80's, I thought they had died. I kept them in there and but 5 more eggs in. Lord knows how I squeezed those things in! Then I found out that they were still developing. Just slowly. So now I have thirteen possible chicks... Oh my... It's 10:35 y'all ! Will be one day at 1:00. So two more looong days until I can even get an IDEA if any are developing. At day 6 or seven I'll chuck eggs I see that are porous infertile or have a bacterial ring. Does anyone know any other signs the embryo is dead? I'm going to describe what I saw when cracking open fertile eggs to infertile eggs.
The infertile egg has a white dot, but it is perfectly shaped, and had more than one white dot. It's about a needle tip large. The fertile egg was about a needle tip or two bigger and NOT perfectly shaped. Around the imperfect white dot is another layer of yellow, not quite the yolk color, though. I'm GUESSING this is the bulls eye, but I'm not sure. If anyone knows, PLEASE help me! 
The only reason I noticed this is because one of my fertile eggs, was NOT fertile. Lol. I immediately noticed the difference. You won't be able to tell unless you have a "seasoned" eye or you are comparing it to an infertile egg. So, with that....
HURRAY ! I HAVE FERTILE EGGS !! :D 
I think. I'm happy, but at the same time... I just can't fully bring myself to believe it. Sure they LOOK different, but the difference is so SMALL... like look at this. 
http://www.backyardchickens.com/t/16008/how-to-tell-a-fertile-vs-infertile-egg-pictures
I could NOT see that big a difference. There weren't 2 layers of different colored white like in the pictures, but the second layer of yellow looks like mine. And hers look so BIG... Of course you could see she zoomed in, but the infertile looks the tip of her needle and the fertile looks like it could have been 5 or six ! Maybe since hers were freshly laid, and mine were refrigerated for a period of time. Maybe if I were to crack open one from in the bator now I would see what she saw. Anyway, only one way to tell... I'm a waitin', chicks, don't let me down...
So, the THIRTEEN have been coasting at a minimum of 90 a high of 103. So everything is perfect ! Humidity is about 52% 
Anyway, here's an incubator picture.
My faith in these eggs is a minimum right now... I just want to toss them out !! But I'll wait... Whole Foods can't lie like that !!... or... can they? 
Back. So I took one of the eggs and opened it up (not an incubating egg, one of the ones remaining that I never put in) and it was DEFINITELY a bulls eye, with a white dot in the middle and different whites and one more different yellow then the yolk color. My thing is - is this because it has been sitting room temp longer than the other eggs? Are ALL of them, or at least most of them going to hatch? It's clearly a bulls eye... now I realize that the eggs I cracked open hadn't been room temperature for 12 hours...
PARTAY ! I HAVE FERTILE EGGS, Y'ALL !! 
Day Two:
Everything is going GREAT! Literally, like amazing! Humidity, temperature... all a-okay! If these eggs are really fertile, I'll have some chicks in no time ! Y'know, I like to tell myself that, but I still don't think these things are going to hatch. Anyway. I would like to think of why the first batch had no progress at all. Maybe the temperature was too low, or too high for hatching. I realized that some of the eggs in there were probably in the 70's. My thermometer was crap. I didn't have a hygrometer. I did not leave them out for a minimum of 12 hours. I think a lot of heat was getting out since I left the blanket off the screening. Heat rises... and right out the top. After seeing that crystal clear bulls eye, I'm getting pretty excited, but hatching chicks... in my room? I literally CAN NOT wrap my mind around that. I'm definitely having my doubts, but we'll see tomorrow when I candle them, I guess... And how am I supposed to be SURE they're veins ? Should I see the spider veins ? Not sure :/ Only 36 hours in ! Gotta wait s'more... How I HATE waiting..
Day Four!
7/22/12
Sorry I haven't been updating
my brother dropped a TV on my laptop, so I have to go "mobile" to update you guys. Out of the ten I set, there is DEFINITELY one developing. Ironically, it's #1. The others all look the same. They're not clear, they're not developing, they aren't showing signs that they're dead, either. But, I promised myself not to throw any away until at least day 7. Wish me luck! Hopefully 5/10 are developing of the 10 by the 7th day, but I'm having my doubts...
Day Six....
7/24/11
I am VERY worried... To the point where I'm losing sleep... LOTS of precious, precious sleep. I can't wait till' tomorrow to throw these things out! I see nothing but yolk. NOTHING. Yolk yolk yolk. And in one of them, a dot. Number one, the only clearly developing one, is dead, in the drain, bye bye birdie !
I'll describe what I see. There's the dark part of the yolk, about the size of a bouncy ball, that isn't even circular, then there's a different colored layer around it. Everyone is saying "Give them more time!" but I've been seeing the SAME THING since day one !! I promised myself I would wait, though.. One. more. day. And these things are OUTTA HERE, unless they're developing, or I'm having my doubts.
No day. Again. 7/24/12
I'm back to square one for the third time. I cracked all of them open, and whaddaya know ? Yolk. Undeveloped, squishy, warm yolk. So I decided to think back to what I did to kill the eggs. The one egg that was developing was egg one. When I candled it, I realized that I had never candled it until that day. I hadn't TOUCHED it since put it in. Then I came to realize I never washed my hands before handling. The pores were getting clogged by the oils on my hands ! So again, I made another field trip to whole foods and got 2 more cartons. I haven't touched them, and they're sitting out to get to room temperature now. Note: after I touched egg one the embryo died. SO, I'm changing a few more things. I won't do anything to the eggs besides turn them until day EIGHT. Week one is the most important week of incubation, so I'll let the embryos be. I'm getting a new LED flashlight, one that can easily see through brown eggs. I'll occasionally put a fan to the screen to kill cold and hot spots, also to do a bit of "cooling" which supposedly helps hatch rates. Whatever the experts say, I guess... What I'm worried about NOW is how old the eggs are. I can't put them in till' tomorrow, and if they're the same shipment of eggs from my first round, tomorrow is their 12th day on shelves. I've heard worse, but from experienced people. So, I bounced room temp hours to one whole day... God, I hope this works ! I prayed over those little things ! Also, I'm bringing down turning times to probably 3 times a day, so the overnight periods are not uneven and the embryos develop weird. Also, I didn't realize how delicate those eggs are.. I gotta be careful ! God, please let this batch hatch... I promised myself this was my last round of poultry if I didn't get a hatch. Incubating dead eggs really brings the spirits down... But, trial and error, and I've picked up a LOT of tips. Lets hope my knowledge and their fertility combine to make me some fuzzy butts ! Thank ALL of you guys. Everyone on here has pushed me to keep trying ! Without BYC, this would have been a very boring summer...
Back to day one...
7/25/12
Well, somehow, I managed to get 15 giant eggs in the incubator. I see nothing that could interfere with the development of these chicks, especially since I'm not touching them (besides turning, of course) for eight days. I have officially given up New Orleans. I'll be staying here in Michigan to take care of my "kids" if they hatch. Why wouldn't they? I don't know. If they DO, then Yay! If they don't... I dunno... This is my third time trying, and I'm already.. well, I think it's heartbroken. It's devastating to get your hopes up so high and they get plummeted down - three times. I remember thinking when that egg started developing "Oh my gosh.. there's a partial chicken in my room! I wonder what breed it will be...." because it WAS a chicken. It WAS a chick, and because of my oily hands I killed it ! I think. What could I have done wrong ? The ONLY POSSIBLE thing would be a power outage or a loss of fertility. Of course, I thought that on round one, too... Anyway, I'm off to contact whole foods about the breeds of their chickens and where their farm is located so I can get a good idea of how old these eggs are. This would've been their 12th day on shelves. I left them out since about 7:00PM Yesterday, and put them in at around 8:00AM, so they had about 12-14 hours to become room temperature. I also kept them cooler, because my room is hot (80 degrees or more). The other eggs went to about that temp, these were in front of a light fan and kept much cooler, more in the 50's. I literally prayed over them several times before I put them in.. Wish me luck
Day Three:
Sorry, y'all, for not updating. You won't believe what life has thrown at me now... Like I said before, my family is taking a trip to Louisiana. I eventually decided I would go and let someone else watch the chicks. Yesterday, I found out that my family leaves THURSDAY. That's a week away. The day before they leave would have been the 8th day, when I would candle the eggs. However, I can't wait until the night before we leave to make plans. I have to break my promise and candle tonight, to see if any eggs are developing. If they are, I have to wait until Wednesday to see if any more start. That means I REALLY have to miss new Orleans. I CAN'T miss the trip. One, I don't want to ! It's gonna be FREAKING AWESOME! Two, my cousin that I see ONCE A YEAR, will be in New Orleans. Usually he comes to Michigan once a year, but since our fathers are both pastors, he'll be in new Orleans as well ! I CAN'T miss that, he's my BEST friend EVER ! I love my cousin to pieces ! We've been through soo much together, and next year he can't go out of town with us, he's coming to Michigan. To add on top of that, I don't have a CHOICE. I have nowhere to stay besides my Grandmothers. That's a 30 minute drive on the freeway. The bumpy freeway. The only hope I get is that none are developing.... I don't think so.
Edited by XxPandaxX - 7/27/12 at 8:18am
A WHOLE LOT of incubating eggs...
Michigan Suburban boy ! :D
A WHOLE LOT of incubating eggs...
Michigan Suburban boy ! :D