I asked my husband (who is a props artisan for our local playhouse) to help me with building a chicken coop. After scrapping many sets up plans, I thought we had settled on a simple 6x8 shed with a slanted roof. Then he had a bout with insomnia and spent the night researching playhouses for our kids. Well, too much time and an overly creative carpenter can make for interesting.
He decided he wanted to build a wonky playhouse for the boys and is using my coop as a prototype. Here is the progress so far:
DAY 1
Supports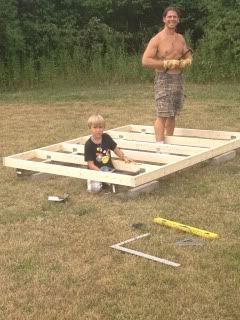 Subfloor
Linoleum
Back wall
Front wall with door and window
Side wall with window
Other side with window
And a bonus picture of my great pyrenees, Nanuk, watching over a pair of 5 week old Swedish flower hens.