1) What type of bird , age and weight (does the chicken seem or feel lighter or thinner than the others.)
Amerucana, 4month old, she is the heaviest in the flock.

2) What is the behavior, exactly.
3) How long has the bird been exhibiting symptoms?
She is usually hyper, but today after I let them play in the garden for an hour, I noticed her eye closed shut, usually she never lets me carry her, but today she let me carry her and she seemed to have no energy.

4) Are other birds exhibiting the same symptoms?
no

5) Is there any bleeding, injury, broken bones or other sign of trauma.
Bloody discharge from the closed eye

6) What happened, if anything that you know of, that may have caused the situation.
I have a Polish rooster, but he is half her size and usually is scared from her

7) What has the bird been eating and drinking, if at all.
medicated feed and table scraps and drinking normally

8) How does the poop look? Normal? Bloody? Runny? etc.
everything normal there

9) What has been the treatment you have administered so far?
nothing yet, no clue

10 ) What is your intent as far as treatment? For example, do you want to treat completely yourself, or do you need help in stabilizing the bird til you can get to a vet?
11) If you have a picture of the wound or condition, please post it. It may help.
12) Describe the housing/bedding in use
coop in the back yard, pine shaving bedding and straw hay in the run.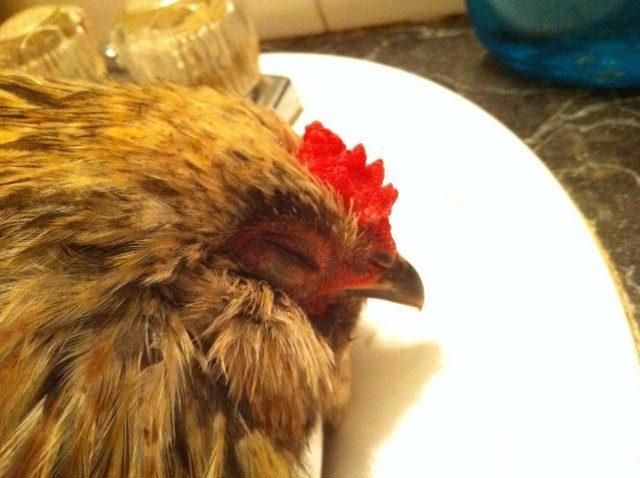 Any clue if this is a symptom of a disease or an injury from fighting.