I've been keeping chickens since I was about six. Started with a small flock of OEGB and one black tailed white Jap. bantam. Bred these and ended up with a lot of interesting crosses, and I became wise in the ways of chickendom at a young age because I oversaw all the care of all of these birds. When I was about 10, we moved to a 44 acre farm, and inherited the old owner's flock of RIRs, Barred Rocks, and guineas. I eventually added some white hens and a rooster, I forget what kind they were, maybe leghorn? Alright, so that's the backstory of my chicken experience. Now for the actual story.
I was about 11. At the end of school, my beloved science teacher gave me what he believed was an incubator that he found in storage in an old science closet. It looked like an antique. It was medium sized box made of wood, had chipped blue paint on the outside, and had a glass window to look in the front. It opened like a toaster oven, and had two bare light bulbs protruding from opposite sides within it. The floor was some sort of wire. No way to control temp, just two light bulbs that cut on and off at intervals. I thought, what the heck, I might as well see if it works. I'd never incubated eggs before, so I bought a book and learned. I had to risk that the temp was right, as there was no way to control it. I put 7 eggs on the wire floor and put a small tupperware container filled with water in with them. Every day, I dutifully turned the eggs and marked off the days til that final day. In the morning, I excitedly ran to where we were keeping the incubator, and lo and behold, every single egg had hatched. 7 yellow chicks, some with black specks, were wobbling around in the box. 7 miracle chicks, who hatched perfectly under such imperfect conditions. When they dried, I prepared a cage for them and took on the role of their mother. As the weeks went on, I would take them outside to forage. They followed me wherever I went, and when I called, they came. I developed a special bond with one in particular, who I named Will. He was mostly white, with a few black feathers in his wing. Unlike the others, Will would not only come when I called, he would fly up on my arm, and if I signaled, up to my shoulder and even my head. When I went outside, Will was with me, following at my heels or perched on my shoulder. Everyone loved this friendly chicken, especially me. But look at the title of this thread. This isn't destined to be a happy story. One day, I was out with the whole little flock, helping them find bugs by turning over rocks.We had large cement walking path stones leading up to our house, and I thought these would be perfect places for bugs to be, so I began busily overturning them and letting the chickens enjoy the bounty of bugs beneath them. After doing this for several stones, I came upon the last stone, and, like the others, the chickens ate the bugs and moved away. Or so I thought. As I let go of the heavy stone, Will  darted underneath it after some stray bug. The huge stone fell on him and crushed him. I instantly flipped over the stone with almost superhuman strength (for my age at least), and gathered up Will in my arms. He wasn't dead yet, but almost, weakly gasping. I stumbled through the yard, him in my arms, until I came to my parents. "I killed him," I sobbed. "I killed Will." They knew how much he meant to me, so they gathered around me in a hug as I clutched him, sobbing. He died there, in my arms. It wouldn't have been so bad had I not been responsible for his death, and being only 11, this was quite traumatic.I don't think I've ever been more heatbroken than that day. I built him a cross out of wood scraps, painted it silver, and buried him under a persimmon tree in the yard next to the chicken pens, and covered his grave with pebbles, shells, and fresh flowers every few days. But this is not the end of my sad story. Weeks passed, and the pain from Will's death faded. The six other chicks were young adults, and I grew closer to them, and they filled the void Will had left. Until I came home from school one day, found a hole torn in the chicken wire in their coop, and blood and feathers everywhere. My first experience with raccoons. All of my babies, gone in one fell swoop. Or so I thought. I found one young roo huddled in the corner, missing some feathers, in obvious shock, but otherwise unhurt. He was my only baby left, and he looked so much like Will. I nursed him back to a happy, energetic rooster. He became my new close pet, and he came to be as friendly as Will, hopping on my arm on command. I named him Jack. Jack stayed with me until adulthood, but the alpha rooster in our flock would not stop attacking him, and I didn't want to upset the pecking order in our flock, so I gave him to my aunt who did not have a rooster with her flock yet. I really want to end this story with a "and they lived happily ever after", but that isn't true. A few months after he settled into her flock, her wolfdog, Pheonix, caught and killed him one day when he was free ranging. So all of my first 'miracle' babies died in the end.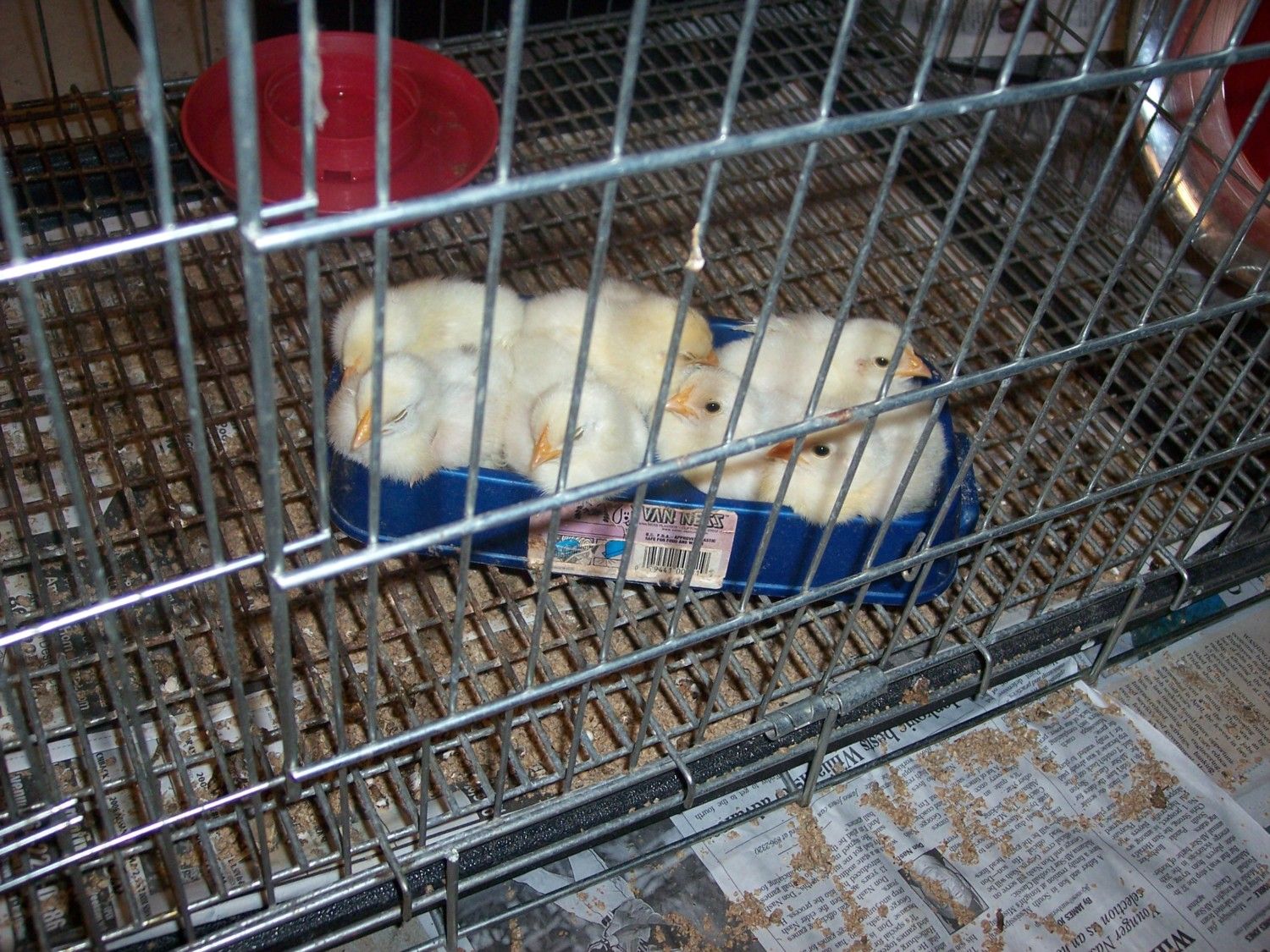 Here they are when they were a few days old, all shoved into their food bowl to sleep, because that's how they insisted on sleeping
So now that everyone is nice and depressed, anyone want to share a sob story of their own? It sort of makes you feel at peace after you tell it.
~Rachel~
Living on a small 44 acre farm with horses, cows, chickens, turkeys, ducks, and more
Focusing on White Silkies, with tons (seriously. Tons. They're eating me out of house and home! ) of other birds of assorted breeds forming my backyard flock
~Rachel~
Living on a small 44 acre farm with horses, cows, chickens, turkeys, ducks, and more
Focusing on White Silkies, with tons (seriously. Tons. They're eating me out of house and home! ) of other birds of assorted breeds forming my backyard flock