Quote:
ELLENSBURG, Washington — 
One home was burned and several other structured were threatened Monday afternoon by a wildfire that had burned 800 acres near Ellensburg, firefighters in Kittitas County said.
"Hwy 10 and Taylor road and lookout mountain residents should evacuate," Kittitas County Fire & Rescue's Richelle Risdon tweeted.
It isn't clear what caused the Taylor Bridge Fire, as officials have called it. It's burning near Milepost 90 on State Route 10, which runs parallel to Interstate 90 between Cle Elum and Ellensburg.
Risdon said Monday evening the fire was 12 miles long and had jumped State Route 97.  The Washington State Department of Transportation said it would close the highway between Milepost 147 and Milepost 149.
Helicopters are on scene and an air tanker was said to be headed toward the area. 
Quote:
CLE ELUM, Wash. - Here's the latest information from the Kittitas County Sheriff's Office regarding the fire between Cle Elum and Ellensburg: At 1:19 pm, a brush fire started at MP 90 on SR10, at Taylor Road and Hart Road, between Cle Elum and Thorp. Fire units are on scene and attempting to contain the fire, which is spreading rapidly east and the area is under evacuation. The first is estimated to be 2800 acre... s as of 5:45 pm. As of 5:00 pm, Sheriff's Office has advised of a Stage 3 evacuation – Current conditions present specific and immediate threat(s) to the life and safety of persons within this area. People in the affected areas are advised to evacuate immediately. Air assets are available to evacuate persons who are unable to leave via roads. As of 5:00 pm, the fire jumped SR97 just below Elk Horn Road, headed east towards Green Canyon and Reecer Creek. The Emergency Operations Center has ordered evacuations for the following areas: Bettas Valley, Swauk Valley, Teanaway, and homes on the westside of SR97 between SR97 and Swauk, SunEast, Upper Reecer Creek, Green Canyon, areas northeast of Ellensburg 
(specifically homes with no green/defendable space around them). Fire has been reported to be ½ mile to ¾ mile wide and has jumped Reecer Creek Road, above Smithson Road. An emergency shelter has been opened at the Cle Elum Centennial Senior Center, 719 East Third Street, Cle Elum,
509-674-7530
. An emergency animal shelter has been set up at the Kittitas County Fairgrounds. Residents downwind of the fire should expect smoky conditions and poor air quality. At 3:30 pm, the Board of County Commissioners declared a State of Emergency. The fire has been declared a State Mobilization fire. The Emergency Operations Center (EOC) has been activated at the Sheriff's Office. SR97 is closed from Smithson Road to SR970; SR97 closed at SR10, local traffic only. SR970 is currently open. In response to the State Mobilization request, Type 2 Incident Management team will be on site at 0600 Tuesday to assume control of the fire. Updates will follow as available; EOC command requests media to not call KITTCOM for updates, as the Dispatch Center is inundated with phone calls.
Quote:
A fire near Cle Elum has burned at least 24 structures including homes and quickly grown to nearly 3,000 acres. Firefighters have zero containment of the blaze so far.
The fire near Highway 10 started about 1:15 p.m. and quickly spread at a rate of about 30 mph, jumping over Highway 97.
All nearby homes have been ordered to evacuate, said Richelle Risdon, spokeswoman for Kittitas County Fire District 7. Evacuation areas include Swauk Valley, Prairie Valley, Bettas Road Hidden Valley, and Ellensburg Ranches Road. Evacuees can go to the Cle Elum Centennial Center. Animals can be taken to the Kittitas County fairgrounds in Ellensburg.
Anyone questioning whether they need to evacuate should, Risdon said. Dry vegetation and high winds are fueling the fire on steep terrain, making it difficult for the more than 100 firefighters  on site to make headway against the wildfire, she said.
Central Washington University is coordinating with local authorities to house evacuees, according to the Daily Record.
Several air units — three helicopters and a fixed-wing airplane — have joined the effort, Mark Grassel with state Department of Natural Resources told the Yakima Herald-Republic.
Strike teams from King County, Yakima, Selah and other areas have been called in to fight the fire and protect homes on mountains nearby, according to Risdon's Twitter account.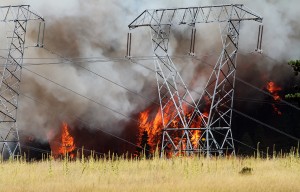 many people have had to release ther horses because they didn't have trailers to evacuate them and/or couldn't catch them. they are devistated!