For Sale:
DIAPERS - Goose, Duck, Gosling/Duckling, Chicken, Bantam - DIAPERS $7 - $40
Will Ship To: Anywhere

UPDATED Dec 2016
Product List (scroll down for photos and item descriptions, message us for pricing and shipping)
Custom Cotton Adult Chicken Diaper
Custom Adult Duck/Goose Diaper
Custom Swimming/Walking Harness
Elastic Safety Leash
Bow Accessory
Skirt Accessory  
Service Vest
Baby Duck/Goose Diapers
Fleece Chicken Diapers
We carry many costumes, but love to create custom work! Send us a message if you have something in mind!
​We ship to the US and Internationally
​Please send us a message for details on pricing and how to order
Custom Cotton Adult CHICKEN DIAPERS
Colorful chicken pouch diaper. Made of cotton, elastic, and waterproof fabrics, the diaper is comfortably secured with metal snaps and elastic straps. The pouch is gathered to provide a seamless waste pocket to completely prevent leaks when used with an absorbent liner. Line it with any absorbent material (toilet paper, panty liner, paper towel, fabric, etc.). You pick the colors and provide your pet's measurements. 
Full Grown GOOSE/DUCK DIAPERS
**TO ENLARGE PICTURES  - Just click on the image to make text larger and easier to read***


For correct measurements, follow the instructions in the picture. Please don't forget to measure the distance between your pet's legs.
If you need help, shoot me a message. I'm happy to give further explanation and offer any help I can.
If you would like something else customized - i.e. contrasting thread color, mismatched strap pairs, specific velcro color - shoot me a message and we can design something just the way you would like!
COSTUMES
Contact me for custom costumes. I love making all kinds of interesting outfits, so just send me a message and we can create the perfect costume for your little feathered friend!
Snow White
Belle
Cinderella
Tiana (The Frog Princess)
Aurora - Sleeping Beauty
Elsa - Frozen
Tinkerbell
Batman
Superman
Holiday costumes
Swimming Harness and Elastic Safety Leash
Bows
Available in multiple sizes and all the same fabrics as our diaper harnesses!
Bow tie straps available in either white or black to best blend in with your bird's feathers.
Tutus
Available in 3in, 6in, and 9in
In a variety of colors, both sparkly and matte
Choose one color, two colors, a few colors, or the whole rainbow! Design it any way you like!
Skirt Accessories - available in a variety of styles, or request something completely custom!
Looking to add more cute to your feathered friend's wardrobe? Our skirts are just the ticket to add that extra girly flair to their everyday wardrobe! 
These skirts snap to any of our snap equipped adult Duck or Goose diaper harnesses. 
If you already have a snap equipped harness, your snap measurement will be needed. Finding your snap measurement is quick and easy! With the tail strap velcro'd closed just measure the distance between the two snaps on the tail strap to the nearest half inch.
Service Vest
Does your feathered friend make special visits to hospitals, elderly homes, hospice, or perform other therapy animal duties? This service vest is just the thing to set them apart at a glance! Made from the same material as our duck and goose diaper harnesses, this vest is soft and flexible, and matches perfectly with our diapers. Made in a "snap-to-self" style, it doesn't require costume snaps, so can attach to ANY diaper! The snap straps wrap around the neck strap of your diaper on either side of the leash loop, and snap in place like cape without putting any pressure on your pet's throat and keeping your leash loop free of obstruction. 
 
Embroidered personalization available at additional cost upon request - add your pet's name, initials, the name of your organization, etc.

Embroidered patch options are limitless! But here's some suggestions - 
THERAPY ANIMAL
THERAPY DUCK
'THARAPY CHICKEN
ESA
SERVICE ANIMAL
SERVICE DUCK
SERVICE GOOSE
SERVICE CHICKEN
THERAPY ANIMAL
P.T.S.D ANIMAL
​*please note* it is your responsibility to identify your animal properly. Please order the correct patch to identify your animal's service/therapy/ESA/PTSD Support/etc designation correctly.


The optional zippered corner turns the entire vest into a pocket! A great place to stash your pet's service I.D., or use as a bag to store your leash and other items all in the same place when not in use! 

Available in five standard sizes -
• Mini - designed for bantam chickens and call ducks
• Chicken - for most standard sized chickens
• Runner - designed for the thin/narrow bodies of runner ducks
• Duck - fits most standard sized ducks
• Goose - for extra large Pekin ducks and geese
 Baby Goose/Duck Diaper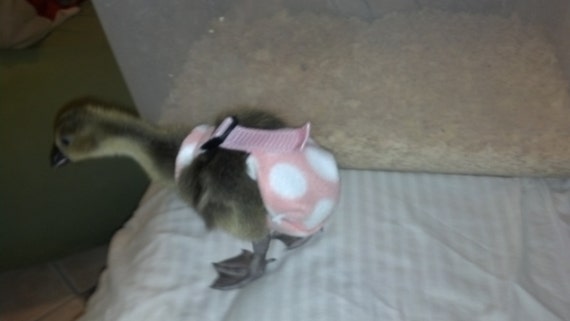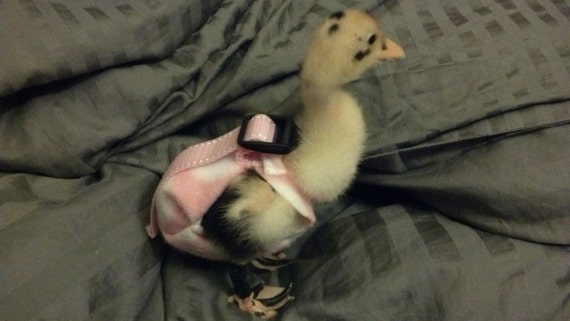 HUNDREDS of colors available, shoot me a message to see what's in stock now
*** TO ENLARGE - Click on the photo of fabrics to enlarge the text ***
Fleece Chicken Diapers
These colorful fluffy diapers are available in all the same colors and patterns as the baby duck diapers. If your chicken or chick is old enough not to be at risk for Pasty Butt, this is diaper is for you! This colorful fleece diaper can be lined with any absorbent material (toilet paper, panty liner, paper towel, fabric, etc.). Made out of a single piece of soft fleece without any stitching.

These diapers can be made in ANY size for ANY age or breed of chicken. If you would like to be sure to get the correct size I can help if you provide measurements.
Edited by kukupecpec - 12/18/16 at 8:31am
ChaCha the House Duck
Flock
-
BLRW
Big Momma -
Mutt
Sonny R.I.P. -
Buns
Darla, Poppy, Sugar, Holly, & Peanut -
***Check out our awesome new Disney Princess Costumes***
ChaCha the House Duck
Flock
-
BLRW
Big Momma -
Mutt
Sonny R.I.P. -
Buns
Darla, Poppy, Sugar, Holly, & Peanut -
***Check out our awesome new Disney Princess Costumes***