A few weeks ago I welded up a tool which helps me quickly and easily take apart shipping pallets which I can collect for free at my office. I have been using this free reclaimed lumber to make a few projects around the house. First I built a brooder to keep baby chicks in until they feather out and can be kept in a coop. After the success of that project I decided I wanted an elevated garden table for my front porch to grow some lettuce. 

I already have about 1/10th of an acre of vegetable gardens in the ground but growing lettuce you fight with rabbits, slugs, and just about every other critter who wants to eat the greens before you do. If you put that same lettuce in a bed of soil elevated 2-3 feet you can keep it out of reach of some of these problems. 

The wood for this project is a mix of oak and fir, neither of which is very rot resistant. I expect the thing to last about 2-3 years before it needs to be replaced because the constant contact with wet soil will promote rot. I could make a 10 year+ version using cedar or redwood but that is expensive and all I have in this project is a little wood glue and a few dozen nails so remaking it in a few years is not a problem. 

[In the USA] Pallets used for international shipping are often treated with chemicals to avoid introducing pests. Domestic pallets on the other hand are either raw wood or often they are heat treated (cooked in an oven) to kill pests. The untreated or heat treated pallets are both suitable for use in gardening applications. 

The legs are made of the stringers from some pallets as they are heavier 1.25" by 3" wood. The sides and bottom are made of the pallet slats which are ≈3/4" thick and usually 3.5 to 4" wide. The entire thing is glued and screwed together. 

It will be filled with peat-based potting soil. I manage a research greenhouse where we discard soil after one use so I have an almost unlimited supply of free, gently used, soil.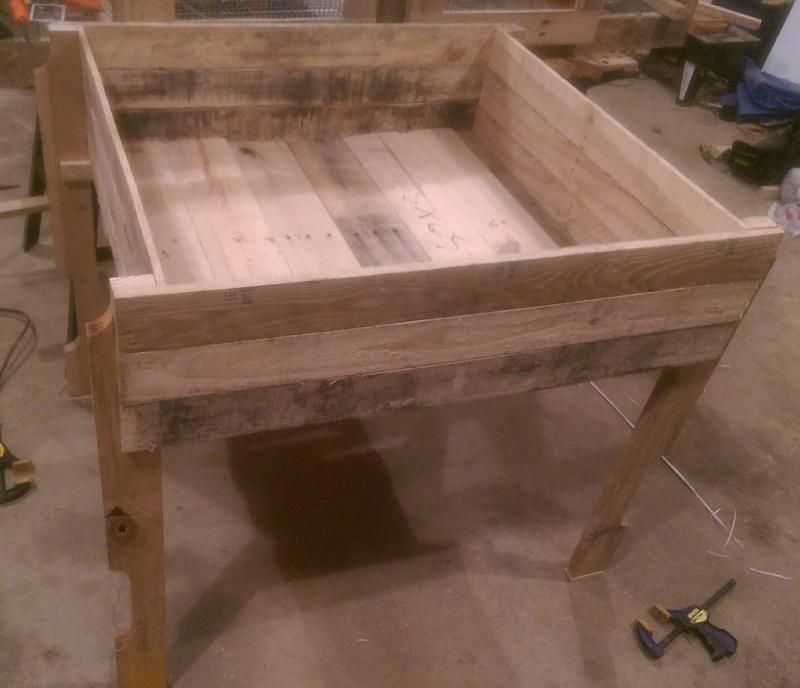 The finished product is about 3.5' wide, 3' long, 3' high, and will hold about 7-8" of soil allowing for some free-board space. I probably wouldn't try to grow large crops like tomatoes in something like this but it will work fine for greens, and even root crops like carrots if they are not long varieties could be grown with no problems. No more rabbits eating my salad and I don't even have to bend over to work in this.
♫ Out behind the hen house on my knees; thought I heard a chicken sneeze. ♪
♪ It was only the rooster sayin' his prayers; thanking the Lord for the hens upstairs. ♫
♫ Out behind the hen house on my knees; thought I heard a chicken sneeze. ♪
♪ It was only the rooster sayin' his prayers; thanking the Lord for the hens upstairs. ♫