Airplane Eggs
An Adventure in Flying the Friendly Skies w/Fertile Eggs​
April 27, 2011... In May we will be traveling to California for vacation and I have made arrangements to bring home some Bantam Lavender Ameraucana fertile eggs (SO excited)! I will be covering the whole adventure from pick-up... to TSA check-in... to the flight home... and incubating... and finally integration to the existing flock. It is a bit of a gamble (I'm willing to take) and certainly an adventure (I'm so looking forward to!). If all the steps go well, I will have some wonderful living souvenirs to add to my existing flock! I LOVE a good adventure!
( original post... www.backyardchickens.com/forum/viewtopic.php?id=413732&p=1 )
May 2, 2011... a new twist... my egg contact has offered to send me home w/2 LavAm hens (as well as the eggs)! ! ! Will American let me travel with these hens? ! ? Guess I'll be making some calls this next week!
May 13, 2011... answer to the above adult bird/American Airlines question... actually went out to the airport to talk face to face with a real person... at first the supervisor said "absolutely NO"... after we chatted a little bit more he got on his computer to actually look it up (imagine that!)... turns out that the answer is "Yes"... but they have to fly as checked baggage (not fly in the cabin) AND the charge for flying them as baggage... $150! OK then, back to the original plan... I'm putting all my eggs in that basket. It was a fun idea to dream about for a little bit, but alas, the California girls will not be coming to Illinois. :-(
OK... back to the airplane eggs...
May 15, 2001... on the plane this morning we were seated one row behind the center Emergency Exit... I looked over across the aisle and on the back of the seat on the EExit aisle I read, "Hatch weight - 24.7 lbs"... and, of course, my mind thought, "WOW, that is one BIG chick!" You can see where my mind is! :-D
May 21, 2011... our hotel is just one block from a Trader Joe's... so I think I'll be bringing back some Trader Joe eggs to try and hatch, too!
May 23,2011... I was getting very nervous... called my egg contact, S, last night to set up a meeting time for Thursday... got his voice mail and left a message... 24 hours later, no answer... called again... voice mail... left another message... very nervous now... almost asleep and the phone rings... IT'S HIM. He didn't recognize the # and didn't listen to my messages (we have only communicated by email up until now)... I sent him an email and then he listened to the phone messages! We will meet @ 8:05 tomorrow morning! BONUS: Tomorrow is going to be a busy day for him... work during the day and school tomorrow night... we talked a bit and found out that he works only a mile from where we are staying! That is so much better than the 50 miles to his home... one less day of car rental & valet parking! SO... tomorrow morning I will pick up the eggs in down town San Francisco!
May 24, 2011... Today is the day...
DH opening the door for S... what is in the box?!?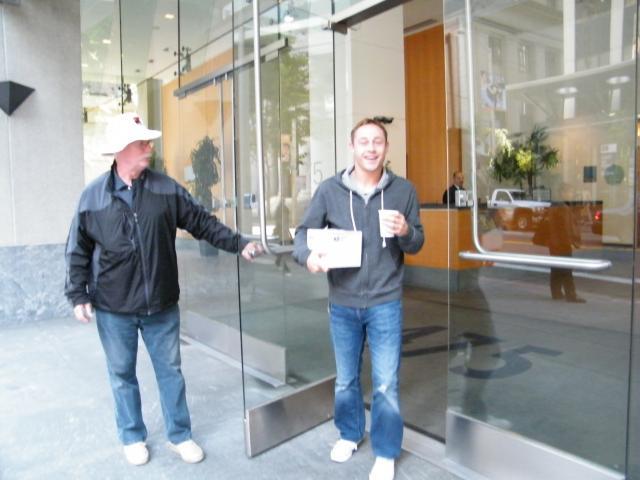 the hand-off...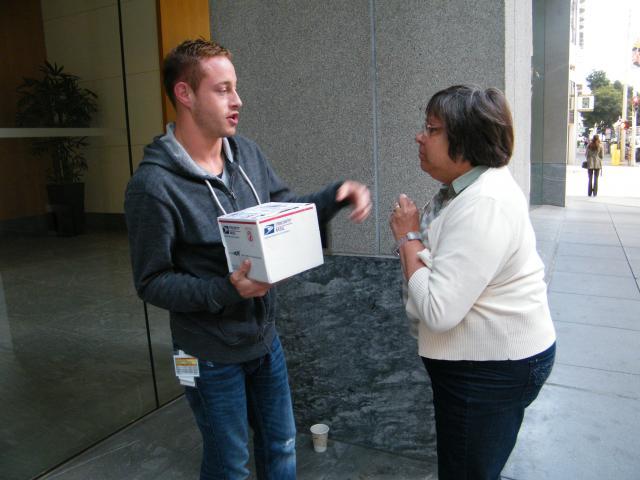 the hug...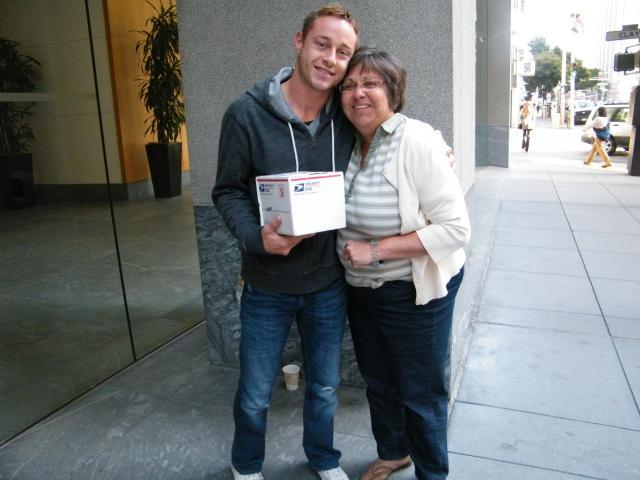 the EGGS! ! !

OK... tomorrow is the TSA and the flight home... wish me luck! (or if you are so inclined...PRAY)
Oh... PS: no fertile eggs @ this Trader Joe's.

(
May 25, 2011... Today is the day that the eggs fly! (I hope!) I'm very nervous. I have decided not to even try to take pics of the TSA inspection... I don't want to rock the boat or make anyone unhappy. Everything out in the open... keeping it simple... if they ask me to turn them in to them, I will be willing but VERY disappointed... I will probably cry. If you are reading this before noon, 5/25/11, then pray it all goes well! Let's hope the skies ARE friendly!
May 25, 2011, 10:30p.m. CST... The California eggs are home in ILLINOIS... long day... we are ALL going to rest... incubator plugged in and warming up... good night all...
May 26, 2011... Good Morning All! We are home and the eggs are in the incubator!
Here is my TSA/fertile chicken eggs experience...
We showed up 2 hours early... that was a good idea... long lines. When I got to the TSA check-in I quickly placed all my "stuff" in the busing trays and sent it on through... only then did I ask if they could please hand inspect "the box". The unsmiling TSA agent asked what was in the box... "Fertile chicken eggs for hatching", as I opened the box and pulled out 2 eggs... he looked at me funny, still not smiling, "Hold on"... he walked away and I thought "Great I'm in trouble now"... NOPE... he came back with one of the small blue bowls that you put your change, keys,etc. in... "Take them all out and put them in here"... one by one I pulled out the beautiful eggs and placed them in the bowl... I ran out of room and he went and got me another bowl... finally all 26 eggs were in two change bowls. (Keep in mind there was a LONG line of people behind me... I have no idea what they were thinking?) "Send the empty box on through the x-ray machine and I'll meet you on the other side"... and he did! That was it! He never did crack a smile but he was a very nice and professional TSA agent. It took me about 10 minutes to repack the eggs and get myself back together. I can't tell you how thrilled I was to get the eggs through! All in all it turned out not to have been a problem at all...SURPRISE!
Here's what I learned...
*DO get there early
*DON"T be any trouble and keep your other "stuff" to a minimum
*Be polite and to the point... don't waste their time
*Do what they ask and be willing to give them up if that is what they ask
*Pack the eggs in plain old grocery store egg cartons (even if you need to bring your own from home)... here was a mistake that I made... S had packed the eggs beautifully, like they were being shipped... but this required me to completely unpack the whole box and to repack... if they had been in egg cartons, I could have just opened them and the TSA agent could have easily seen them... I think it would have much easier.
Here the eggs and I are after we made it through TSA! (The eggs are in the bag on my lap.

)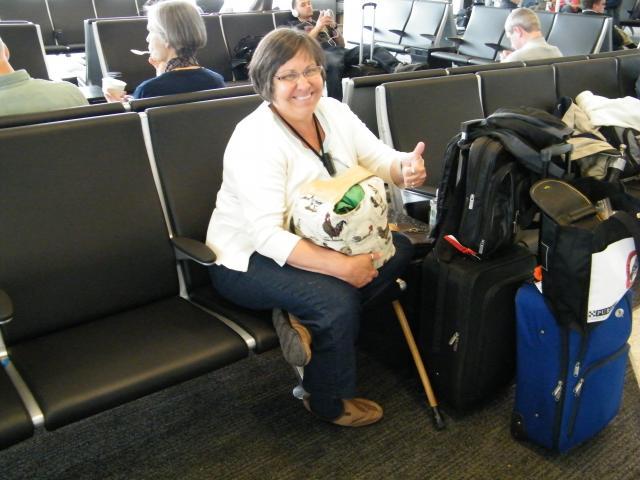 SO... the airplane travel part of this eggsperiment was successful!
Now on to the incubation part... will the air pressure changes in the airplane hurt their viability?
Here they are in the incubator...


There are 8 Bantam Lavender Ameraucana and 6 Black Copper Maran eggs.
Here are the other dozen BCM eggs.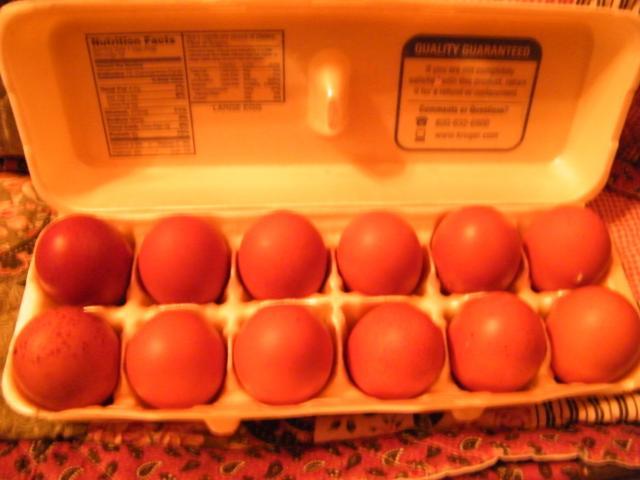 This dozen is going to my friend/letter carrier/chicken sitter for all she has done for me. Her husband is an experienced incubatorer and will try his hand with these airplane eggs.
Now on to the next step... THE INCUBATION!
I will be candling in 10 days.
May 31, 2011... OK, I lied... I couldn't wait... it's day 5 and I candled 2 eggs... I SEE VEINS IN ONE! I'll wait 'til day 10 to candle the rest... don't want to jinx myself.
June 6, 2011... Good news/bad news... candled all eggs... 8 Ameraucas... 4 clear and 4 w/veining(!)... 6 BCMs...hard to see for sure but... 5 clear and 1 w/dark mass(?!?). I will wait a couple more days before taking the for-sure clear ones out. No stinkers at this point.
June 13, 2011... Lock-down started... only 4 look promising to me but I'll wait and see. Getting brooder ready, just in case.
June 17, 2011... Day 22... no pips, peeps or anything... it's not looking vey good.

( I'll give a few more days.
June 22, 2011... Egg-topsy today... 5 didn't develop at all, just runny yolks and 5 were in various stages of developement with one that looked just ready to hatch. (decided to NOT show the pics on here... it's just too sad.) If none of them had developed, I would have thought it was the pressure issue in the plane... but 5 of them did develop!
Today I am very sad and discouraged BUT I WILL try it again! Maybe I need more experience with the incubator?
I want to say "I'm sorry it didn't turn out more successfully" to all who have followed this... but I would love to hear from anyone else who tries this!
THE END
but I'll still leave this ending also...
STAY TUNED...
​