Our Chickens:
10 Americanas, 5 Silver Laced Wyandottes, 6 Pearl White Leghorns, 3 Buttercups, 2 Black Stars (so far all look to be Pullets)
This is our first flock of chickens. We ordered 25 day old chicks from McMurray hatchery. They sent us two extra, but one of them died within 12 hours. I think the chick got too cold during the shipment. Other than that one chick, the rest are doing very well and look beautiful. We bought a 15' kiddie pool, pine shavings, red infrared heat lamp, obtained a free icing bucket for the water, ordered chicken watering nipples from Farmtech, and purchased a feeder. It turns out I have an allergy to the pine shavings and had to switch to Corn Cobs from Wal-Mart. As long as the cobs stay dry there is no risk for bacteria growing. Since we utilize chicken nipples we didn't have a problem with moisture.
After two weeks our chicks were already starting to fly around. We first used netting designed for human babies when out camping, but quickly realized we needed something more breathable and flexible. We then purchased deer netting from Lowes and it has worked great. At 3 weeks we decided to put a dog exercise pen around the pool to elevate their space. We also added two roosts which are metal coated tree stakes from OSH.
They are currently almost six weeks and ready to go outside into their coop. We are almost done with it. I think next time we
will not
put them in our spare bedroom, but instead in our garage since it is insulated, has a window, and has air circulation. Oh well, live and learn- right?
Click Any Picture Below To Enlarge & View Better Quality
2 Days Old:
3 Weeks: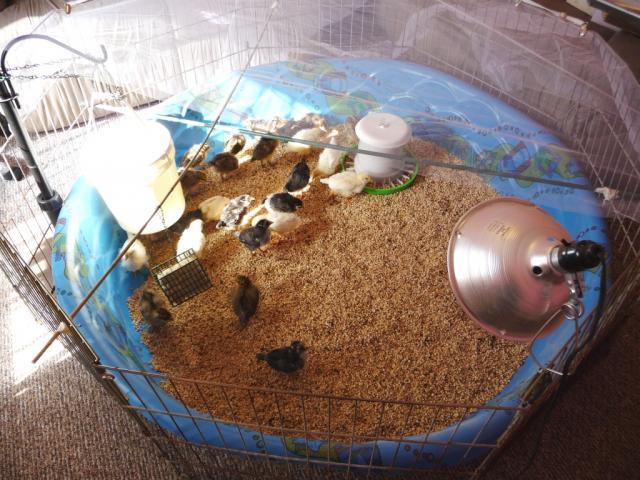 6 Weeks:
pictures coming soon
Our Mealworms:
Pictures coming soon
Chicken Coop Build:
I know in the first couple of pictures the coop looks like it is crooked. Well, it is crooked. LOL This coop was built by all girls with sweat, blood, and tears. We did all the cuts and assembly by ourselves. We ended up fixing the frame after we assembled the chicken wire & hung the door. The 15 year exterior paint was purchased from Wal-Mart in the clearance section for less than $4. The bluish grey color kind of goes with the pink door and shed- right? LOL
We also decided to elevate the frame on concrete channel blocks to prolong the life of the wood. In some areas the blocks would not fit due to overlapping of the 2x4s. We added 24 inch chicken wire to the those areas and barried half in the ground with bricks and lava rocks. The shed was already at our home when we bought the house. We simply cleared out the shelves and cabinets and replaced it with chicken goodies. The coop isn't done yet, but will post more pictures once it is completed.
Click Any Picture Below To Enlarge & View Better Quality