I hatched 6 baby (is there any other kind?) chicks spring 2007 from my mixed flock. They sure grow up fast!
Hatching time!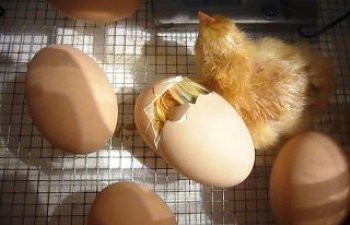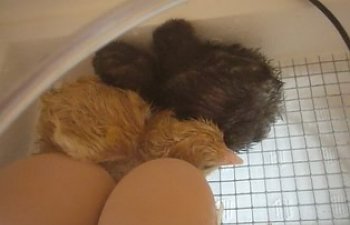 Sweet freedom from the shell, we can stretch!
Six tiny babes: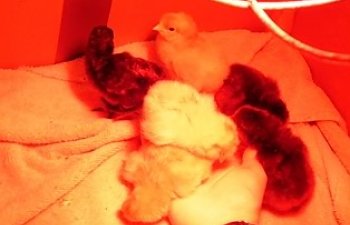 Shawn (white chick) and Gus (black chick) are half siblings, they share the same EE father. Shawn has a SLW mom amd Gus has a Black Giant mom: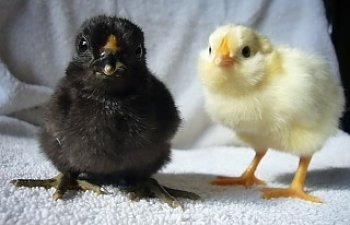 One day old...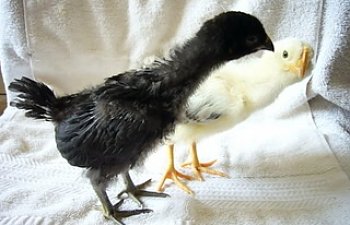 About 2 weeks old...
About 3 weeks old, and starting to suspect that Shawn is a boy and Gus is a girl...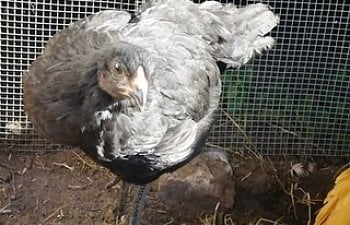 Gus at 5 weeks old, she's a smart little thing and the leader of the group.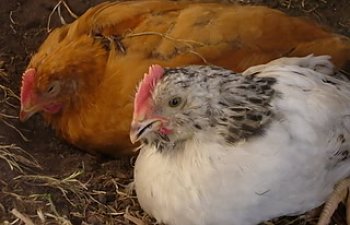 Shawn is definately a boy and is developing a crossbeak. He's enjoying a dust bath with Monty

Eight weeks old now and really developing some personality!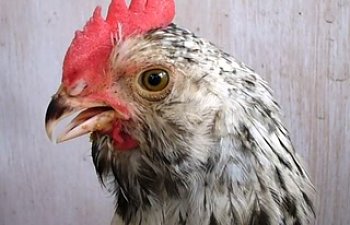 Shawn's crossbeak is different than other crossbeaks I've seen, it doesn't cross. It's just a gap between the top and bottom portions. He's eating and drinking fine and not getting picked on so I'm not too worried for him.
Gus is turning out just like her mom, smart, bossy, and even looks like her. (Same beak LOL!)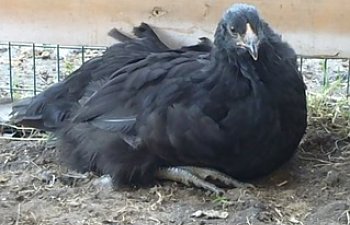 At four months old Shawn and Gus are a really neat pair. I'm glad I'm keeping both of them.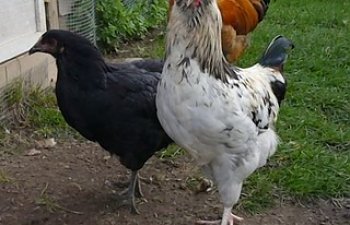 Gus is such a pretty girl!
Shawn had a little adventure the other day, he fell in the duck pond! He's fine though the ramp I put in there seems to be working. Anyway he was a little chilly so I brought him in to warm up. After he dried off we checked out what was going on at BYC: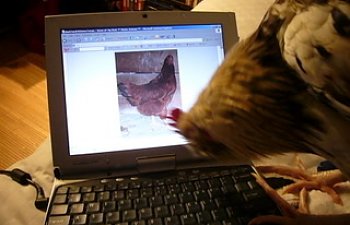 Was it naughty of me to let him look at pictures of naked chicks?
Here are Shawn and Gus's Parents:
Papa Apollo
Gus's mom Rook
Shawn's mom Wyn
Pumpkin and Pi are full siblings with a Buff Orp dad and a RIR/EE cross mom: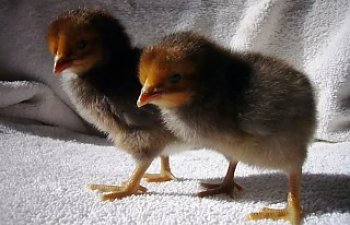 One day old...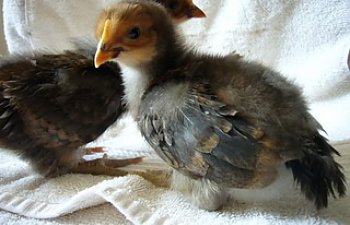 About 2 weeks old...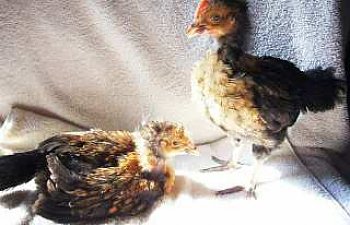 About 3 weeks old. Pi (right) looks like a boy and I believe Pumpkin is a girl.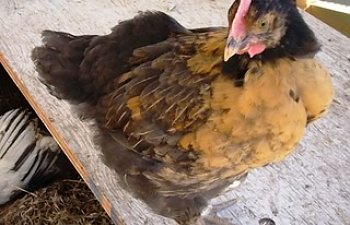 Pi at 5 weeks is definately a boy. He started crowing 3 days ago- so cute (and squeeky).
I still think Pumpkin is a girl, she has a unique voice and is very talkative.
Eight weeks old now...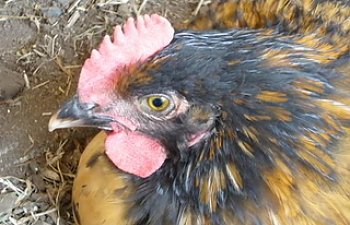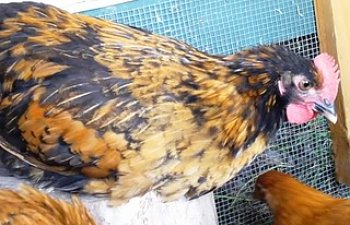 Pi's coloring is different than Pumpkin's. He has a dark head and back, she's more gold all over...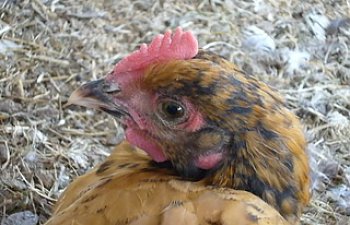 Pumpkin's voice is amazing, I swear she makes twice the number of different sounds as any other chicken!
Awww crap, Pumpkin is a BOY!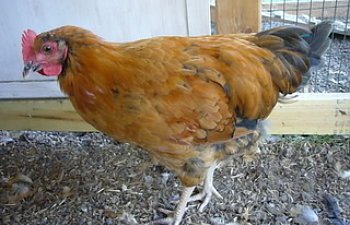 I have to admit I started suspecting it back with that last picture of him at 8 weeks but I was in severe denial. He was named by a family friend and I foolishly told them that he was a girl, (back when I thought their mom was a SLW) and would be staying with me, but now I may need to get rid of him. Especially if I keep Shawn (which I will). That means that out of a hatch of six I got 4 boys and 2 girls.
Four months old now and Pi is turning out to be absolutely beautiful!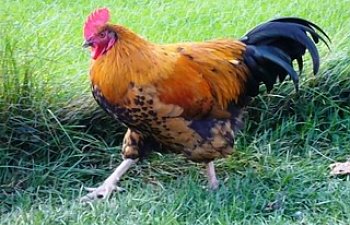 Pumkin is not as flashy as his brother, but much more friendly.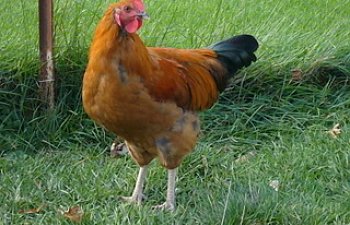 Here are Pumpkin and Pi's parents:
Proud Papa Jack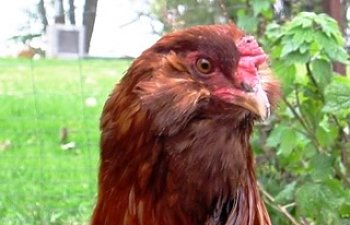 Circe is mom
Montery Jack (Monty) and Camembert (Cammi) are full siblings with a Buff Orp dad and Golden Comet mom: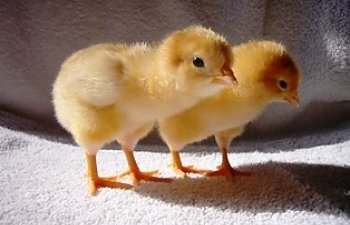 one day old...
About 2 weeks old...
About 3 weeks old, I think Monty (right) is a boy and Cammi is a girl.
Cammi at 5 weeks is a girl for sure.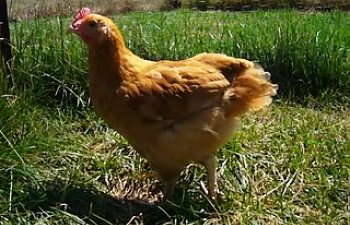 Pretty sure Monty is a boy.
Eight weeks old Monty...
I woke him up from a nap to snap this pic.
Cammi looks a little more alert!
At four months old Monty is turning into a handsome guy.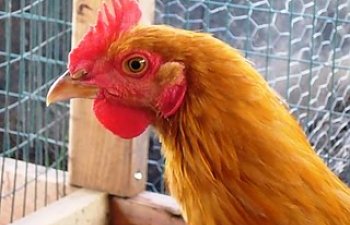 And Cammi is such a pretty girl.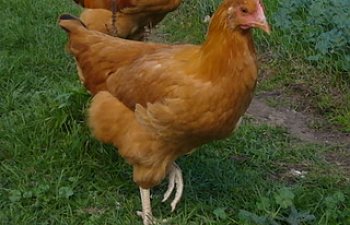 Update! Cammi started laying on November 11 and has layed every day since! That's 3 days in a row -sure not a record but not bad either!
Their parents:
Jack was a busy boy this spring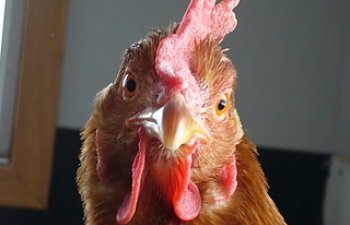 My favorite hen Ella is their mom.
Here are all the kids in a line up after moving in with the rest of the flock.