I have been married to Jason for 9+ years, and we have 4 children, with another due in late June. Olivia is 7, Sophia is 5, Rylan is 3, and Declan is one.
I started with a borrowed Little Giant incubator and 2 dozen mixed color Silkie eggs that I bought on Ebay about 2 1/2 years ago. Out of the first 2 dozen eggs, I had 3 chicks hatch-1 died and the other
two needed help to hatch. I started searching for how to help chicks hatch and found BYC. Now, I am a hatch-a-holic!
Currently we have 3 Royal Palm turkeys-1 tom and 2 hens, 2 Silver Appleyard ducks-MacIntosh and Granny Smith, 6 B/B/S Orpingtons, B/B/S Silkies, and "Mr. Bojangles" and his 4 ladies-Mille Fleur D'Uccles I had the priviledge of acquiring from Rob and Kathleen "Schultz" back in August.
In addition, we have 2 cats, a little Dutch bunny named "Cotton," and 1 Golden Retriever. Maggie is retired from breeding and is 8 years old
.
I am a stay-at-home Christian mom to our children. I love baking, cooking, gardening, canning, sewing, and oil painting. I also love animals, and am still waiting on the chance to own my first horse!
Sophia with Kathleen Schultz and "Bugsy" a D'Uccle who was blind in one eye. Rob and Kathleen gave her to Sophie:
Olivia with "Bob," one of our puppies:
Rylan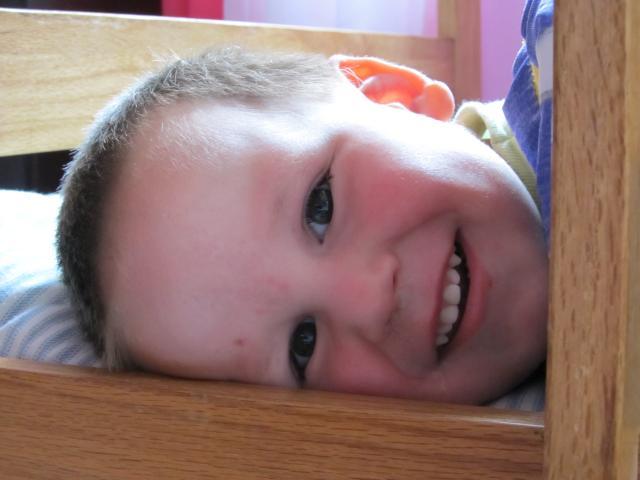 Declan in the toybox:
d'Uccle egg list: Orpington egg list:
Citygirlinthecountry = trade for Silkie eggs Bhep = 12+ eggs trade for Sebbie eggs
---Tacso-A = 6-12+ eggs
tm7906 (New Madison) = 12-18 eggs