Well I'm not new to the site. I've been reading and checking out backyardchickens.com for almost a year now, but this is the first time that I decided to post anything in the forums. I feel that this is a worthy story and would like to share.
I live in northwest Jersey and have had dreams of having my own small chicken farm since I was a child. The idea of grabbing fresh eggs from the coop always seemed fascinating. I was born on a farm in Maryland but moved to suburbia Jersey when I was five. In suburbia, owning chickens was not allowed, and when I moved to northwest Jersey I felt that I finally had my chance. All I had to do was convince my wife. That took about 4 years and in April I finally had my chance.
I was given approval from the wife and went to a local feed and supply shop that was selling Ameracuana/Aracuana baby chicks. I talked to the owner o f the shop for a little while and he told me that he was selling these for a friend of his and that he wasn't 100% if she "sexed" them out properly or not. But I decided to take my chances and get a few. Part of the deal with my wife was that we start out very small. So I purchased just three baby chicks.
I brought them home and put them in my basement workshop and had them under a heat lamp in a 20 gallon fish tank. We named them MARSHA, JAN, and CINDY. They grew so fast. Before you knew it I had to put them into an open top bathtub box that I had from a recent renovation. Again they just kept growing and growing and I realized that I had to get them out of the house.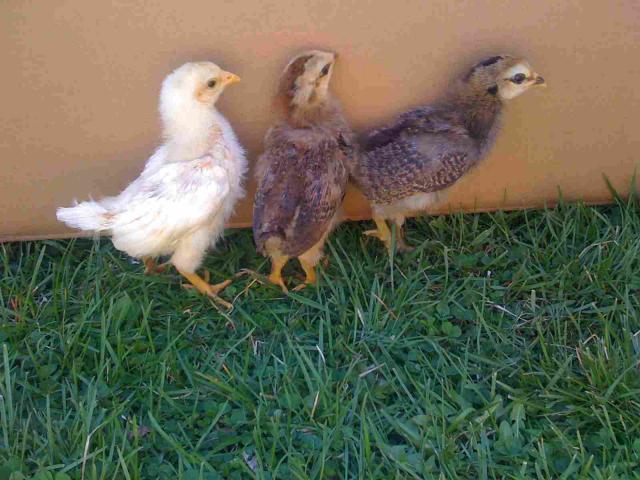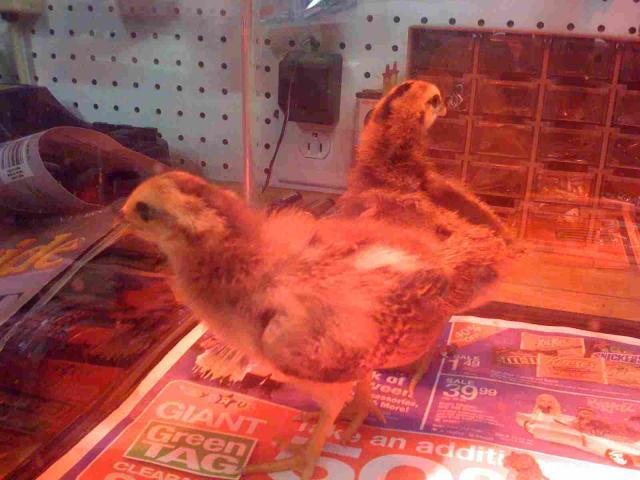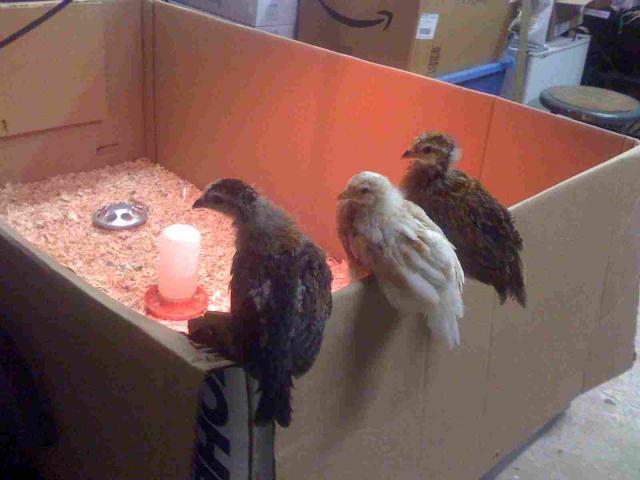 But I didn't have a coop built yet. This was something I wanted to build myself. I had a general design in my head and decided to go for it. It took me about two weeks to finally get the coop built and after about 6 weeks of raising the chicks in my basement, I was able to put them outside. Ahhh, the smell was finally out of my basement and my wife was nagging me anymore.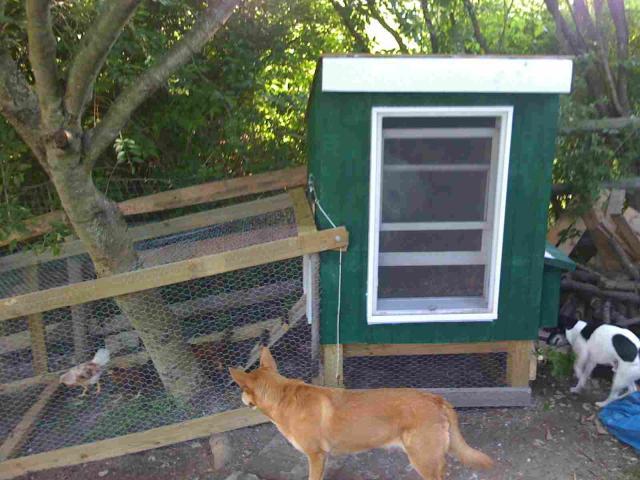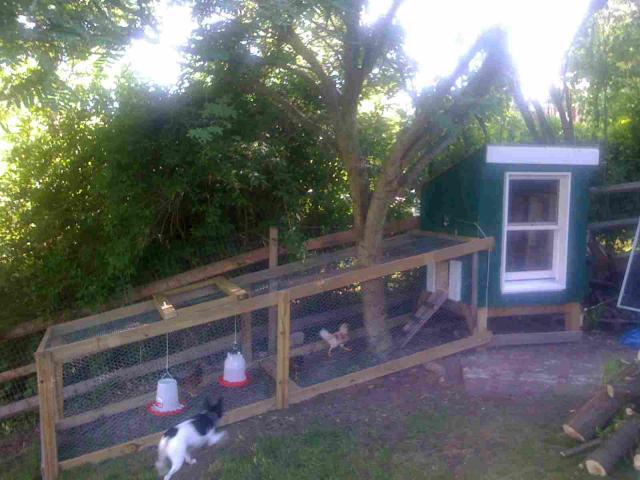 I took them a little while to get used to the coop but after a few days they seemed to fit right in and everything seemed great. For the next two and a half months I just kept feeding them organic feed and vegetable scraps. They loved it. However I started to notice that their tails all kind of shot straight up which seemed odd to me. I also noticed combs getting very big and especially noticed their attitudes changing. At first I only really noticed these changes on the one bird. Then I saw it on another one. But I never heard a "crow" from any of them. At least not until the first week of August. That was when I was leaving at 6:00a to go to work and walked outside and thought that I was about to be attacked when the "crow" came out of that chicken.
I must of been in denial for a few weeks because I started researching and found that even some hens crow. And then another bird started to crow. Now the two crowing birds were in sync with each other. One right after another. It would start at 5:15am and would continue off and on until about 6:00pm. My neighbors are going to kill me is all I was thinking. My wife was just as upset. I mean it took me four years of convincing her into this project and I don't know how many times that I told her that the chickens would be quiet. And now this. What am I going to do?
So I went back to the local feed and supply store where I purchased them and talked to the owner who told me that he would help me find a home(or table) for the two roosters. He also told me that he would help me in finding a couple of replacement hens. A few weeks later and I finally received a call back from him. He gave me the number of a lady who would take the roosters from me, but had no info on replacing them with some egg laying hens. He also felt that the other chicken that I had was probably a hen and was too busy being harassed by the other two roosters to be able lay eggs.
Last Friday I called the rooster killer and she came over and cooped up the two within minutes and was off. Now I was left with just one chicken. I was hoping that eggs would start coming. But then I woke up the next morning to a completely different sound that I've heard before. My wife grabbed my arm while in bed said "I can't believe this! Get rid of him!"
And again I went into denial. What are the odds in buying three baby chicks and having them ALL turn out to be roosters? I kept checking the nesting boxes for eggs. Of course nothing was there. And every morning the new "crow" was getting louder and louder. Now I'm going to have to call back the rooster killer. And I'll be left with nothing.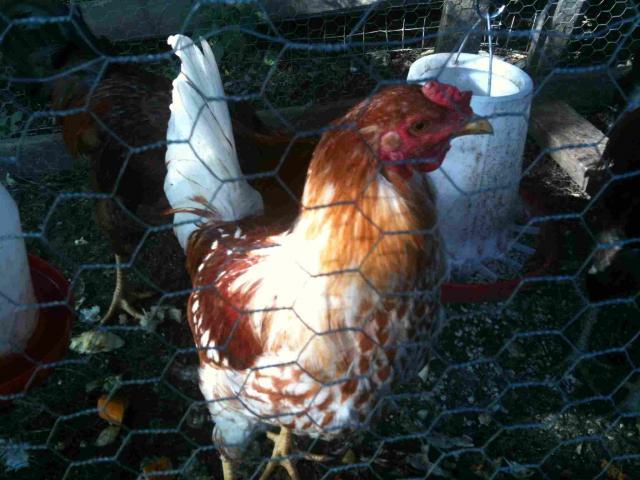 This is just so disappointing. I've put in so much time and energy raising these guys and it all seems completely worthless. I have this coop built and a penned in area. All for what? So I'm thinking of just ending this whole dream that I had and giving up. I definitely don't want to start raising new chicks again from babies. I have looked for egg laying hens in my area but haven't found anything. This sucks.
And so that's my story and where I'm at now. I started raising MARSHA, JAN, and CINDY but ended up with PETER, BOBBY, and GREGG!!